News
Wynonna Earp & Doc Don't Talk About Vampirism in This Exclusive Sneak Peek
We have an exclusive sneak peek at Wynonna Earp Season 4, Episode 5... and proof that all vampires like to watch their loved ones sleep.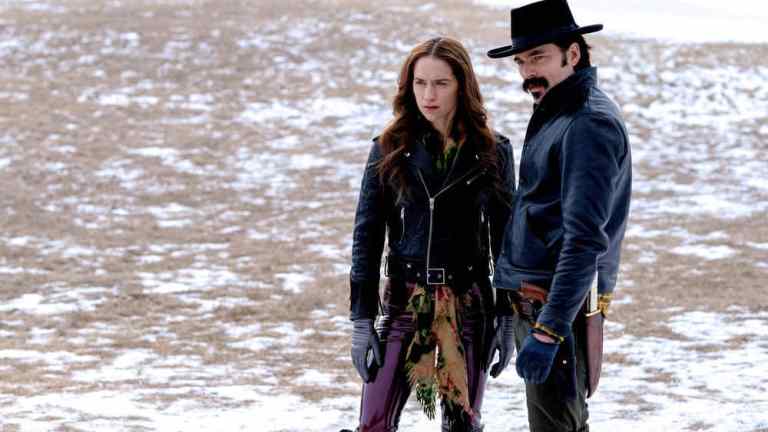 Intimacy can take many forms, and Wynonna Earp excels at depicting many of them. From hot lesbian sex scenes to sisters sharing their vulnerabilities with one another, this soft-yet-gory show is filled with examples of people letting each other in, and it's riveting as hell (or, you know… Purgatory).
While starcrossed lovers Wynonna and Doc have not always let their walls down for one another, their relationship has been pretty steady this season. In this sneak peek from Sunday's episode, titled "Holy War Part One," we see them getting closer than they normally do to discussing some much-avoided sensitive subjects. And also Doc Holliday pulling an Edward Cullen as one of his new (or maybe not so new?) hobbies seems to be watching Wynonna sleep. #vampirestereotypes Check it out…
Um, I love this scene. In it, we learn that Doc doesn't sleep (a horrifying thought to me, honestly) and that Wynonna sleeps with a pistol under her pillow. (Does Purgatory have a good therapist?) Generally, the scene is quietly domestic in the softest of ways, while also hinting at much larger conversations. "There is much that we fail to discuss," Doc puts it. Um… yeah. Items on that list: Doc's past (including the nature of his relationship with Wyatt). Alice, the child they had together who exists somewhere in this world. And the fact that Doc is now a freaking vampire and is married to another vampire. And those are, you know, just the top three.
What else is going on in this week's episode? More broadly, "Holy War Part One" will see Wynonna and Doc teaming up when trouble surfaces at the Homestead (must be a Sunday!), while Waverly and Nicole "welcome back a teammate." Elsewhere, "it's payback time for a deadly deal." Oh no… is Nicole in danger again? The fate of one Nicole Haught is the biggest cliffhanger from the previous episode, but we can't forget the larger threat the Clanton clan poses to Earps & friends on the whole. In the sneak peek above, Doc alludes to the team being "under siege." He's probably referring to the Clantons, but, honestly, on this show, you never can be sure. Antagonists don't always wait their turn when it comes to attacking the Earps.
You can catch "Holy War Part One" Sunday at 10pm ET on Syfy. To find out more about IDW Entertainment's Wynonna Earp, check out our coverage of the show here.