Reviews
Riverdale Season 4 Episode 17 Review – Chapter 74: Wicked Little Town
Musical and mayhem abound as Hedwig and the Angry Inch comes to Riverdale.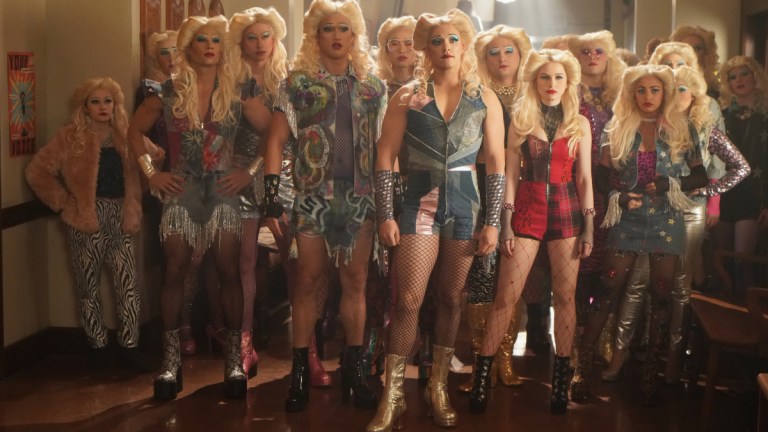 This Riverdale review contains spoilers.
Riverdale Season 4 Episode 17
"We are relentlessly slammed with crisis after crisis."
A few years back, Twitter exploded with the (almost certainly apocryphal) story of a high school performance of Rent which took some serious creative liberties. Here, instead of dealing with AIDS, the characters in Jonathan Larson's 1990s boho rewrite of La Boheme were coping with diabetes…and the show now had Roger and Mimi forgoing AZT breaks to have their beepers reminding them to take insulin.
I bring this up not to make light of any disease – indeed, I wouldn't even attempt gallows humor  involving any ailment given our terrifying current situation – but mainly to illustrate how even the slightest change to a beloved source material can ultimately dishonor it. (Indeed, the Rent anecdote opened the floodgates for more tales of sanitized works, resulting in as many laughs as jaw drops). This was a concern that popped into my mind when I heard that Riverdale would be making the decidedly adult-themed Hedwig and the Angry Inch this year's music episode.
How could the series possibly adapt a raucous, highly sexualized musical – one of the most acclaimed productions of our time – without bowdlerizing it? The answer: By not even attempting to adapt it. Well, not really. The mature subject matter of Hedwig is wisely transformed into a plot point here with Mr. Honey (Kerr Smith at his smarmy best) refusing to let Kevin perform a number from the musical at Riverdale High's upcoming variety show. Instead of a traditional musical number, the show takes a cue from The Magicians, and sister series Katy Keene for that matter, and embeds the showtunes into the fiber of this special episode.
The defiant Hedwig is something of a kindred spirit to Kevin. They are both LGBTQ+ icons, and story-wise there's some common ground. (Listen closely and you can hear my fellow critics racing to compare the trauma of Hedwig's "Barbie doll crotch" with Kevin attempting to regain his mojo after The Farm brainwashed him and stole his kidney last year). There's some accuracy there, but  I personally feel that what connects these characters is a shared desire to truly be themselves in a world that wants to go out of its way to ignore, or worse, invalidate them. 
Kevin truly sees himself as Hedwig. When he sings "Tear Me Down" you feel that this is more than a cover version of an anthem, but Kevin is ultimately singing a rallying cry to himself. Not mention all those who feel unfairly maligned by society.
The rest of the episode is full of re-imaginings of other classic Hedwig songs. "Wicked Little Town" and its reprise are now about the angst of our leads; "Random Number Generation" becomes a rumination on high school conformity; "Wig in a Box" is transformed into a "Look at Me I'm Sandra Dee" moment for Kevin; "Sugar Daddy," showcases Cheryl and Toni at their Choniest; "Exquisite Corpse" is used to soundtrack game-changing arguments for the show; "Origin of Love" bonds Betty and Archie together; and "Midnight Radio" undercuts the song's cathartic nature by delivering the smash-cut shocker that has become the hallmark of each Riverdale musical episode.
While most of the singing here ranges from passable to great, the spirit of Hedwig and the Angry Inch lives on here, despite the compromises needed to bring the show to CW primetime. The ultimate success of this episode is that it will introduce a new audience to the musical. To any outsider watching this it will be a flicker of hope that could, not to be overly sentimental but give me a break as I've been inside for a month, ignite into a voyage of self-discovery. Television still has the power to change lives, even goofy, glorious shows like this one. We need to cling to truths like this in the days ahead.
Okay, so let's talk about the biggest thing that happened in this episode! Yes friends, I'm talking about Mr. Lodge's pride getting in the way of his health and his collapse. Psych! Nobody cares about that storyline. But it does serve a purpose as it put Archie into conflict with Veronica. (See also: Jughead studying the mystery videotapes instead of catching up on his schoolwork and subsequently pissing off Betty).
What do these hamfisted/rushed storylines accomplish? The kiss that made the world gasp. Yep, the age of Barchie is upon us. This time, the Betty/Archie coupling is no ruse to fool the Stonewall Preppers but the real deal. How will this impact the characters? I don't know either, but I can't wait to find out either as this is easily the biggest betrayal yet on the show, and that's including the time Kevin sold out Betty to The Farm. Wow.
As for the Bughead mock murder that Jughead watches on the videotape, this was a super creepy moment that undercut the feel-good message of "Midnight Radio" and give viewers a swift kick in the gut to remind them that this is still Riverdale, and shit is about to get real.
Riverdale Rundown
This episode marks the first televised appearance of The Archies! In real life, the group was formed by legendary music performer Don Kirshner in conjunction with Filmation's The Archie Show cartoon. The band's biggest hit was "Sugar Sugar," a slice of bubblegum pop perfection that was the number one single of the year in 1969. That was just one of a string of songs released by the group, and it remains their signature tune – often referenced in Archie comics to this day.
"Jingle Jangle" was another hit from the band, and the namesake of a drug that once swept through the streets of Riverdale on the series.
This is not the classic Archies lineup, as Kevin Keller takes Reggie's place here. (Keller made his debut in 2010). In a nice touch, Reggie does get a shoutout during the group's performance of "Midnight Radio" that closes out the episode.
Speaking of which, did anyone else get an Empire Records vibe from the rooftop performance at Pop's?
Foolishly, I was hoping Sabrina would pop by to give Jughead some assistance on his Salem Witch Trials essay.
The wig that Casey Cott wears throughout this episode is John Cameron Mitchell's wig from the Hedwig and the Angry Inch movie. Hedwig co-creater Stephen Trask also was an on-set consultant for this episode.
Another week, another new fake brand: This time up, it's Little Cicero's Pizza.
"I hear what you're saying Betty, but I'm not sure even a makeover montage will help." Kevin, in the episode's most meta moment.
Archie using his father's guitar was a touching moment.
I'm not sure where the whole mystery videotape plotline is going, but I'm almost certain that Charles and Chic are behind it.
The video – featuring actual Betty and Jughead masks that you can purchase – was eerily reminiscent of the Max Headroom Pirate Broadcast Incident, which you should watch on YouTube. Good luck sleeping tonight.
Keep up with all our Riverdale Season 4 news and reviews right here.