Features
Riverdale: Casey Cott On The Show's Hedwig and the Angry Inch Tribute
Riverdale actor Casey Cott discusses Kevin Keller's big moment as he headlines Riverdale High's performance of Hedwig and the Angry Inch.
Created by veteran writer/artist Dan Parent in 2010, Kevin Keller was the first LGBTQ+ character in Archie Comics history. Kevin was an immediate sensation, and a further reminder of how welcoming of a place that Riverdale is. When the CW gave the comics a brooding makeover with Riverdale seven years later, Kevin made the jump to television as a core part of the series' supporting cast . In the show, Kev has dealt with everything from getting involved with an organ-harvesting cult to having a one-time boyfriend die as a part of a murderous real-life role-playing game.
Yeah, Riverdale is wild.
Portraying the clean-cut high schooler with a penchant for hook-up apps is Casey Cott, a 27-year-old actor whose involvement on Riverdale was his first major role. Although Kevin has been sidelined for most of this season thanks to the recently resolved storyline about Jughead's death (spoiler alert, he lived), the character is back in a big way this week as he attempts to stage a performance from Hedwig the Angry Inch (at Riverdale High's variety show – much to the dismay of the school's puritanical principal, Mr. Honey (Dawson's Creek co-star Kerr Smith).
John Cameron Mitchell and Stephen Trask's soaring rock musical about a performer whose "sex changed operation was botched" leaving them with "an angry inch" as genitals and ambitions to break down all barriers remains as vibrant of a piece of theater as one is likely to see. And its message of self-acceptance is a perfect fit for the angsty seekers who populate Riverdale.
In advance of tonight's big musical episode of Riverdale (the series' third, following productions of the Carrie and Heathers musicals in seasons two and three respectively), we had a chance to discuss what it was like for Cott to make Hedwig and the Angry Inch come alive in the halls of Riverdale High.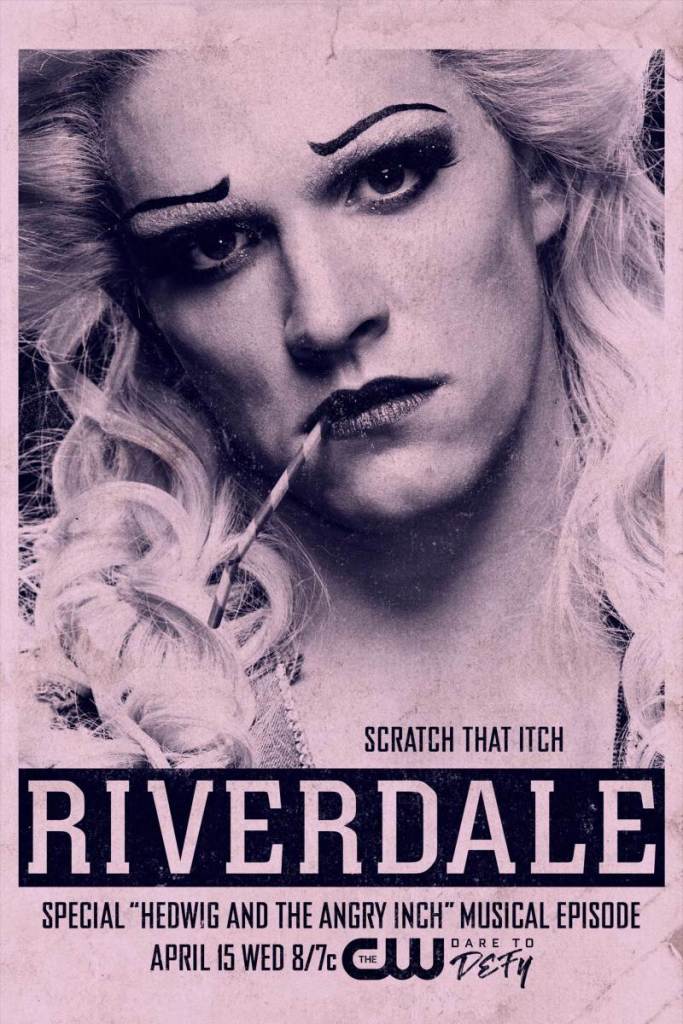 DEN OF GEEK: Obviously, the world is insane right now, so I thank you for taking the time to speak to me about this episode. How far into production was this season of Riverdale when Covid-19 shut everything down?
CASEY COTT: We do 22 episodes each year, and we were just about done with episode 20. I haven't heard but I think we might have filmed enough to put that episode out. But I don't know that, that s just kind of my gut instinct. We didn't get to episode 21 and 22, so we missed the last two.
Have you been in touch with your fellow Riverdale cast members throughout all of this?
Oh yeah, we've been talking every day. It's funny, because I feel like I haven't seen them for a month. But with Facetime I talk to a couple of them pretty much every day.
We're definitely keeping in touch. I think we realize how much we love each other during this time…which I think a lot of people are realizing.
This week's episode of Riverdale is a welcome diversion to the outside world, how familiar were you with Hedwig and the Angry Inch before this season?
I had seen it on Broadway during the revival a couple of years ago and I had seen the movie, so I was pretty familiar with it, which was awesome.
With stars ranging John Cameron Mitchell (who originated the role) to Neil Patrick Harris starring as Hedwig over the years, were there certain performers who you drew inspiration from while crafting your own take on the character?
I saw John Cameron Mitchell on Broadway! Actually I was wearing the wig that John Cameron Mitchell wore in the Hedwig and the Angry Inch movie in our episode — which was crazy cool.
Obviously, Neil Patrick Harris was incredible in his performance, and he is on the official Broadway cast recording that I listened to. So, I'd say that those two were the people I looked to for certain stylized moments. We only had a week or so to prepare.
With the short production time and all the songs and choreography to learn, what was the most challenging number to perform?
I thought "Wig in a Box" became extremely challenging just because of the amount of people on it, and the intricacies of all the different costume changes. That was the most challenging of the songs that I was a part of.
What did you think when you first saw yourself as Hedwig?
That moment was crazy because the hair and makeup team did such a great job. It seemed like I was wearing something that was 100% perfect. Which was really important for this episode because when performing something that's as out there and energetic as "Tear Me Down," if you're not totally comfortable in your outfit and everything it's just going to be in the back of your head—at least for me. I was super pumped when it came together the way it did, that outfit. I felt like I was Hedwig. It was awesome.
Although the first two musical episodes of Riverdale were solid, this one feels like a huge leap forward, with the strongest performances to date.
I think practice really makes perfect. Being the third year we were doing this, I think every side of the production of Riverdale — not just the actors but the writers, the production side, the crew — all had a good indication of how this episode would go. So I think we started preparing earlier for it. Which really helped by the time we were shooting it. We were much more ready to go, to shoot out of a cannon and try to figure out what we were going to do.
I thought "Tear Me Down" was really fun, its challenging in some ways. But I thought "Wig in A Box" actually became extremely challenging just because of the amount of people on it, and the intricacies of all the different costume changes. I would say that was the most challenging of the ones I was a part of.
Have you had any feedback or contact with John Cameron Mitchell during this episode's production?
I haven't talked to John Cameron Mitchell. That would be wild if I got a phone call from him! But Stephen Trask, who wrote the music for Hedwig, was with us for a few days. It was really cool having him there and I'm a huge fan of his. I feel like we're friends now. I think he really enjoyed it. So that was fun.
Why you do think that Hedwig and the Angry Inch has resonated with audiences across the world since it debuted?
I think there's a million reasons, because a show like Hedwig has a million different things happening in it. First, the way its created is such a force, like a roller coaster ride – once you strap in, you're in. And if you allow yourself to go it's going to be incredible. Which is similar to Riverdale.
Hedwig is a show that's unlike anything else, you know? It doesn't apologize for what it is and it just kind of flows. It is undeniable that you're having the time of your life watching a show like Hedwig
What musical would you like to see performed on Riverdale next?
I think it would be fun to do Sweeney Todd or Little Shop of Horrors. You never know what the Riverdale writers have got up their sleeve. You can try to predict it, but you will not. So whatever they come up with will be a blast.
I'm really glad we did Hedwig, I thought it was the perfect fit.
It feels like Kevin has really turned a corner, where would you like to see the character go from here?
This episode was awesome for Kevin, a huge awakening for Kevin. He's owning himself and what he wants. Moving forward, I'm hoping we can throw Kevin into situations that he might not have been comfortable in a season ago or so — and seeing him go get what he wants in life.