News
CW Confirms Return Dates for The Flash, Supergirl, Batwoman, Legends of Tomorrow, Riverdale, and More
Most of your CW and Arrowverse favorites will be back in April after a brief hiatus. Here's when they're all returning.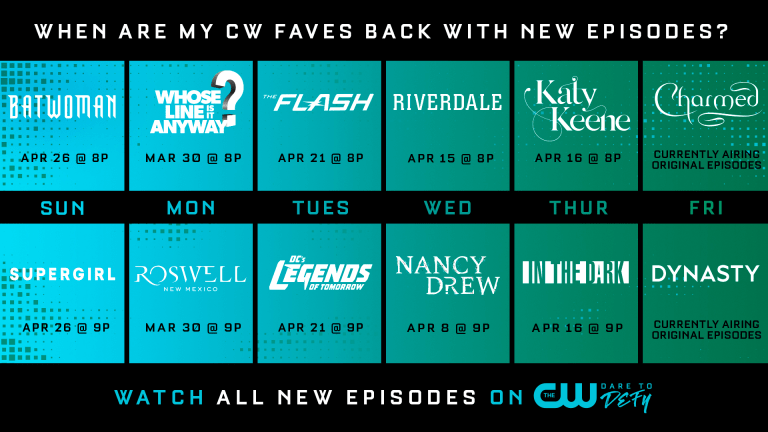 Finally!
After an industry-wide production pause that forced new episodes of The Flash, Legends of Tomorrow, Supergirl, Batwoman, and many more CW shows off the schedule temporarily, we finally have confirmation on return dates for the entire CW scripted lineup. Virtually the entire TV production landscape ground to a halt a few weeks ago as the coronavirus pandemic began to affect all levels of society, a prudent move since, as much as we love it (and it's essential to OUR business here at Den of Geek), you can't exactly call actors and TV staff "essential" workers in the midst of such a grave crisis. To keep everyone safe, everyone went home and stayed there.
But as a result, we're left with a number of high profile shows that have yet to film their season premieres. Additionally, since TV schedules are relatively tight, a few episodes of effects-heavy shows like The Flash, Legends of Tomorrow, Supergirl, and Batwoman were removed from the schedule just days before their air dates. While we don't know that this was coronavirus related, since several of those were likely still undergoing some post-production, it may have taken a little extra time to adjust. It also probably helps to space new episodes out for the next couple of months to make sure all the networks have enough new shows to air until this all calms down!
So here's when we'll get new episodes of the CW shows, the Arrowverse, and everything else! This should help keep you distracted and encourage everyone to STAY HOME for a while.
Wednesday, April 8 – Nancy Drew
Wednesday, April 15- Riverdale
Thursday, April 16 – Katy Keene, In The Dark
Tuesday, April 21 – The Flash, Legends of Tomorrow
Sunday, April 26 – Supergirl, Batwoman
Keep in mind that these shows haven't necessarily resumed actual filming, which means that for many of them, their season finales have yet to go before cameras. In other words, we're likely to see some more delays before this is all over, but it's good news that post-production has been able to resume enough for new episodes to air again. We'll take any good news as we can get it right now. And there's still no sign of Supernatural, which has very nearly reached the end of its incredible 15 season run!
So while we wait for the real heroes of this world, the medical professionals, scientists, and first responders, to get all of this under control, please remember to stay safe, look after each other, and stay home if you can!