Reviews
Riverdale Season 4 Episode 16 Review – Chapter 73: The Locked Room
The Stonewall Prep saga comes to a hugely satisfying conclusion on Riverdale season 4.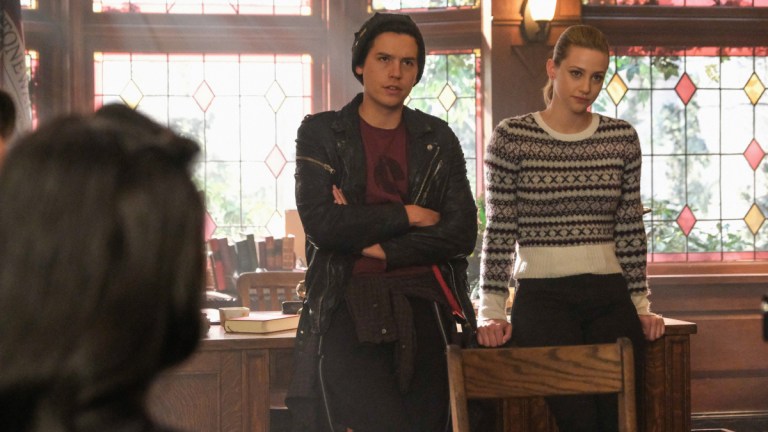 This Riverdale review contains spoilers.
Riverdale Season 4 Episode 16
"The million dollar question is who was going to kill Jughead, and how?"
Traditionally, Riverdale is not a show that is great at sticking the landing. Whether talking about the lazy wrap-up of Farm saga or the narrative thud that concluded the once-thrilling Gargoyle King plotline, the series has a real problem with endings. So how did they pull off the Stonewall Prep storyline so flawlessly?
That's a question that I'm currently wrestling with, because that's exactly what this episode did. 
Continuing the show's always welcome capacity for meta-awareness, "dotting the i's and crossing the t's" is invoked a few times in this episode. Then we see the storytelling on display do just that. The episode opens with Jughead and Betty essentially holding the Stonies hostage then walking them through the myriad ways they faked the former's death. An entertaining info dump soon follows, one which answers key questions — how long F.P. was kept in the dark etc. — and the remainder of the runtime breaks down the far-reaching truth about what has been going on at Stonewall Prep.
And what truth it is. Jughead and Betty (with a little help from Hermosa) uncover a conspiracy that left eight people dead and laid the groundwork for one of the nation's premiere prep schools as well as two beloved children's book franchises. I always figured DuPont was the mastermind here, but figured he used his intelligence to manipulate others into doing his bidding. While that theory was partially true, it is established that he himself murdered enough colleagues to be a full-on serial killer. One who kept trophies and everything. How Mindhunter! 
We also discover that Donna was playing a long game with two goals in mind — to gain control of the Tracy True franchise and to get revenge against DuPont for his murder of her grandmother. I suspect that the money from the YA books was more important to her than vengeance, but with sociopaths one never knows. It turns out that Brett was more of a patsy that anyone ever suspected, and he is given his comeuppance in the most fitting way possible. (Fan service is not always a bad thing). Joan uses her father's diplomatic immunity to get out of delivering Jughead's near-fatal blow, and Jonathan…
Well, the biggest flaw in this episode is that the murder of Jonathan goes unpunished. Not that any of his so-called friends, or indeed the viewers, seem to care very much. My view here is that he was the nicest of the Stonies who got in over his head, and paid the ultimate price. Unlike Mr. Chipping he didn't have blood directly on his hands. There's still a left field chance that Jonathan is actually alive, and knowing Riverdale's penchant for tying seemingly disparate plot points together it is entirely possible that he is the one secretly filming homes throughout the town. We will have to wait and see here. I wouldn't rule it out though…
This is the rare episode of Riverdale that follows one storyline throughout the entire runtime. There was never any real doubt that this arc would end with Jug alive and well. Looking back on how this all was handled though reveals that the writer's room has learned from past mistakes. The Stonewall saga never quite overstayed its welcome, and its conclusion was deeply ambitious and utterly satisfying. While I will always prefer when this show leans towards insane plot devices like murder dolls and living RPG totems, I am impressed with how it can craft and execute a more basic mystery. This show continues to evolve, which is perhaps the most surprising deduction of all.
Riverdale Roundup
This year is shaping up to be a shitshow of historical proportions. My advice? Take pleasure in whatever small and harmless forms you can, like seeing Brett's bloody face beaten to shreds by F.P and Jughead or Betty's slow-motion victory walk after telling Donna that she's keeping an eye on her.
This is the first episode in ages to wrap up with a happy ending. No death on the horizon. No pre-credits sting. Just friends being friends in their favorite hangout. In fact, it is so utterly ordinary that it feels, well, wrong really.
We get confirmation here that Moose is, in fact, safe with the Army — having narrowly missed falling victim to the Stonies' murderous plotting. Whether or not he will reappear on this show remains to be seen.
Baseless speculation time: I'm obsessed with how this show will write off F.P., and my latest theory is that he will leave Riverdale to spend time with his father now that we know Forsythe the First left all those years ago to protect himself and, by extension, his family.
One plot thread that isn't resolved, who will write the Baxter Brothers and Tracy True books now?
Alice is back on RIVW. Honestly, I completely forgot how and why she wasn't on the air with them and will have to go back and revisit this storyline.
There wasn't much time for humor in this installment, but, as usual, Cheryl gets the best line with her declaration that "no one ever really dies in Riverdale, do they?" Remember, the plot involving someone secretly videotaping the characters' homes is still dangling out there, so could this line be the series' way of hinting that someone whom we thought was dead will be coming back? Perhaps the Black Hood? Hmm…
One of Francis DuPont's first victims was Theodore Weisel. Dr. Seuss' real name was Theodore Geisel, and I can't help but think the show's writing staff is subtly referencing him here.
According to the Mayo Clinic, performing CPR on someone with a head injury is medically sound in certain situations. The more you know!
Despite being an Archie fan since I was five, I have zero interest in seeing this show pursue the Archie/Betty relationship. The comics and Riverdale diverge so much that there's no need to even attempt the love triangle from the source material, especially this late in the game. I sincerely hope this episode is the end of Barchie, but deep down I know it won't be. Ugh.
It definitely seems like Hermosa and Veronica are bonding, which is way more narratively interesting than having them be rivals.
The most hilarious thing to me about this show right now is the power and resources that Charles has. From tampering with evidence to summoning FBI med vans, he does it all, logic be damned!
Reminder: Charles is also plotting against Betty with the help of Chic for some reason. Expect more on that sooner rather than later.
There's no doubt that the core four will graduate together. None at all.
We know that Hedwig and the Angry Inch will be this year's musical, and this episode ends with Kevin saying that Jughead will be a part of it. I for one am super excited at this prospect.
Let's just take a moment to appreciate Cole Sprouse and Lili Reinhart's performances in this episode. Great stuff from both of them.
The Stonewall Prep plotline has been a slow-burn that has baffled at times (Jughead ever wanting to go there in the first place remains the most out-of-character stunt this series has ever attempted). That said, episode writer Aaron Allen wrapped things up beautifully here, and gave the stars some of their finest material to date. I'm not sure where the rest of this season is going, and as a viewer that exhilarates me.