News
Katy Keene Season 1 News, Reviews, and Episode Guide
Katy Keene is here! Check out our episode guide and reviews for Season 1.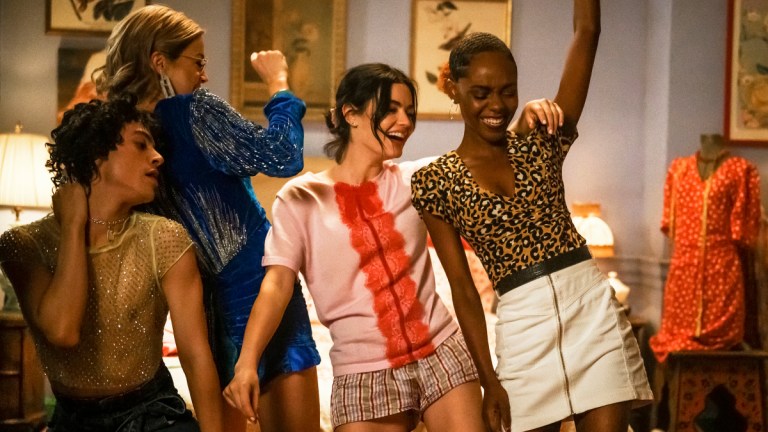 Riverdale is no longer confined just to Riverdale.
The CW previously ordered a pilot for second spinoff of its uber-popular Archie comic adaptation Riverdale. (The first being Netflix's Chilling Adventures of Sabrina series). Now that new series, titled Katy Keene, has arrived. Katy Keene follows the adventures of another Archie-verse character in New York. And you can keep up with all the episodes here.
The first season has come to a truncated close, cut short by the COVID-19 pandemic, which has caused production shutdowns across the world. You can find all of the reviews from the first season in our episode guide below.
Katy Keene Episode Guide
Click on the blue links below to read full episode reviews.
Katy Keene Episode 1 – Chapter 1: Pilot
Katy Keene struggles to manage the pressures of her job at Lacy's Department Store and her very demanding boss; Katy's longtime boyfriend reveals something surprising; Jorge auditions for a Broadway play, but it doesn't go as planned.
air date: 2/6/20
read our review of "Pilot" here.
Katy Keene Episode 2 – Chapter 2: You Can't Hurry Love
With Katy's personal life in a holding pattern, she can't seem to escape even at work; Jorge finds himself on the outs with the Broadway community and must decide if he wants to give up performing as Ginger.
air date: 2/13/20
Katy Keene Episode 3 – Chapter 3: What Becomes of the Broken-Hearted
With everything a little off between Katy and KO, Katy tries to make everything perfect for Valentine's Day; KO tries to do something nice for the roommates but only seems to make things worse; Pepper turns to an old friend to get some quick cash.
air date: 2/20/20
read our review of "What Becomes of the Broken-Hearted" here.
Katy Keene Episode 4 – Chapter 4: Here Comes the Sun
Katy decides to put all her energy into work to avoid her personal life, but she finds herself in hot water again at work. Determined to fix things, she enlists Pepper's help to track down the designer that is key to saving her job. Meanwhile, Jorge questions his new relationship and Josie stands up to Alexander and Xandra, which gives her the upper hand.
air date: 2/27/20
Katy Keene Episode 5 – Chapter 5: Song for a Winter's Night
With Katy trying to get into fashion school, she knows she needs a recommendation letter, so she turns to Gloria who puts her to the test in making her the ultimate dress in exchange, putting the pressure on Katy. Forced to stay inside because of the polar vortex, tensions grow high when Josie and Pepper get into a fight and Jorge breaks Katy's number one rule. Meanwhile, Josie is torn about the deal Alexander's dad made her, especially after what Alexander shows her.
air date: 3/5/20
read our review of "Song for a Winter's Night" here.
Katy Keene Episode 6 – Chapter 6: Mama Said
With Katy trying to move on from KO, she once again throws herself into her work, which turns out to be a sticky situation with her clients. Pepper is confronted about what she is up to but is surprised about the proposal she receives instead. Jorge learns he might be losing his coveted performance spot at Molly's Crisis to the winner of a drag queen pageant, so Jorge decides to enter Ginger and is surprised by his mother's reaction. Meanwhile, Josie is nervous about her mother coming to town to hear her EP release and of course meeting Alexander.
air date: 3/12/20
Katy Keene Episode 7 – Chapter 7: Kiss of the Spider Woman
Gloria puts pressure on Katy to design a wedding dress; Jorge wants to keep pushing his career forward, so he decides to put on a show; Pepper turns to Alexander and Xandra for an investment opportunity.
air date: 3/19/20
read our review of "Kiss of the Spider Woman" here.
Katy Keene Episode 8 – Chapter 8: It's Alright, Ma (I'm Only Bleeding)
Katy vies for an important apprenticeship, but in order to earn it she is given an impossible task that involves dealing with Xandra; Josie is eager to get her music out into the world, so she shoots a music video behind Alexander's back.
air date: 3/26/20
read our review of "It's Alright, Ma (I'm Only Bleeding)" here.
Katy Keene Episode 9 – Chapter 9: Wishin' and Hopin'
"Katy, struggling to find her place in her new position, turns to Gloria, who gives her good advice; Alex wants to put together The Pussycats again; Pepper engages in an online feud that could ruin everything for her."
air date: 4/16/20
read our review of "Wishin' and Hopin'" here.
Katy Keene Episode 10 – Chapter 10: Gloria
"Katy tries to get to the bottom of an allegation against Gloria; Josie and the new Pussycats have a falling out; Jorge offers Bernardo an interesting relationship proposition to avoid losing him; Pepper's past is starting to catch up with her."
air date: 4/23/20
Katy Keene Episode 11 – Chapter 11: Who Can I Turn To?
"With the pressure of the Meta Gala, Katy feels pulled between her new roles; Pepper goes head-to-head with her foe by making a splash at the Meta Gala to help promote Josie and the Pussycats, and The Pepper Plant; KO asks for Katy's help."
air date: 4/30/20
read our review of "Who Can I Turn to?" here.
Katy Keene Episode 12 – Chapter 12: Chain of Fools
"With the Pepper Plant opening, Pepper is excited to finally show it to off to Katy, Josie and Jorge; Katy finds some unsettling information about Guy's past and must decide how to handle the situation."
air date: 5/7/20
Katy Keene Episode 13 – Chapter 13: Come Together
"Katy is starting to see things a little more clearly and needs Gloria's help to make her plan work, leading to unexpected opportunities; Pepper finds a way to make things right with Jorge and Josie."
air date: 5/14/20
read our review of "Come Together" here.
Katy Keene Trailer
Here was the first full look at the Katy Keene trailer. Imagine Sex and the City in the Riverdale universe.
Previously, when Katy Keene was officially ordered to series by The CW, we got this preview poster with the show's star, Lucy Hale, touting the tagline, "Welcome to the Big City"…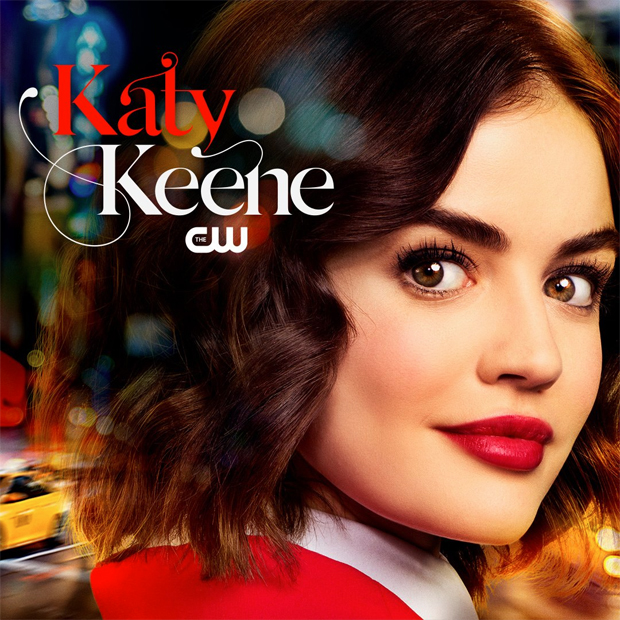 Katy Keene Cast
Lucy Hale (Pretty Little Liars, Life Sentence) has been cast as aspiring fashion designer Katy Keene in the Riverdale spinoff. She will be joined by one of Riverdale's best and brightest, Ashleigh Murray as Josie McCoy.
The Josie character has been woefully underutilized on the series to date, especially in light of the ongoing Gargoyle King storyline, and her desire for fame and fortune was bound to take her away from the weirdo smalltown life of Riverdale. Deadline broke the news of Murray's casting in Katy Keene, adding that "If Katy Keene is picked up to series, Murray will be exiting Riverdale."
Zane Holtz will play Ko Kelly, "a boxer with two goals in life: to fight a welterweight championship in Madison Square Garden and to marry his longtime girlfriend, Katy Keene. Born and raised in Queens, Ko is a humble, protective, salt-of-the-earth guy who makes ends meet as a personal trainer and a bouncer."
Katherine LaNasa is on board to play Gloria Grandbilt, "a legendary personal shopper at the luxury department store Lacy's, which caters to the rich and famous. Always impeccably dressed and the queen of her domain, she demands a level of excellence from her 'girls,' young assistants that few can provide."
In Archie lore, Katy is a glamorous college student and model who lives in New York. Created in 1945 by Bill Woggon, the first iteration of the character was merely a side feature in Wilbur and other Archie comics. By 1949 she had gained enough popularity to receive her own series. Keene is an iconic fashionista and generally regarded as the "pin up girl" of Archie comics.
The first Riverdale spinoff, Chilling Adventures of Sabrina, debuted on Netflix last October. Like Riverdale and the upcoming Katy Keene, Chilling Adventures of Sabrina was produced by Warner Bros. Television. Warner Bros. brought Sabrina to Netflix, away from its native CW, when it was clear that Netflix would offer the show a two-season commitment.