News
Flash Gordon and Archie Crossover Coming
The title tells you most of what you need to know! Archie and his pals will meet up with none other than Flash Gordon!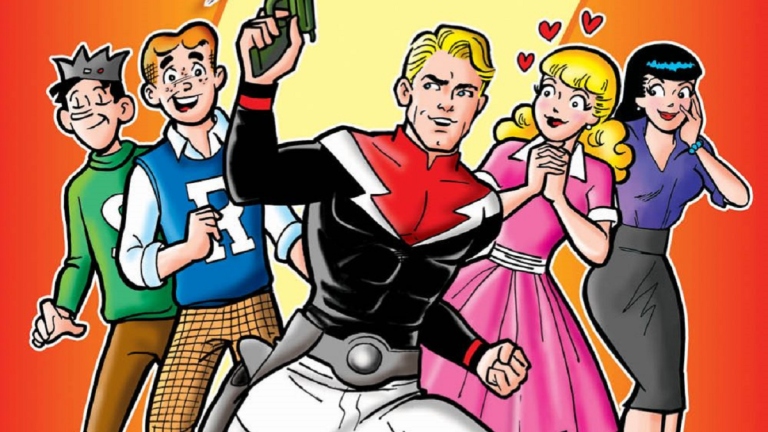 "He saves with a mighty hand. Every man, every child, every woman. He's a mighty Flash."
So declares Queen's theme song to the 1980 Flash Gordon movie, but does Alex Raymond's famed comic strip adventurer have the heroics necessary to keep the ever-bumbling Archie Andrews safe? Comic readers will find out this summer when the Archie Meets Flash Gordon one-shot hits stores.
This is the latest crossover for Archie Comics, following on the heels of the excellent Archie Meets the B-52's. This time around though, the Riverdale gang will be trading in Planet Claire for Mongo. The 48-page comic will retail for $3.99, and is scheduled to hit stores on June 3rd. Here's the official synopsis:
"A strange phenomenon occurs, leading to an alien crash-landing in Riverdale. Fortunately, someone arrives on the scene to save the day: FLASH GORDON! A conqueror from another world wants to colonize Earth and he's close to sustaining a portal that could let his warships through—which leads Flash Gordon, along with Archie and his friends, to the Planet Mongo in this special crossover event!"
Fans familiar with Archie's forays into horror (which include Chilling Adventures of Sabrina and Vamipronica) may be surprised to see these characters now genre-hopping into science fiction, but there's precedence here: To date there have been two Archie vs. Predator mini-series', and the publisher recently issued the digital exclusive title Josie and the Pussycats in Space. Amy Chu's Red Sonja and Vampirella Meet Betty and Veronica also recently saw print through a collaboration between Archie Comics and Dynamite Entertainment. By all means seek that one out. The beauty of the Archie Comics characters is that their versatility makes them easily transferable into other realms, as this latest crossover will illustrate.
The creative team behind Archie Meets Flash Gordon is writer Jeff Parker (who tackled the latter character in a recent ongoing series for Dynamite) and Dan Parent, the Archie vet who created the Kevin Keller character. The pair previously worked together on the Archie Meets Batman '66 crossover, and there's no reason that this latest partnership won't be as joyful as that work.
"I wanted to write more Archie and more Flash Gordon, so this really clicked for me," said Parker in a press release. "I tried to laser in on tailoring this to be a story Dan Parent would enjoy drawing. He hasn't yelled at me yet, so fingers crossed!"
"I was more than thrilled to work with Jeff again," added Parent. "And what could be better than working with a classic character like Flash Gordon? The story has so much action and fun, it really jumps off every page! As a fan of the classic comics and movie serials (and the 1980 movie which I happened to watch again before I was approached with this project), I was excited to take part in another monumental Archie team up. I'm happy to work with my pal Rich Koslowski on this, too!"
While Archie has yet to dip their feet into the sci-fi waters on a full-time basis as of yet (hope springs eternal that the company will revive their late-70s Starship Rivda concept for an ongoing title), Archie Meets Flash Gordon aims to satisfy fans of both franchises. Something tells us they'll do just that, making this cosmic comic a must read in the process.