News
The Queen's Gambit Full Trailer Arrives for Anya Taylor-Joy's Netflix Series
Anya Taylor-Joy is a tortured chess prodigy in Netflix series The Queen's Gambit, which has released its full trailer.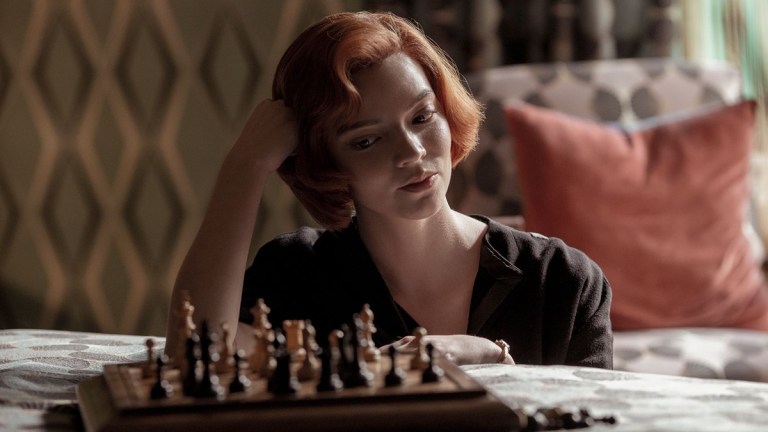 The Queen's Gambit, a television miniseries based on Walter Tevis's 1983 novel of the same name, progresses toward an October arrival on Netflix, auspiciously touting a headliner in rising star Anya Taylor-Joy.
Creator Scott Frank (Godless) wrote the serial television adaptation, which Frank directed for its 7-episode frame. The story of The Queen's Gambit centers on orphaned young American woman Beth Harmon (Taylor-Joy), who endured a rough and cynical upbringing by embracing the game of chess, becoming a prodigious player who starts to dominate the competition circuit, and eventually reaches international levels. However, her story is an odyssey of self-destruction by way of drugs, alcohol and childhood-inflicted anxieties, all of which threaten her chances to become the best player in the world.
With that set, check out the full trailer for Netflix's The Queen's Gambit just below.
The industry stock of headliner Anya Taylor-Joy continues to experience an upward trajectory ever since a breakout starring role in director Robert Eggers's 2015 horror film, The Witch, subsequently rising further with TV runs on BBC's Atlantis and Netflix/BBC One's Peaky Blinders, and cemented with a co-starring role opposite James McAvoy in director M. Knight Shyamalan's thriller, Split, which she would reprise in 2019's Glass. Her upcoming starring role in The Queen's Gambit will cap off a year that's already seen her appear in three films, Emma, Here Are the Young Men and years-delayed Marvel movie The New Mutants. However, 2021 will see her back on the big screen with director Edgar Wright's April-scheduled thriller, Last Night in Soho. In another notable tidbit, she's also favored to star in director George Miller's developing Mad Max: Fury Road prequel, Furiosa, as a younger version of Charlize Theron's instant-classic post-apocalyptic badass.
Taylor-Joy is joined in The Queen's Gambit cast by names such as Thomas Brodie-Sangster, Moses Ingram, Chloe Pirrie, Bill Camp, Marielle Heller, Janina Elkiin, Matthew Dennis Lewis and, notably, Harry Melling, the radically-transformed former child actor of the Harry Potter film franchise, who famously played Harry's obnoxious, spoiled muggle cousin, Dudley Dursley. Additionally, Annabeth Kelly plays the child version of Taylor-Joy's protagonist, Beth, in flashback scenes throughout the series.
The series is in solid hands with creator Scott Frank, who worked on the screenplays for prominent films such as Logan, The Interpreter, Minority Report and Get Shorty, and wrote and directed A Walk Among the Tombstones and The Lookout. Pertinent to the show's platform, he served as writer and director for Netflix's 2017 Western series, Godless, which was headlined by Michelle Dockery.
The Queen's Gambit Release Date
The Queen's Gambit will make its opening move when it hits Netflix on Friday, October 23.