News
Father of the Bride 3 (ish) Trailer Teases Netflix Reunion Special
A reunion threequel of a sort to the popular 1990s Father of the Bride films is coming to Netflix.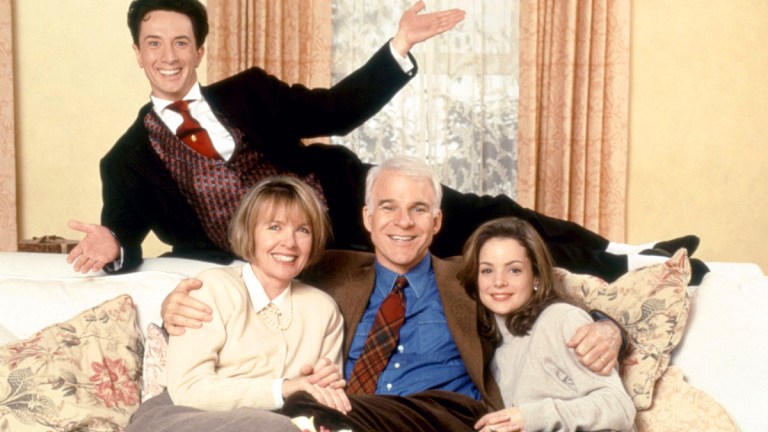 Father of the Bride, the 1991 remake of the classic 1950 film of the same name, managed to further cement comedy icon Steve Martin's mid-career onscreen status as America's (non-Clark-Griswold) well-meaning, but neurotically insecure movie dad. Indeed, its success spawned 1995's Father of the Bride Part II, a remake of 1951 original sequel Father's Little Dividend, before the franchise called it a day. However, a third chapter to reunite the saga of the Banks family, Father of the Bride Part 3 (ish), is now headed for Netflix—albeit with a major catch with regard to its format.
Netflix unveiled a surprise announcement for a "special event" dubbed Father of the Bride Part 3 (ish) on the eve of its premiere, which will stream simultaneously on Netflix and Facebook on Friday, September 25. While Netflix is playing things coy with its descriptive language, the rather abrupt nature of this rollout negates any notion of Part 3 (ish) being a surreptitiously shot sequel, instead pointing to it being a Zoom-centric digital reunion of the cast, akin to the ones we've been getting steadily during the pandemic. However, it appears that said cast will be reading an original script set in 2020.
Check out Father of the Bride Part 3 (ish) trailer just below.
Interestingly, while the trailer mostly serves as a nostalgic recap of the two Father of the Bride films, it touts the presence of writer/director Nancy Meyers, who co-wrote the screenplays for those two films, both of which were directed by Charles Shyer. Likewise, the film franchise cast is returning for this digital sequel, notably with headliners Steve Martin and Diane Keaton reprising their respective roles as George and Nina Banks, joined by Kimberly Williams-Paisley as Annie Banks-MacKenzie, Kieran Culkin as Matty Banks, George Newbern as Bryan MacKenzie, and Martin Short as Franck Eggelhoffer. However, there is also the teased presence of "a few special guests."
Of course, the original premise of 1991's Father of the Bride centered on Martin's George Banks, a successful athletic shoe company owner who's dealing with the existential shock after learning that his young daughter, Annie (Wiliams-Paisley), is getting married. While his wife, Nina (Keaton) is accepting of fiancé Bryan (Newbern), the film is about George's odyssey of accepting him—and the overall situation. It's a dynamic that would be replicated with 1995's Part II, in which George is hit with a double-dose of life-change-caused anxiety when Annie becomes pregnant—despite his feeling too young to be a grandfather—only to learn that Nina is pregnant—despite his feeling too old to be a father again. With Part II culminating with Annie giving birth to a baby boy, and Nina giving birth to a baby girl, one can only imagine what life crises Part 3 (ish) has in store for the embattled George some 25 years since we last saw him.
Father of the Bride 3 (ish) Release Date
Father of the Bride Part 3 (ish) will stream on Netflix and Facebook on Friday, September 25 at 3 p.m. PST / 6 p.m. EST. Much like the aforementioned array of cast reunions for classic films and television shows that have been occurring these past months, the project is an endeavor designed to raise money for charity, in this case for World Central Kitchen, a non-profit organization devoted to creating solutions to combat hunger and poverty around the world.