Reviews
Platonic Review: Apple TV+'s Enjoyable Midlife Crisis
Seth Rogen and Rose Byrne are just friends in Apple TV+'s charming "non-romcom."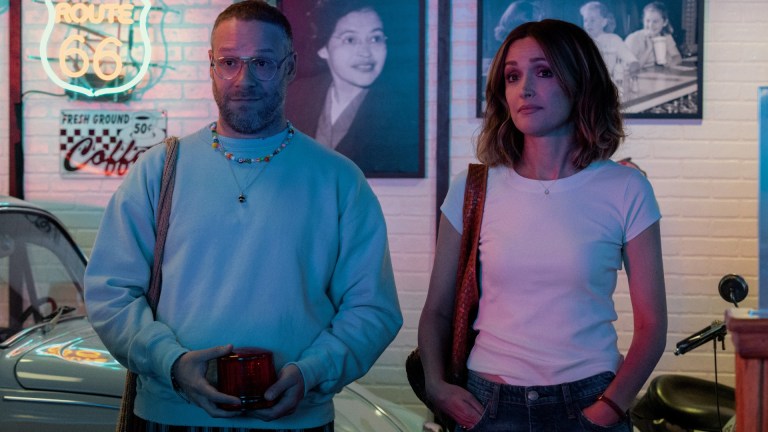 This article contains no spoilers for Platonic.
It's always refreshing to see a rom-com willing to go against the myriad of clichés that watered down the genre to all-too-familiar stereotypes and predictable storylines over the years. Francesca Delbanco and Nicholas Stoller's latest 10-part Apple TV+ series, Platonic, manages to reshuffle the deck in a hilarious way while reinstating the on-screen friendship between a man and a woman, which doesn't need to become more to satisfy viewer expectations. Seeking romance where there isn't any can be just as bad in fiction as in real life. Thankfully, Platonic is well aware of that misstep and how to avoid it.

The plot follows Sylvia (Rose Byrne) and Will (Seth Rogen), two struggling Millennials at an age (early 40s) that often triggers a self-induced panic about their lives (both professional and personal), who they are, and what they achieved. It's the perfect midlife crisis time. Yet their individual problems differ greatly: Sylvia is happily married to a successful and thoughtful lawyer Charlie (Luke Macfarlane), and she's a mother of three adorable kids. She's been grinding the full-time mom-life way too long and now feels somewhat inadequate and stuck in a house that her family has long outgrown. She's no fun (nor does she engage in any) and painfully aware of that.

Will is on the other end of the spectrum. He dresses like a teenage hippie, refusing to grow up, and his job and lifestyle reflect that unequivocally. He's the co-owner of a bar in a bad neighborhood and the brewmaster, literally making beer for a living. He's recently divorced from a woman who's not only out of his league but also way more mature and ahead in life than he is. So it's no surprise that Will's the one who takes the separation harder and acts out in ways we'd expect. The news of his divorce is what makes Sylvia reach out to reconnect since the two used to be best buddies in college, which now feels like a lifetime ago. After an incredibly awkward and brief meetup for coffee, they both think they'll never see each other again. But Sylvia accepts Will's invitation and turns up at his bar to surprise him. After she witnesses a major meltdown between Will and his ex-wife, the two agree to have a drink somewhere else and rekindle the fun they used to have in the old days. Although the night ends in a petty argument where they bring up old grievances, later on, they make up by texting and start to be in each other's lives again.

Despite their seemingly destructive influence on each other at first, this is the kind of friendship the two really need to reflect on their lives. Will is a big man-child with immature fits and many irresponsible decisions that often take him down a road of chaos (making him seem like a giant asshole sometimes), but he's also a lot of (spontaneous) fun. Sylvia craves that spontaneity because she's bored and listless, stuck in a loop of housewife duties. Due to his adolescent lifestyle, Will brings her out of that state of boredom and reminds her that life can be a wild and joyous ride, even if you're a responsible grownup with a husband and kids. And he needs someone just as bad to call him out on his erratic and childish behavior from time to time, telling him to act like a man instead of a sensitive boy.

Platonic smartly avoids romantic clichés from the get-go. Byrne and Rogen's lively on-screen chemistry strictly stems from a friendly bond and never suggests that there could be something more between them. There are no ambiguous looks, sentences, or secret unspoken feelings. Yes, they share a certain level of intimacy, connection, and profound emotions, but the series never makes the mistake of trying to turn those into a "thing" that it's obviously not. The writers (through the characters) even joke about whether a friendship between a man and a woman is possible by bringing up the classic movie When Harry Met Sally, which debates the topic with mixed results.

Even though their close friends, family, and work associates try to convince them that they shouldn't be friends at this stage of their lives, Will and Sylvia relentlessly stick together. And watching them go through multiple silly, bonkers, and at times catastrophic "adventures," you can easily figure out why. Whether it's strolling through the city on scooters, accidentally snorting ketamine-laced cocaine, or partying like there's no tomorrow, they are evidently having the time of their (adult) lives. These shared moments might be messy, embarrassing, and even dangerous at times, but they're also uplifting, joyous, and excitingly unpredictable. The kind of memories that later turn into beloved anecdotes the two will fondly and nostalgically think back on.

Rogen and Byrne effortlessly revive the same casual and charming vibe that made their first on-screen duo in Neighbours (directed by Stoller, who's one of the showrunners here) so appealing in 2014. They goof, they laugh, and they have heart-to-hearts with a smooth rapport that instantly wins us over and makes us like them despite their various human flaws. They both channel that genuine comedic energy that made them outstanding in the genre, and their co-stars (including Carla Gallo, Tre Hale, Vinny Thomas, and more) feed off of that exuberance and add to the overall feel-good mood of the show in their supporting roles.

In the end, Platonic lives up to its premise by delivering a heartfelt (and platonic) relationship between its two protagonists with deft writing, delightful performances, and a charmingly foolish sense of humor, which places the series among such celebrated Apple TV comedies as Shrinking and Ted Lasso — even if on a slightly smaller scale.

The first three episodes of Platonic are available to stream on Apple TV+ now. New episodes premiere on Wednesday through July 12.