News
Our Flag Means Death Fans React to That Season 2 Ed/Stede Moment
Our Flag Means Death season 2 is here, with more queer representation than ever for fans to appreciate!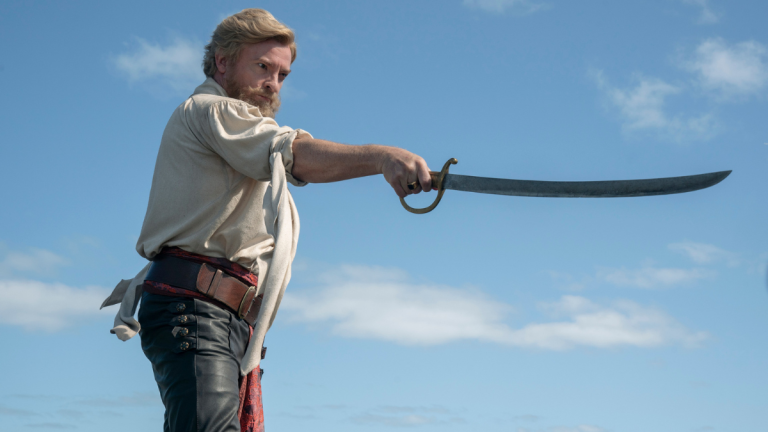 WARNING: this contains MAJOR SPOILERS for SEASON TWO of Our Flag Means Death.
Most shows would kill for the level of fandom that Max's pirate comedy Our Flag Means Death has amassed in just its first season last year. The show's big heart, proudly queer love stories, and superb ensemble cast (particularly leads Rhys Darby and Taika Waititi as Stede Bonnet and Blackbeard) were an instant hit, and its enthusiastic fanbase has waited impatiently for season two.
The first three episodes finally arrived on Max on Oct. 5, and judging from the social media meltdown, Our Flag Means Death's fandom remains as wholesomely unhinged as ever when it comes to their favorite show.
Season one ended on quite the cliffhanger: after Stede got cold feet about running away with his beloved Ed, Blackbeard turned his resulting heartbreak into rage, marooning most of The Revenge's crew on an island, semi-kidnapping the rest, throwing Lucius overboard (presumably to his death), and stealing The Revenge to go on a murderous rampage. Stede had a change of heart and returned just in time to save the marooned crew, but Ed was sadly long gone.
Season two pretty much picks up where we left off, and while the first three episodes haven't been out long, two moments in particular have already put social media into overdrive (SPOILERS ahead!):
An Unexpected Declaration of Love
While fans waited for their favourite 'ship Ed and Stede to be reunited somehow, they were blindsided by a new declaration of love from another pirate entirely: while trying to reason with Blackbeard, first mate Izzy Hands (Con O'Neill, Happy Valley) admits to him: "I… have love for you, Edward." Sadly, this doesn't go well, and shortly afterwards Blackbeard shoots Izzy in the leg.
While many fans had theorised about Izzy's love for Ed, seeing it become canon – and a new queer love story on the show – caused quite the reaction:
Later on in episode two, Blackbeard quietly replies (sadly out of earshot of Izzy): "I loved you. The best I could", with some fans thinking this was his way of expressing regret that he wasn't able to return his friend's feelings in the way he wanted him to:
Con O'Neill's powerful acting performance in season two has already won widespread praise among fandom and critics alike, so it's a strong and promising start for him being a key part of season two's success:
The Ed/Stede Reunion Involves a Merman, a Montage and a Whole Lot of Emotions
The show kept fans waiting right until the end of episode three for Ed and Stede to be reunited and it was as emotionally messy and dramatic as expected.
Ed finds Blackbeard close to death after his crew finally put a violent end to his reign of terror, and just as Blackbeard appears to be giving up on life, the sound of Ed's voice pleading with him to stay alive brings him back, manifesting – much to fans' delighted hysteria – as a hallucination of Ed pulling him from the depths of the ocean as a merman:
The intense, dreamy romance of Ed choosing to live because he heard the sound of Stede's voice was too much for some fans to take:
As were the callbacks to season one, including their original declaration of love, and the fact that Stede was saving Ed in the same way that he saved Stede from his own near-death experience when they first met:
Fans Are Falling in Love – Or Back In Love – With Other Characters
There was also widespread appreciation for both the return of fan favourite Jim (Vico Ortiz) and new character Zheng (Ruibo Qian, Black Mirror), the pirate queen:
The overwhelming response so far has been that season two is as good – if not better – than season one, and now all fans have to do is make it through an excruciating week before the next two episodes air.
The first three episodes of Our Flag Means Death season two are available to stream on Max