News
Our Flag Means Death Cast Promise 'Epic' and 'Heartbreaking' Season 2
What Series 2 adventures lie ahead for The Gentleman Pirate, Stede Bonnet, and Blackbeard? We search for clues from cast, creators and the pirates' real-life history.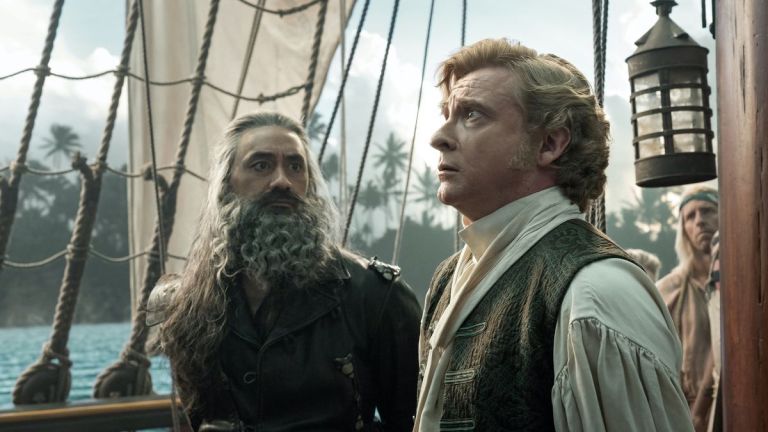 WARNING: Contains spoilers for Our Flag Means Death Season 1 (and potentially Season 2)
It had everything: swashbuckling sword fights, a lovably silly – not to mention diverse and inclusive – crew of shipmates, and the most unexpectedly (pirate)shippable romance of the year. If the first season of Our Flag Means Death left you hungry for more, we've got some good news for you: Series 2 is on the way in 2023.
But what lies ahead for Stede Bonnet and Blackbeard after that cliffhanger of a Series 1 finale? Will they (and their love for each other) survive? And seeing as Stede Bonnet was a real pirate, and much of Our Flag Means Death is based on a true story, what does history tell us about The Gentleman Pirate's potential fate?
Season 2 Will Arrive in 2023
HBO's 2023 teaser reel reveals (right at the end) that Our Flag Means Death will return this year:
This makes sense considering we got word from the show's creator and Samba Schutte (who plays ship's cook Roach) that Season 2 filming wrapped back in mid-December. Remembering that UK viewers had to wait almost 10 months for the first Season to arrive on BBC iPlayer, it's unclear yet whether there'll be a similar delay this time around.
Prepare for Heartbreak?
Kristian Nairn (who plays Wee Johnny Feeney) hosted an Instagram Live on 11th January with fellow cast members Samba Schutte and Rhys Darby (Stede Bonnet), answering fan questions. One fan asked them to describe Series 2 in three words, and the answers they gave were very interesting.
'Bigger' and 'epic' were the words Samba initially chose, to which Kristian added 'extra' and Rhys – after some consideration – chose 'complex'. To his fellow cast members' apparent surprise, Samba then added another word into the mix: 'heartbreaking'.
Later in the Live, and apparently after lots of fan comments, Samba revisited his remark, clarifying: 'By "heartbreaking" I just mean there's so many sweet moments… it's not what you think!'
Rhys and Kristian joked that he was digging himself a hole and the conversation moved on, so we'll have to wait and see what potential heartbreak Series 2 might bring…
A Change of Location
Taika Waititi – aka Blackbeard, and Our Flag Means Death Executive Producer – confirmed that filming for Series 2 has moved from LA to his native New Zealand. He explained:
'We shot the last one in LA. Weird place to try and do something all on the ocean, so we're gonna go down to New Zealand which is surrounded by it.'
Speaking on the Instagram Live, Rhys Darby said shooting in New Zealand was 'both easier and harder. We had this beautiful terrain to use, but it did rain for a lot of it.' Samba Schutte added 'The nature is so epic, I'm so glad we have exterior scenes that capture that.'
Schutte also spoke about how the New Zealand crew – many of whom worked on the Lord of the Rings films – created 'really impressive', 'immersive, 365 degrees' sets for the second series.
Season 2 Story Hints
HBO revealed an official season two synopsis, which doesn't give much away:
"After trading in the seemingly charmed life of a gentleman for one of a swashbuckling buccaneer, Stede became captain of the pirate ship Revenge. Struggling to earn the respect of his potentially mutinous crew, Stede's fortunes changed after a fateful run-in with the infamous Captain Blackbeard, played by Waititi. To their surprise, the wildly different Stede and Blackbeard found more than friendship on the high seas… they found love. Now they have to survive it."
That last line is at least promising, suggesting the relationship between Stede and Blackbeard will be a focus, and this was backed up by an interview in Decider with show creator David Jenkins, who confirmed: 'The show is the relationship.'
He continued: 'We end in a place where there is this breakup. What happens after a breakup between these two people who, one's realized he's in love, and the other one is hurt in a way that he's never been hurt before? What does that do to each of them in an action, pirate world with them trying to find each other again?'
A Tweet from August last year does suggest Blackbeard and Stede shippers might be in for a bumpy emotional ride:
A Rumoured Surprise Return
Several outlets are reporting that Nathan Foad – whose character Lucius was apparently killed off after being thrown overboard by Blackbeard in the Series 1 finale – is on the Series 2 cast list. ScreenRant even gives an interesting theory on how Foad could become the Series 2 villain.
And when Jenkins shared a photo of the Series 2 script on Twitter, he included the hashtag #justiceforluciusrip:
The tweet also hinted that Series 2 is going to be an emotional one, but it gets worse: in the replies, a fan says 'david don't respond to this if lucius is alive'… and Jenkins replies:
That one word could hint at fairly devastating consequences for Lucius fans.
Another sad farewell comes from comedian Guz Khan, who confirmed last year that he is not returning to play pirate Ivan in Series 2 of the show:
Will Stede Get a Happy Ending?
Warning: due to the show's historical inspiration, potential season 2 spoilers ahead
Ah. There's no easy way to say this, but the news isn't good on this one – a few months after Blackbeard abandoned him and marooned his crew, the real Stede Bonnet actually ended up being captured and executed for his crimes in 1718.
But there's no reason for Our Flag Means Death to adhere to this particular part of pirate history (let's be honest, we're already gunning for a third series), and the good news is there's plenty of scope for more adventures in the historical account of the months before Stede was captured.
Lots More Boat Chases – and a Not-So-Cunning Disguise
For starters, we know Stede was so angry at Blackbeard's betrayal that he pursued him up the Carolina coast, so we could have a good old-fashioned romantic boat chase on our hands. While history says he never actually finds him again, we can safely assume that won't be the case for Our Flag Means Death's Season 2 plot.
Despite receiving his King's pardon, Bonnet lapsed into the pirate life once more, raiding several ships alongside his rescued crew and evading capture by assuming the alias Captain Thomas and renaming his ship (formerly known as The Revenge) the Royal James. Considering Stede's theatrical tendencies, these disguises could be excellent fodder for some Series 2 high-jinx.
And once again, he found himself a wanted man, with the South Carolina governor sending two cannon-packed ships after him and his crew. And in a case of you-couldn't-make-this-up real-life comedy, at one point all three ships – the two sent by the governor, and the Revenge/Royal James – end up running aground in the chase, leaving the crews no choice but to pointlessly shoot guns at each other for hours on end until high tide returned. Sadly, at this point, Stede Bonnet and his crew were captured.
Yet More Dressing Up
But all is not lost! There's one more comedy ace in Stede's real life history – while awaiting trial, he apparently staged a daring escape dressed as a woman. Although in real life he was quickly recaptured, this could be a fantastic caper for a Series 2 finale, and a possible chance for Blackbeard to earn forgiveness by helping with the escape…
Our Flag Means Death Series 2 returns in 2023