Features
How Our Flag Means Death Fans Embrace Fan Activism
The Our Flag Means Queer Rights Livestream is just one of many ways fans have turned their fandom into action.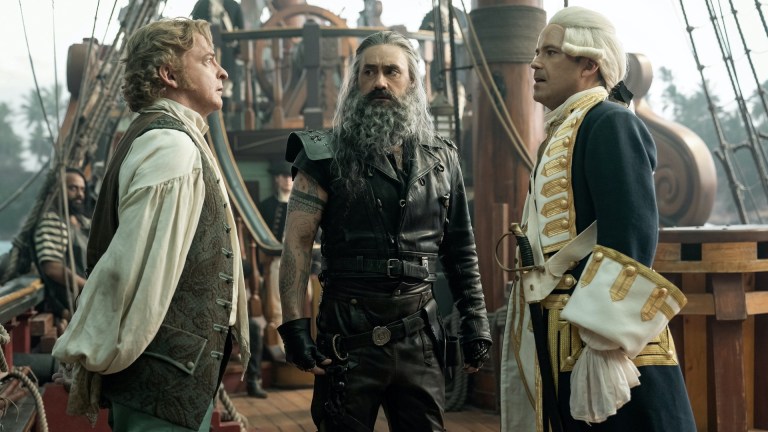 HBO Max's queer pirate romcom, Our Flag Means Death, has become a runaway hit. Fans have embraced this diverse cast of pirates as they navigate the Golden Age of Piracy in an absurdist comedy that wrestles with serious issues. The show asks whether it is possible to experience self fulfillment by rejecting an oppressive society that traumatizes people with toxic definitions of masculinity and power. And there's Taika Waititi as Blackbeard. Clearly this is the adventure of a lifetime.
In the pilot episode, self-professed "Gentleman Pirate" Stede Bonnet (Rhys Darby) proclaims, "Traditionally piracy's a culture of abuse: floggings, keelhaulings. And my thought is why? And also: what if it weren't like that?"
Stede's question doesn't just get to the heart of the show, it gets to the heart of activism. Real world activists pose the question, "why is there so much suffering and what can we do to change that?"
Fan activism is defined as fans working together to use their skills and passions to fight for a fairer world. Fandom Forward, formerly the Harry Potter Alliance, has done groundbreaking work in fan activism for 15 years across a range of fandoms from Black Panther to Steven Universe. Even with that precedent in mind, it's impressive how quickly the OFMD fandom has moved to take on real world challenges through the collective love for the show.
This Wednesday, June 22nd, Victo Ortiz, the actor and activist portraying non-binbary knife wielding person of mystery Jim Jimenez on the HBO Max comedy is joining a crew of super fans for the livestream event: Our Flag Means Queer Rights at 8pm ET.
Ortiz will be interviewed by YouTuber Jackson Bird as part of an online event that promises to "cheer fans on as we take action to create a world that's a little more like the Revenge (chaotic, fun, and accepting, minus the scurvy). We'll make our voices heard with kindness, love, and a little bit of f*ckery." F*ckery being Blackbeard's term for using strategic theatrics and mischief to win a fight.
During the livestream fans will hear directly from Fandom Forward's partners, The Equality Federation, about actions they can take online. There will be petition signing, social media campaigns, and materials to educate friends and family. The pirate activism won't just be limited to the internet, participants will be asked to pledge to take action to protect trans kids when state legislatures reconvene for their next legislative sessions. This will be important to fighting the wave of anti-queer violence currently directed by many elected officials around the country.
Participants in the livestream will include The Gay Pirate Podcast, fan creators Sarah Cummins, TJ Hurt, and Haley Martin as well as The Our Flag Means Death Fan Crew.
We asked Fandom Forward's Co-Managing Director, Katie Bowers, about the vision behind their streaming event.
"The OFMD fandom is particularly primed for activism for a few reasons. One, the show itself is deeply progressive and imaginative. Characters of diverse races, backgrounds, and sexualities all form the family of the Revenge in a way that, to the characters in the show, seems normal and unremarkable."
Many fans are inspired to create fan works because they yearn for more diversity and representation of themselves and their communities in the source material. But in many ways OFMD already feels like a fan work.
"[Showrunner David Jenkins] pulled characters from one of our culture's favorite eras to storytell: the Golden Age of Piracy. They used that (real, but already very, very storified) setting and characters to retell the kind of story they wanted to see – one of love and acceptance and change," Bowers says.
The cast and crew of the show have been unusually eager to engage with fan works over social media. Fans recently learned Damien Gerard, the actor playing Blackbeard's Dad, hangs out in a fandom Discord and comes from fandom himself. Ortiz has posted cosplays as other characters from the show. Actor Samba Schutte, who plays the crew's chef Roach posted a recipe inspired by a cake he bakes on the show and has shared over 765 photos of cakes made by fans based on his recipe.
Too many cast and crew members to name have reshared fan art on social media. Bowers describes this support as an empowering experience for fans: "It's a rich environment for having the kind of encouragement one needs to feel like they can take on the world!"
The fandom itself is very multigenerational, from teens experiencing their first major fandom to adults who may feel burned out by other fan spaces finding new excitement in immersing themselves in this world.
"There's a combination of new people, new stories, new ideas, and experienced people who know the highs and lows of fandom and online community building, and they are all co-creating the space together," Bowers says. "It's not to say the fandom is free from problems – no fandom, activist space, or community is. But the material, the creativity, the energy, and the intergenerational knowledge sharing is all there, and that's incredibly ripe grounds for activism."
The Our Flag Means Death Fan Crew is a new organization that came together through a fandom Discord initially to lobby Warner Bros. Discovery for a renewal of the series. They launched social media campaigns and even an online tool for print-on-demand postcards mailed to HBO Max. But within days of the Crew's formation they began planning to fundraise for causes.
Co-founder Kelli Zielinski has a background in nonprofits and has run fandom campaigns before.
"We didn't know when the renewal would happen, but we all sat down in a Zoom call and hashed out what we wanted to do for the fundraiser and assigned tasks to the team so we could prep for it in the background while we worked on the renewal push," Zielinski says.
Aging is a significant theme throughout the show. Blackbeard's first mate Izzy Hands (Con O'Neil) cautions him "The only retirement we get is… death." Characters like Blackbeard and Oluwande (Samson Kayo)  question whether people who live outside of the dominant society due to social identities like  race, class, and sexuality, or because they've chosen a life of piracy, can even have space to imagine a future that includes rest and security.  This question feels familiar for many LGBTQ+ people, especially as they age, which is why Fan Crew co-founder Jeremy McFarland proposed they fundraise for ​​SAGE, the country's largest and oldest organization dedicated to improving the lives of LGBTQ+ older people.  
"When I watched the scenes that showed Stede's former family life that led to his decision to become a pirate, I was reminded of many LGBTQ elders I've met through SAGE. When LGBTQ people come out later in life, it can change everything— especially if they have a spouse or kids. But at some point, many realize they need to live for themselves. There's something incredible and brave about taking that risk just for a chance at finding more, with no guarantees about what might happen next," says McFarland.
Their #SAGEtheSea fundraiser is taking place through June 26th. Fan creators are donating creative works like stickers, playlists and making arts and crafts or offering commissions of fan art or fanfiction in exchange for donations to SAGE. Supporters are also encouraged to donate directly to the nonprofit organization.
If you are looking to unite with fans to fight for social change take a look at Fandom Forward and the Fan Organizer Coalition's new report, "THE BEST ORGANIZING STRATEGY YOU'VE NEVER HEARD OF" and connect with your fellow fans, no matter what you love. Even if OFMD isn't your cup of tea you'll learn a lot from the June 22nd livestream. Just register online.