News
Our Flag Means Death Season 2 Premiere Confirms a Major Fan Theory
Episode two of Our Flag Means Death season 2 finally answers a question that fans have been speculating about for a long time.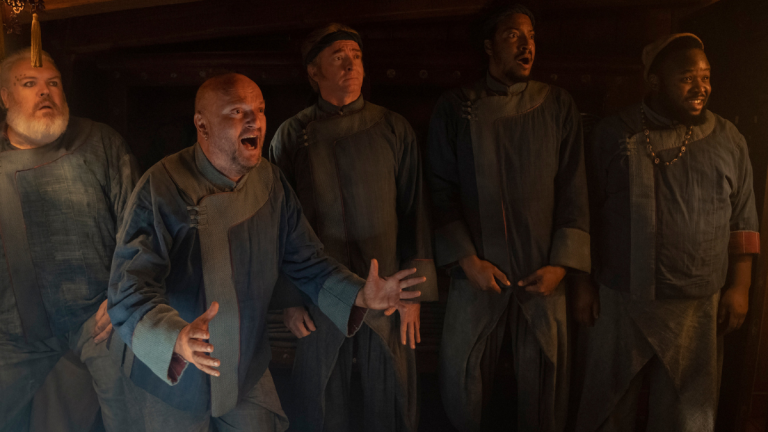 WARNING: This article contains MAJOR SPOILERS for Our Flag Means Death seasons 1 and 2.
Ever since season two of Our Flag Means Death was confirmed back in June 2022, eagle-eyed fans have been scouring every news story and IMDb listing to see if the season two casting announcements would answer a particularly burning question.
And that question is: did Lucius survive?!
We met the quick-witted Lucius Springs (Nathan Foad, Bloods) in season one as one of the crew members aboard The Revenge, the pirate ship manned by Stede Bonnet (Rhys Darby), and he instantly became a fan favorite, especially as his relationship with fellow crew member Black Pete (Mathew Mayer, Prodigal Son) blossomed through the series, and as he became an unofficial relationship counsellor for Stede and Blackbeard.
But then, in the season one finale, a newly brutal, broken-hearted Blackbeard (Taika Waititi) throws Lucius overboard:
Fans spent months speculating whether Lucius could have survived this, and coming up with theories as to how:
One fan even asked Our Flag Means Death creator Peter Jenkins on X (formerly Twitter), which got a less than promising response:
We got our biggest clue yet when the season two trailer dropped, and some fans felt they'd spotted a pirate that could possibly be Lucius:
And now, thanks to the second episode of the brand-new series, we finally have our answer.
LUCIUS IS ALIVE!!!
In a fortuitous twist at the end of episode one, the crew of The Revenge discovered that Susan (Ruibo Qian, Black Mirror), the lady running the soup kiosk in the Republic of Pirates, was in fact the fearsome Pirate Queen Zheng, famous for conquering China. She takes them aboard her ship, The Red Flag, with its all-female crew, and introduces them to "the one other man on board" who is known as "rat boy".
And, to the crew's shock and delight, in walks Lucius.
Impressively, this fan correctly predicted that this Vanity Fair first-look photo was indeed the moment the crew discovers Lucius is alive:
But thanks to Our Flag Means Death's textbook depth and emotional maturity, the reunion isn't all plain-sailing. Lucius is clearly traumatised by what's happened to him, and the things he had to do to survive, and is furious with Stede for causing Blackbeard's murderous rampage.
But if we know one thing about Stede Bonnet's band of pirates, it's that they know how to "talk it through as a crew," and Lucius' return becomes a touching opportunity to examine how relationships rely on honesty, even in the worst times. 
And, in typical Lucius fashion, he delivers some hard truths to Stede about Ed: while Stede isn't ready to give up on him yet, Lucius warns him that "some people are just broken, no matter what you do."
We'll have to wait until later in the series to find out if he's right.
The first three episodes of Our Flag Means Death season two are available to stream on Max now