Features
Rhys Darby Is Finally Getting The Recognition He Deserves
Playing Stede Bonnet in Our Flag Means Death has welcomed a huge new fanbase into Rhys Darby's lovably quirky world. Here's what newcomers have been missing.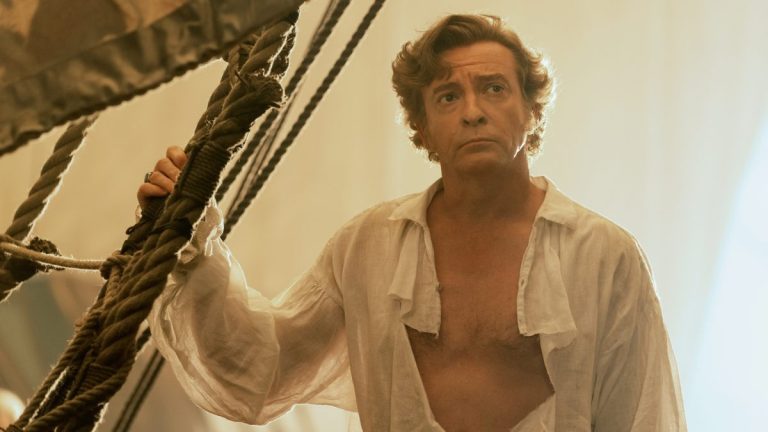 Anybody introduced to the comedy force of nature that is Rhys Darby by Our Flag Means Death, pull up a chair, because there's a hell of a lot to catch up on.
While Darby's wholesome, eccentric portrayal of Captain Stede Bonnet in HBO's pirate comedy (affectionately dubbed 'the gay pirate show' by fans) may have sent his fame skyrocketing in 2022, his new fanbase has a 25-year-strong back catalogue of wonderful Rhys Darby chaos to explore…
Four Kiwis Take Flight (Of The Conchords)
The New Zealand comedy quadrumvirate that is Darby, his Our Flag Means Death co-star and Executive Producer Taika Waititi, and Flight of the Conchords' Jemaine Clement and Bret McKenzie, really came together back at the 2002 Edinburgh Fringe.
Darby had a solo show, Clement and Waititi had a double-act called The Humourbeasts, but it was Clement and McKenzie's musical duo Flight of the Conchords that was the hit show of the festival.
While they'd been loosely familiar with each other back in New Zealand, it was here that Jemaine Clement asked Rhys Darby to become involved in their Flight of the Conchords BBC radio pilot, (later a hit TV series on HBO) and Darby's beloved character, band manager Murray Hewitt, was born.
In a 2019 interview, Darby revealed it was during the record for this first pilot that they came up with the show's infamous band meetings:
"We totally improvised it… Jemaine said 'Well you're the band manager, so let's have our first meeting'… and it came naturally to me to do a roll call. So I said 'Right, who have we got here. Bret?' And he went 'Present.' 'Jemaine?' 'Yeah, present – you know I'm here, you can see I'm here.' We started straight away into that kind of stuff."
A little-known fact is that Taika Waititi was the first to play Flight of the Conchords' band manager in a short spoof documentary for their 2002 Edinburgh Fringe show.
Indeed, Waititi and Darby's paths crossed numerous times over the years preceding Our Flag Means Death: Darby plays the kooky Psycho Sam in Waititi's award-winning film Hunt for the Wilderpeople, as well as appearing as Anton the werewolf in Waititi and Clement's critically acclaimed comedy-horror mockumentary What We Do In The Shadows, later a hit FX TV series.
Stand-Up and Sound Effects
Darby has been honing his uniquely weird stand-up for over 25 years, and has delighted in it being discovered afresh in recent months:
"All these new fans that have watched Our Flag Means Death hadn't seen my stand-up and started looking at it online. I was just inundated with comments and people retweeting stuff, a lot of TikTok stuff, people discovering me for the first time. It gave me a rebirth in a way, made me feel like my stuff must still be relevant."
His most recent standup special, Mystic Time Bird (available on Amazon Prime) is both fantastically silly but also at times a poignant reflection on grief.
Go back further, and you'll discover Rhys Darby has a rare talent for sound effects, which frequently feature in his standup. The impression of an army helicopter flying overhead in this clip deservedly earns a particularly enthusiastic reaction:
But he also uses his sound effect talents to poke fun at himself, most notably in this recounting of a disastrous Westworld audition, complete with extensive robot impression:
Translating Rhys Darby Into Japanese
More recently, Darby fronted the travel documentary Rhys Darby: Big In Japan, partly an exploration of Japanese culture (think Samurai training, amusing attempts at Sumo wrestling, and becoming a mascot), but also an attempt to work out how to adapt his standup for a Japanese audience, which has its own comedy traditions and expectations. This includes asking a famous Japanese artist to create his own logographic character to represent his brand, which he learns translates to 'Jasmine Congratulations.'
He has varying levels of success in his Japanese standup experiment, but the whole series is full of joyful Rhys Darbyisms that add an unforced charm to his interactions with Japan's people and culture:
Going Full Weird: Cryptids, X-Files and UFOlogists
It's always fun for geeks to discover that the stars of our favourite geeky shows are even geekier than we are, so it'll no doubt please you to learn that Rhys Darby is not only Pirate Captain, he's a strong contender for Geek Captain too.
For one thing, since 2008 he's hosted The Cryptid Factor, a podcast in which he and his close friends Buttons and Dan Schreiber discuss their fascination with cryptozoology, aka creatures like Bigfoot, the Mothman and the Loch Ness Monster.
Although episodes are sporadic, the show is still going, and to this day it remains an easy-listening blend of fun facts about sightings of mythical creatures and three dad friends making very funny dad jokes. He also released a UFO podcast, Aliens Like Us.
It was also on The Cryptid Factor that Darby first shared his excitement about landing a role in the revived version of The X-Files. His episode, 'Mulder & Scully Meet The Were-Monster', aired in 2016 and sees him playing the amusing Guy Mann, a lizard-creature-turned-human who struggles to cope with his dual identities:
Darby puts his fascination with cryptozoology and the unknown down to feeling like he wasn't supposed to exist, having been a 'surprise' fifth child arriving some years after his four siblings.
Short Poppies
Perhaps it is this championing of weirdness that makes his comedy series Short Poppies stand out from many other forms of awkward mockumentary thanks to its genuine warmth. Over the course of its eight episodes, Darby plays a range of eccentric characters, including a UFOlogist with an agoraphobic girlfriend, an ineffective park ranger and a lifeguard who is more interested in winning a Sexy Legs competition than saving lives at sea:
But although each episode begins with obvious mockery of the characters' bonkers obsessions and blindness to how they are perceived by those around them, Darby skilfully shows the audience their human side, and each time we end up fully rooting for them, oddness and all.
Stede Bonnet Isn't His First Romantic Lead
Darby's certainly known for an impressive list of films, from Jim Carrey comedy Yes Man to the new Jumanji films and Richard Curtis' pirate radio picture The Boat That Rocked.
But while these big films do give us memorable Darby roles, he's also an underrated romantic lead in lesser-known movies like Coming and Going (where his unprincipled character finds himself unintentionally pretending to be a wheelchair-user) and Love Birds (available on Amazon Prime), a quirky independent film from 2011 which he stars in alongside Paddington's Sally Hawkins:
There's more to discover about Rhys Darby, from his trouble bringing up a pair of goats to his novelty shot glass collection, but for now we'll wait impatiently for more news about the supposedly 'heartbreaking' and 'epic' Series 2 of Our Flag Means Death.