Features
New US TV Shows Airing Soon in the UK – and Where to Watch Them
It's our turn to enjoy these recent American TV hits – from Natasha Lyonne's Poker Face to the new season of Superman & Lois, and more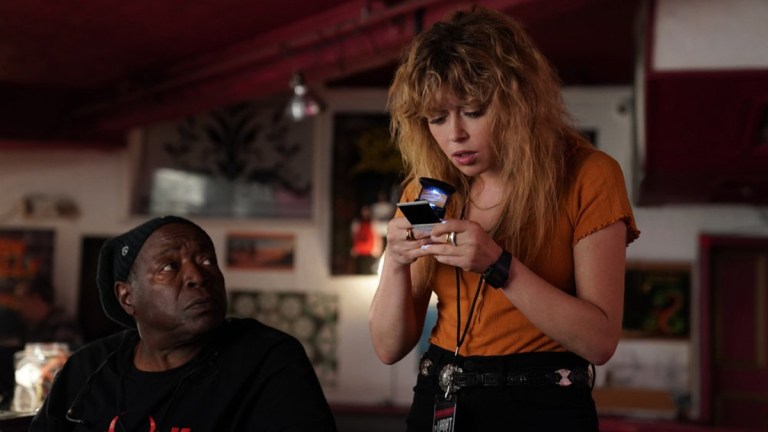 Imagine, if you dare, the time before this golden age of international streaming services. Oh the horror! All those hit US TV shows we had to wait so patiently for, wondering when the UK would finally air the next series of Friends, The Sopranos or The West Wing.
These days we're much luckier, with most of the top US TV highlights dropping simultaneously or soon after on one of the big streamers, but there are still some American terrestrial TV gems that slip through the net.
We've kept our eyes peeled for you – so here are the top US shows that will soon be arriving in the UK, plus one we're impatient to watch but which is still only available to purchase per-episode.
Poker Face – Sky Max and NOW, Friday 26th May
This should be right at the top of every crime drama fan's watchlist. Poker Face comes from the mind of Knives Out director-writer Rian Johnson, and retains his classic murder mystery style with a Columbo twist, taking on the iconic detective show's 'case of the week' format where we discover whodunnit at the start of each episode, and simply enjoy watching a great mind unravelling the truth.
Poker Face's co-creator is Russian Doll star Natasha Lyonne, who also plays the lead role of Charlie Cale, a scrappy underdog who can somehow always tell when someone is lying. The ten-part series has an original format with a good dose of comedy from Lyonne, and was rightly lauded when it came out in the States. The UK can enjoy Poker Face from Friday May 26th on Sky Max and NOW.
White House Plumbers – Sky Atlantic and NOW, Tuesday 30th May
Woody Harrelson stars in this five-part satirical drama about the Watergate scandal, and how the Nixon presidency was brought down by the very people tasked with protecting it. Harrelson plays E. Howard Hunt alongside Justin Theroux (Mulholland Drive) as G. Gordon Liddy, two of Nixon's political saboteurs who failed their way upwards, ending up on his re-election committee, where they become responsible for one of America's greatest political crimes.
White House Plumbers is a classic and highly entertaining example of truth being stranger than fiction, and also stars Game of Thrones' Lena Headey and Sons of Anarchy's Kim Coates. It begins airing in the UK on Sky Atlantic from May 30th.
The Idol – Sky Atlantic and NOW, Monday 5th June
Popstars, self-help gurus, a cult… The Idol certainly earns its 'drama' classification, and that's before we get to the high-profile cast of young stars. Lily Rose Depp (The King) leads the cast as Jocelyn, a pop singer trying to stage a comeback after a nervous breakdown, when she becomes involved with troublesome self-help guru Tedros (real-life popstar The Weeknd) and his modern-day cult.
The six-episode series – as you might expect from Euphoria creator Sam Levinson – is quite literally full of sex, drugs and rock and roll, and also stars Dan Levy (Schitt's Creek), YouTube influencer Troy Sivan and K-Pop star Jennie Kim. After premiering at Cannes, it arrives on Sky Atlantic in the UK on June 5th.
The Ark – Sky Sci-Fi and NOW, Tuesday 13th June
Set 100 years in the future, The Ark is a sci-fi drama about a spacecraft full of humans trying to survive the devastation of Earth by escaping to a new planet, when a catastrophic event kills the ship's technical crew and senior officers, leaving the survivors to try desperately to reach their destination.
This action-packed twelve-part series was created by Independence Day producer Dean Devlin and Stargate SG-1 director Jonathan Glassner, and stars Christie Burke (The Twilight Saga), Reece Ritchie (Hercules) and Richard Fleeshman (Coronation Street) as three of the leading survivors. After its US premiere in February, The Ark is expected to arrive on Sky Sci-Fi in the UK on Tuesday June 13th (*updated from previously announced air date of May 25th*) .
Superman & Lois Season 3 – BBC One and BBC iPlayer, late summer 2023
Tyler Hoechlin and Elizabeth Tulloch return as power couple Clark Kent (spoiler alert: also secretly Superman) and the world's best reporter Lois Lane, who live in Smallville with their twin sons Jonathan and Jordan, trying to play happy families but being constantly interrupted by the need to fight bad guys. The third season of Superman & Lois sees Superman go up against dastardly crime syndicate Intergang, while Lois begins a more relatable battle after receiving a breast cancer diagnosis.
As ever, the UK will be able to watch Superman & Lois on the BBC, with the third series due to arrive later in the summer.
Love & Death – ITVX, Autumn 2023
This highly anticipated, gripping true crime drama stars Elizabeth Olsen (WandaVision) as Candy Montgomery, a dutiful Texas housewife who was accused of killing her lover's wife in a brutal axe attack back in 1980.
The impressive cast also includes Jesse Plemons (Friday Night Lights) as Candy's lover Allan, Lily Rabe (American Horror Story) as his wife Betty, as well as Krysten Ritter (Jessica Jones), Patrick Fugit (The Last of Us) and Homeland's Elizabeth Marvel. The seven-episode HBO series will arrive on ITVX in the UK this autumn.
Still Purchase-Only in the UK: Interview With the Vampire
Anne Rice's much-loved 1976 novel has already had a pretty famous adaptation – the 1994 Gothic horror film starring Brad Pitt and Tom Cruise – but this new TV version is an altogether more modern take, fully embracing the original story's queerness and adding themes around race and toxic masculinity. US reviews – including our own – were extremely enthusiastic.
Jacob Anderson (Game of Thrones) stars as Louis de Pointe du Lac, a vampire recounting his life story to journalist Daniel Molloy (Eric Bogosian, Succession), detailing his tempestuous relationship with Lestat de Lioncourt – the vampire who turned him, played by The Newsreader's Sam Reid – and the young vampire Claudia (Bailey Bass, Avatar: The Way of Water), whom he cares for as a daughter.
You can currently buy individual episodes of this seven-part series on Prime Video in the UK, but at the time of writing, there's still no way to stream the season as part of a subscription package, or to see it on broadcast television. As soon as that changes, we'll let you know.