Features
How Poker Face Solves a Modern Day Detective Show Problem
When something gets in the way of Charlie Cale encountering a mystery on Poker Face, the show just wisely takes it away.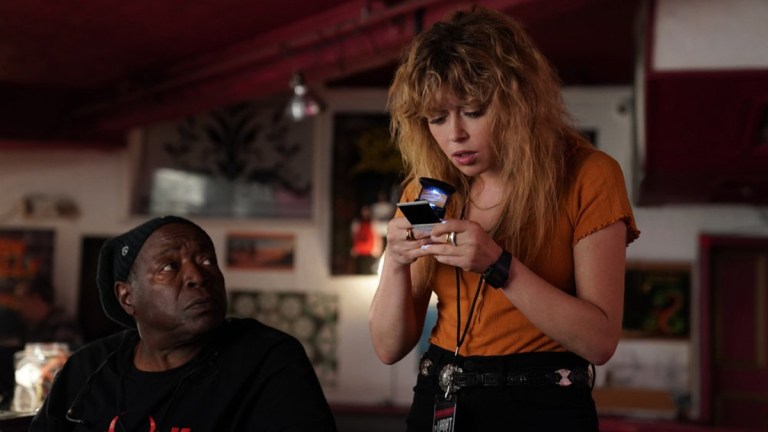 This article contains spoilers for Poker Face episode 1.
Technology, for as great as it can be, has also taken some much-needed mystery out of life. Gone are the days when a joyful barstool argument about the name of a certain actor would extend into the wee hours of the night as a quick trip to IMDb will always swiftly settle the matter.
Perhaps that's why detective stories, once a mainstay on television, have largely fallen by the wayside in favor of big franchises, bingeable streaming dramas, and easy-going sitcoms. The humble cellphone, though a useful tool, is also a story-killer waiting to happen. That's why when Poker Face, the Natasha Lyonne-starring series on Peacock about an investigator with a nose for the truth, wanted to bring back a sense of Columbo fun to television, it knew exactly what to do.
"We actually had a joke in the writers room. The reason that (Natasha Lyonne's character) Charlie Cale stumbles into a mystery every week is because she's the only person in America without her nose in a phone," Poker Face writer and executive producer Lilla Zuckerman says. "She's actually noticing everything around her. If we didn't have our phones, we might see a murder every day."
The magic of Poker Face, aside from a winning performance from Lyonne and the careful stewardship from murder mystery maestro Rian Johnson, is that it finds a very compelling reason for its lead detective to ditch all technology early on. The series' pilot introduces viewers to Charlie Cale, a seemingly mild-mannered cocktail waitress at Frost Casino. It just so happens that Charlie also has a unique talent: she is able to accurately tell when someone is lying.
Naturally, the casino boss's failson Sterling Frost Jr. (Adrian Brody) seeks to put those talents to good use. In the process, however, Charlie discovers that Sterling has murdered her friend to cover up a high-roller's illegal activities. Like any good detective, she unravels the mystery and ruins Sterling's life in the process, leading him to jump out of a casino window to his death. Now Sterling's father, the enigmatic Sterling Frost Sr., is on Charlie's tail and he'll move heaven and earth to find her.
The upshot of all of this is that Charlie Cale has to go well and truly off the grid to stay away from her powerful enemies: smartphone crushed to pieces, bank cards used sparingly, muscle car gassed up and ready to hit the road without stopping. Every subsequent episode in Poker Face's case-of-the-week first season puts Charlie on a level technological playing field with her classic TV detective peers: the Columbos, Kojaks, and Jessica Fletchers of the world. Charlie can't easily Google information about the people she suspects of murder … though she does email a tip to "fbi@fbi.gov" at one point.
"Sometimes the presence of the cellphone is a story killer," Nora Zuckerman, executive producer, writer, and Lilla's sister, says. "You could just call for help. You can Google something. And Charlie doesn't have that luxury. She's off the grid, right? There's certainly times on the show where she grabs somebody's phone and looks at something or whatever. But really, being untethered from that technology was really fun. It gave us an opportunity to go a little old school with her methods. And it felt really freeing."
Interestingly, Poker Face co-creator, producer, and director Rian Johnson (Knives Out, Glass Onion) has a diverging take on the role of cell phones in murder mysteries.
"When I first started writing Knives Out and it was set in modern day, I thought 'Am I going to hit a thing where I have to figure out like no cell reception or something?'" Johnson says. "But I found that cellphones didn't actually really impede the mechanics of a murder mystery, the way they impede a horror movie's mechanics."
Johnson, a big detective procedural fan himself, theorizes that it wasn't a fear of fun-killing technology that made the TV industry fall out of love with gumshoes but rather something more mundane.
"I think TV has kind of gone away from (this format) just because there have been so many great shows that have been serialized," Johnson says. "And I think that's led to kind of a collective amnesia where people start thinking that the reason the only thing that keeps viewers watching is a mystery taking an entire season to solve."
Of course, there could be an additional element besides cellphone technology at play …
"Another reason why I think it's not done now is that it's just fucking hard to make a show with no standing sets and no recurring cast. It's a beast. I kind of get why people don't do this a lot anymore. But it's worth it, though. I think it's worth it."
The first four episodes of Poker Face are available to stream on Peacock now. New episodes premiere each Thursday.