News
New on Netflix: March 2023
Here's what's new on Netflix in March 2023 including the final episodes of You Season 4 and Shadow and Bone Season 2!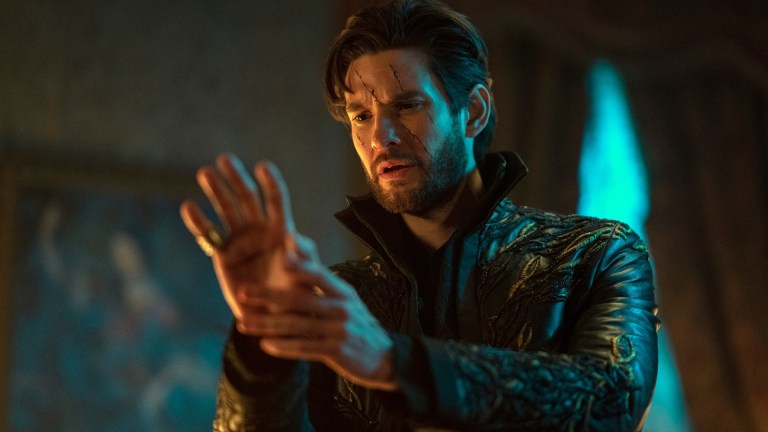 It seems like just last month Netflix was releasing the long-awaited fourth season of its stalker drama You. And that's because it was just last month that Netflix released You Season 4! Now, with its list of new releases for March 2023, Netflix is finishing off what it started with You Season 4 Part 2.
The five episodes that make up You Season 4 Part 2 will premiere on March 9. The ending of Part 1 left things off on quite the cliffhanger so soon we will get to see how Joe (Penn Badgley) reacts to the reveal of the other serial killer in his orbit. Netflix is premiering a fresh season of another one of its TV hits this month as well with Shadow and Bone Season 2 premiering on March 16.
The biggest TV new in March 2023 might actually come in the form of a movie though. Idris Elba will reprise his iconic British TV role as DCI John Luther in the film Luther: Fallen Sun on March 10. The other big ticket movie item this month is the Adam Sandler and Jennifer Aniston-starring Murder Mystery 2 on March 31.
Of course, Netflix has increasingly become know for its stellar international streaming options. This March that reputation should continue with several major docuseries from the U.K. (MH370: The Plane That Disappeared on March 8 and Money Shot: The Pornhub Story on March 15) and a new Korean series of note (Kill Boksoon on March 31).
Major library titles this month include The Hangover (March 1), World War Z (March 7), and Carol (March 20).
Here is everything else coming to Netflix this month.
New on Netflix: March 2023
TBD
Agent Elvis — NETFLIX SERIES
Furies 🇻🇳– NETFLIX FILM
I Am Georgina: Season 2 🇪🇸– NETFLIX SERIES
March 1
Cheat 🇬🇧– NETFLIX SERIES
Tonight You're Sleeping with Me 🇵🇱– NETFLIX FILM
Wrong Side of the Tracks: Season 2 🇪🇸– NETFLIX SERIES
Big Daddy
Burlesque
Easy A
Forged in Fire: Knife or Death: Season 2
The Hangover
The Hangover: Part II
The Hangover: Part III
Little Angel: Volume 2
Magic Mike XXL
National Lampoon's Animal House
Open Season
Open Season 2
Out of Africa
Rango
Seven Years in Tibet
Sleepless in Seattle
Spirit: Stallion of the Cimarron
The Other Boleyn Girl
March 2
Framed! A Sicilian Murder Mystery: Season 2 🇮🇹– NETFLIX SERIES
Karate Sheep 🇫🇷– NETFLIX FAMILY
Masameer County: Season 2 🇸🇦– NETFLIX SERIES
Monique Olivier: Accessory to Evil 🇫🇷– NETFLIX DOCUMENTARY
Sex/Life: Season 2 — NETFLIX SERIES
This Is Where I Leave You
March 3
Love at First Kiss 🇵🇱– NETFLIX FILM
Next in Fashion: Season 2 — NETFLIX SERIES
Split the Root
March 4
Chris Rock: Selective Outrage — NETFLIX COMEDY
Divorce Attorney Shin 🇰🇷– NETFLIX SERIES
March 6
Ridley Jones: Season 5 — NETFLIX FAMILY
March 7
World War Z
March 8
Faraway 🇩🇪– NETFLIX FILM
MH370: The Plane That Disappeared 🇬🇧– NETFLIX DOCUMENTARY
March 9
You: Season 4 Part 2 — NETFLIX SERIES
March 10
The Glory Part 2 🇰🇷– NETFLIX SERIES
Have a nice day! 🇲🇽– NETFLIX FILM
Luther: The Fallen Sun — NETFLIX FILM
Outlast — NETFLIX SERIES
Rana Naidu 🇮🇳– NETFLIX SERIES
10 Minute Workouts : Volume 2
20 Minute Workouts : Volume 2
30 Minute Workouts : Volume 2
Abs & Core Volume 1
Bodyweight Burn : Volume 2
Fire & Flow with Tara & Xochilt Volume 1
Fitness for Runners Volume 1
High-Intensity Training : Volume 2
Ignite & Inspire : Volume 1
Kick Off with Betina Gozo : Volume 1
Lower-Body Workouts Volume 1
Upper-Body Workouts Volume 1
Yoga Volume 1
Yoga with Xochil : Volume 1
March 14
Ariyoshi Assists 🇯🇵– NETFLIX SERIES
Bert Kreischer: Razzle Dazzle — NETFLIX COMEDY
March 15
The Law of the Jungle 🇲🇽– NETFLIX SERIES
Money Shot: The Pornhub Story 🇬🇧– NETFLIX DOCUMENTARY
March 16
The Chronicles of Riddick
Kick-Ass 2
Pitch Black
Riddick
Shadow and Bone: Season 2 — NETFLIX SERIES
Still Time 🇮🇹– NETFLIX FILM
March 17
Dance 100 🇬🇧– NETFLIX SERIES
In His Shadow 🇫🇷– NETFLIX FILM
Maestro in Blue 🇬🇷– NETFLIX SERIES
The Magician's Elephant — NETFLIX FILM
Noise 🇧🇪– NETFLIX FILM
Sky High: The Series 🇪🇸– NETFLIX SERIES
March 20
Carol
Gabby's Dollhouse: Season 7 — NETFLIX FAMILY
March 21
We Lost Our Human — NETFLIX FAMILY
March 22
Invisible City: Season 2 🇧🇷 — NETFLIX SERIES
The Kingdom: Season 2 🇦🇷 — NETFLIX SERIES
Waco: American Apocalypse — NETFLIX DOCUMENTARY
March 23
Johnny 🇵🇱– NETFLIX FILM
The Night Agent — NETFLIX SERIES
March 24
Chor Nikal Ke Bhaga 🇮🇳– NETFLIX FILM
Love Is Blind: Season 4 — NETFLIX SERIES (new episodes weekly)
March 28
InuYasha: Seasons 4-5
Mae Martin: SAP — NETFLIX COMEDY
March 29
Emergency: NYC — NETFLIX DOCUMENTARY
Unseen 🇿🇦– NETFLIX SERIES
Wellmania 🇦🇺– NETFLIX SERIES
March 30
Big Mäck: Gangsters and Gold 🇩🇪– NETFLIX DOCUMENTARY
From Me to You: Kimi ni Todoke 🇯🇵– NETFLIX SERIES
Unstable — NETFLIX SERIES
March 31
Copycat Killer 🇹🇼– NETFLIX SERIES
Diary of a Mad Black Woman
Henry Danger: Seasons 4-5
Kill Boksoon 🇰🇷– NETFLIX FILM
Love Is Blind: Season 4 — NETFLIX SERIES (new episodes weekly)
Murder Mystery 2 — NETFLIX FILM
Teenage Mutant Ninja Turtles: Season 2
Leaving Netflix: March 2023
March 5
Hap and Leonard: Seasons 1-3
March 16
Lee Daniels' The Butler
Outback Truckers: Seasons 1-3
March 18
Instant Hotel: Season 2
March 24
Shtisel: Seasons 1-3
March 25
Big Time Rush: Seasons 1-4
March 31
30 Minutes or Less
Brokeback Mountain