Features
You Goes Full Glass Onion in Its Wild Fourth Season
Sex. Money. Revenge. These are the three prime motives for murder. At least that's what You Season 4 wants you to think.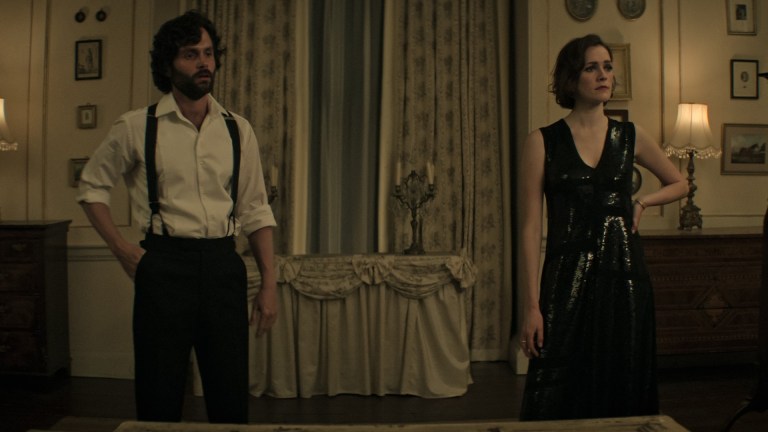 This article contains spoilers for You Season 4 Part 1 and Glass Onion: A Knives Out Mystery.
Murder mysteries involving toxic, obscenely wealthy friend groups are all the rage right now (see: White Lotus Season 2, Glass Onion: A Knives Out Mystery). The fourth season of You continues this trend as Joe (Penn Badgley) finds himself enmeshed with a group of London's insufferable elites who happen to have a mystery killer in their midst. However, Joe Goldberg is no follower. In fact, since Season 1 he's always been lurking in the gilded shadows, fulfilling our collective desire for deadly schadenfreude involving the uber-wealthy. Given his utter disdain for the one percent, it's odd that Joe continues to find himself surrounded by trust fund babies, tech billionaires, and Instagram influencers, but it's always fun to hear his innermost thoughts as he takes clever digs at the excess he sees around him.
This season picks up a few months after the events of the Season 3 finale. Joe, now Jonathan Moore, has (shockingly) let his former paramour Marianne go on her way back to Paris and finagled his way into a job as a professor of literature at the fictional Darcy College. It's fitting that the college appears to be named after one of the most desirable bachelors in literature, but I digress.
In a short period of time, Joe has settled into a routine of teaching classes and then returning to his cozy rented flat at night to — what else? — spy on the hot neighbors, Malcolm (Stephen Hagan) and Kate (Charlotte Ritchie). After an absinthe-soaked night on the town, Joe wakes to find Malcolm's dead body in his apartment with no memory of how it happened. Soon after, he starts receiving texts from the killer, taunting him about his past.
In a delightful twist that livens up the fourth installment of the series, the hunter becomes the hunted. Badgley seems up to the task, deploying Joe's trademark shifty eyes and secret smile as shields against a nemesis that would seek to destroy him. The mystery texter immediately seems to know Joe well, forcing him to confront the contradictions inherent in his obsessive cycles of love and death. Joe has often had to grapple with whether or not he is a good person, but he has always sought external validation in the form of being "good enough" to be loved by the objects of his obsession. Here, Joe's inner narrative is no longer focused on seeking acceptance; it's seeking revenge. This new focus forces Joe to confront some harsh truths about his own motivations and desires that he's been pushing away for the duration of the series thus far. The result is thrilling.
As the body count starts to rise, Joe becomes more and more enmeshed with Kate and Malcolm's friends. He finds himself particularly drawn to Rhys Montrose (Ed Speleers), a man who has a checkered past similar to Joe's. He's also a beloved public figure who's about to run for mayor of London. However, the rest of the group is borderline insufferable. With the exceptions of the workaholic Kate and the kindhearted Phoebe (Tilly Keeper), the toxic group is full of mostly terrible, cruel, self-centered opportunists who are so horrible that they might just deserve to die, and they spend every possible moment together.
While Joe is in familiar moneyed territory, the cast of new characters livens up the world of the show. In particular, Keeper's effervescent Lady Phoebe and Speleers's enigmatic Rhys Montrose are captivating to watch whenever they're on screen. And even though we've seen this dynamic play out before in past seasons with Love and Joe, Charlotte Ritchie does a capable job of portraying Kate as a possible love interest / foil for our anti-hero. She's certainly no Love, but her acerbic character has some potential that I hope will continue to blossom when Part 2 of the season drops in March.
Eventually, the group ends up on a mini-break at Phoebe's family getaway called Hampshire House. And Joe is along for the ride.
On the first evening at the mansion, Phoebe is carried into the dining room, covered in blood. A servant announces that Lady Phoebe has died, and it's up to them to find out who killed her. A group of insanely wealthy people playing a murder mystery game at a fancy pants location while a killer is in their midst? If you've recently seen Rian Johnson's film Glass Onion, the concept might sound more than a bit familiar.
Sure, the idea of a murderer lurking among a group of supposed friends isn't new territory — some of the most famous mystery novels, such as Agatha Christie's And Then There Were None, capitalize on the concept — but the idea that these people would also be tempting fate by playing a murder mystery game is objectively hilarious.
In both Glass Onion and You Season 4, the actual games don't actually take up much screen time, but their mere existence indicates how wildly out of touch these characters are with their surroundings. Due to their status in society, they feel untouchable and therefore revel in moments of manufactured fear and tension. From the safety of his perfectly manicured vacation spot in Greece, Miles Bron (Edward Norton) even has Gillian Flynn, the modern queen of twisty narratives, write the story for his murder mystery. And then Benoit Blanc (Daniel Craig) goes and solves the puzzle in less than ten minutes … which leaves room for a real murder to take place. In You, the faux murders mostly happen offscreen, but after the game ends, there's a very real dead body in the larder, and truths are revealed.
It's fitting that Death would drop in on these silly games. In a world where many viewers are just as fed up with the one percent as Joe is, it feels somewhat like justice to watch badly-behaving and obscenely-wealthy characters get picked off, one by one, even without knowing the motive behind the violence. Glass Onion and You treat the deaths of cartoonishly vapid individuals as catalysts for the remainder of the characters to cycle into spirals of doubt, fear, and chaos. In You, the response is to point fingers at the one outsider at the retreat, with one trigger-happy dude named Roald bringing Joe to a citizen's trial in a living room full of hungover brats, unironically sentencing him to death, then lustfully hunting him throughout the sprawling acreage surrounding Hampstead House.
Even with a shotgun in hand, Roald is bested by Joe, but then they're both kidnapped and taken to the creepy bowels of the ancient mansion. In the spectacular cliffhanger that serves as the finale for the first part of the season, Rhys Montrose reveals himself to be the killer and then sets the dusty basement floor on fire.
Oddly enough, a similar fire breaks out at the conclusion of Glass Onion. Both the island and the mansion burn as effigies to excess as the guests bear witness to the destruction, unable to do anything but reckon with their own emotions. Yet, while everything is revealed by the time the blaze engulfs Bron's glass onion, the fire marks the beginning of a new journey in You. While Rhys' motive and plan are completely unclear — why on earth would someone running for the mayor of London go on a gleeful killing spree?! — the dynamic established between him and Joe provides a window into the dark psyche of this series that has never been opened before. As we wait for Part 2, it's clear that You has set itself up to grapple with some uncomfortable truths about Joe Goldberg, and it's unclear what that might mean for the future of both the character and the show.
And, much like Joe, we'll be watching.
All five episodes of You Season 4 Part 1 are available to stream on Netflix now. Part 2 premieres March 9.