Features
From Sexyama to Iron Man – The Breakout Stars of Physical: 100
Netflix's reality competition Physical: 100 features some capable combatants. Get to know the most popular contests here!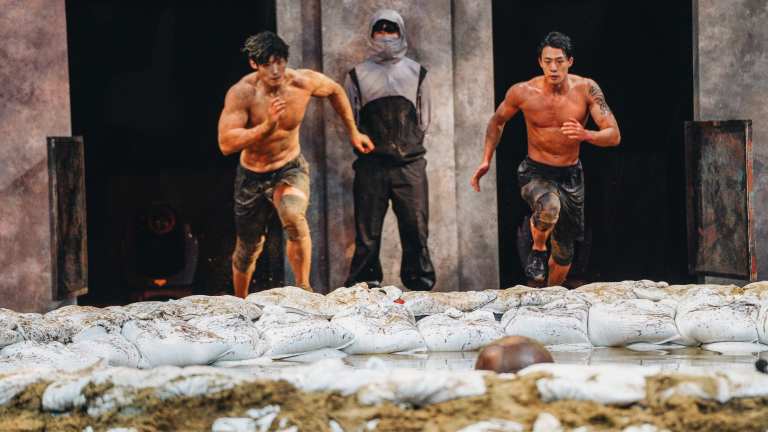 This article contains spoilers for Physical: 100 through episode 8.
There are many elements that set Physical: 100 apart from other reality competition TV, but its ambition when it comes to the sheer number of contestants is one of the most striking details. If you didn't catch it from the title, there are one hundred of them. There are firefighters and ice climbers, baseball pitchers and Olympic skeleton racers. And just when you think you've met all of the contestants, we flash back to the hall of torsos (each contestant has a cast made of their headless upper half, to be dramatically smashed upon their elimination) to discover another potential star.
From a viewer's perspective, it can be a bit daunting. From a producer's perspective, it is an ambitious challenge. On the one hand, how do you keep viewers engaged with so many introductions? (Imagine 100 people coming out of that limo in The Bachelor… we'd never get to the roses.) On the other hand, the high number of contestants means a greater chance at finding potential "characters"—contestants who break out as stars of the show because of their athleticism, personality, or both. Lucky for all us, the Physical: 100 producers killed it when it comes to casting. Heading into the season finale, let's talk about the breakout stars of Physical: 100.
Jeon Young, a.k.a the Zombie Choreographer
Jeon Young didn't make it past the first challenge, but the fight choreographer for Netflix shows like Kingdom and Hellbound (and for K-zombie classic Train to Busan) made an impression nonetheless. Maybe I'm biased because Hellbound was one of my favorite shows of 2021, but the dancer and the leader of Korea's first bone-breaking team moves in such unique ways, and it would have been interesting to see him take on other challenges. It is particularly disappointing that he was eliminated in the first mission because he lost the ball after inadvertently elbowing his challenger in the face. Oh well. Maybe we'll see him in Hellbound Season 2. In the meantime, you can follow him on Instagram.
Jang Eunsil
Heading into the final challenge, there are no women left in the competition—which sucks. But Jang Eunsil, who served as a team captain before her team was eliminated in the Boat Challenge, was one of the fiercest competitors in Physical: 100. Jang is a member of the Korean national wrestling team (and won a gold medal at the 103rd Korean National Sports Festival last year), and also does CrossFit and Ssireum wrestling as hobbies. Like other standout contestants in the show, Jang made a mark not only because she was highly physically competent, but because she was such a good sport on the show. Jang's team was often deemed the weakest by the other contestants on the show, and she encouraged them to "make history" by proving those assessments wrong. Even when they failed to pass the Boat Challenge, they finished it much faster than the other teams assumed they would, going out on a high note. You can follow Jang Eunsil via her YouTube, Instagram, or TikTok.
Sexyama, a.k.a Choo Sunghoon, a.k.a Yoshihiro Akiyama
To call Choo Sunghoon a breakout star might be doing a disservice to the mixed martial arts fighter's fame heading into Physical: 100. (There's a reason his head is the biggest on the promo poster.) But, while the Korean Japanese fighter was well-known amongst MMA fans, viewers of Korean variety shows for his appearance on The Return of Superman, and BTS fandom, for sparring with Jungkook, there are no doubt many Physical: 100 viewers who had never heard of the MMA legend heading into the show. And the man makes an impression. At 47, he is one of the older contestants on the show, and he is obviously a role model to many of the younger athletes on the series. In the first challenge, fellow MMA fighter Shin Dongguk asks to use MMA rules to fight for the ball; Shin loses, but he's overjoyed to have fought against Choo. When Choo is eliminating in Episode 8's "The Punishment of Sisyphus," which involves rolling a 200-pound boulder up an incline again and again, the athlete is just as classy, saying in his exit interview: "It's a pity, but this is a competition and that's the fun of it." You can follow Sexyama on Instagram.
Iron Man, a.k.a Yun Sungbin
It's hard to miss Yun Sungbin. The 28-year-old skeleton racer won gold at the 2018 Pyeongchang Winter Olympics. Plus, he's a babe. Yun stalks around the Physical 100 set like the star quarterback—and he kind of is. Heading into the contest, most of the other contestants recognize him as the person to beat. As noted by another contestant during "The Punishment of Sisyphus," his arms are like coconuts, bulbous and firm (my descriptors, not the contestant's). The penultimate episode ends on a cliffhanger, with Yun and cyclist Jong Haemin the only two contestants left rolling that ball up that hill, but it's hard to imagine a finals that doesn't involve Yun Sungbin. The man is incredibly confident in his ability, and why shouldn't he be? So far, he has made even the most incredibly difficult tasks look like a piece of cake. You can follow Yun Sungbin on YouTube and Instagram.
Dustin Nippert
Visually, it's hard not to notice Dustin Nippert. Not only is he the only White guy after German model Florian gets knocked out early in the series' run, but he's a lanky 6'8''. For American baseball fans watching from home, he's an intriguing figure. He used to play for the Arizona Diamondbacks and Texas Rangers, before heading to Korea to join the Doosan Bears and KT Wiz in the KBO league. Currently, he holds the record for the longest career of any foreign player, with eight seasons in the KBO. He's retired from pro baseball now, and has transitioned into TV personality life. There's his run on Physical 100, of course, but he also has appeared on other Korean variety shows with his adorable family. Nippert was eliminated in the first round of the "Fire of Prometheus" obstacle course challenge, but his tall, just-happy-to-be-here vibes will not be forgotten. You can follow Nippert on Instagram, but I am warning you he doesn't have a profile pic.
Kim Mincheol
National ice climbing team member Kim Mincheol made his mark from the very beginning, easily outlasting everyone—even Olympic gymnast Yang Hakseon—in the hanging pre-challenge that started it all. "My muscles weren't made in a gym; they were made in my daily life of rescuing people," he said after coming in first, a reference to his work on the Bukhansan special mountain rescue team. Kim Mincheol may not have the biggest muscles, but he's proven himself a worthy challenger, making it all the way to the end. Like Yun Sungbin, Kim Mincheol makes the climbing challenges look easy, blowing everyone else out of the air in the recent "Wings of Icarus" challenge. Depending on how the final challenge is designed, Kim Mincheol could be Yun Sungbin's greatest threat. You can follow Kim Mincheol on Instagram.
Shin Bomirae
You can learn a lot about a person based on how they lose. For me, boxer Shin Bomirae has been one of the most impressive losers in Physical: 100, making it to the penultimate challenge before failing to lift a more than 100-pound boulder over her head. Shin volunteered to do the competition when it became apparent no one else on her team was keen on the idea, throwing herself in the ring with "Strongest Man" competition winner Jo Jinhyeong. Even after the voice-of-god host announced that she had been eliminated, Shin tried to lift the massive rock above her head. She eventually stopped, urged by team leader/everyone's dad Choo Sunghoon. It was tough to watch, and presumably even tougher to live—and a testament to just how much of a badass Shin Bomirae is. You can follow the current WBC International Super Featherweight Champion on YouTube.
The ninth and final episode of Physical: 100 drops on Tuesday, Feb. 21 on Netflix.