Features
Moon Girl and Devil Dinosaur Celebrates R&B, Street Art, and a New Generation of Marvel Heroes
Marvel gets some downtown NYC style in the musical (and delightful) new animated series Moon Girl and Devil Dinosaur.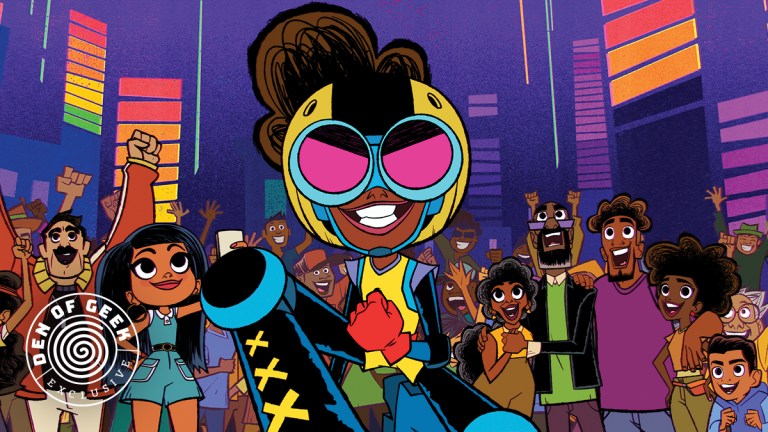 This article appears in the new issue of DEN OF GEEK magazine. Get your copy here.
While you're dealing with the lingering buzz in the lead up to Ant-Man and the Wasp: Quantumania in theaters or wondering when Secret Invasion is finally going to premiere on Disney+, there's another Marvel project you absolutely should not overlook: Moon Girl and Devil Dinosaur is out today. It's an animated adaptation of the Marvel Comics series of the same name, focusing on Lunella Lafayette (Diamond White), the smartest 13-year-old in the world, who accidentally summons a red tyrannosaurus rex (Fred Tatasciore) to modern-day New York City. Of course, the dinosaur in question is friendly, and the pair embark upon wild adventures through some of the lesser-known corners of the Marvel Universe.
"We started talking about this show as early as 2016," executive producer Steve Loter tells Den of Geek magazine. "But it took a while because we actually wanted to make sure that we got it right. We knew the weight and the importance of the show. But we also wanted to make sure that it had all the ingredients it needed. The music, the comedy, the drama."
The show is strikingly animated, with brilliant colors popping out against a surprisingly lived-in and accurate representation of NYC's Lower East Side neighborhood.
"We wanted to make New York a character in itself," producer Rodney Clouden says. "It's not slick; it's grainy. It's got atmosphere, it's got history, and we drew on the inspiration of street art, graffiti, Andy Warhol screen printing, offsetting techniques, Basquiat. We just wanted to look real cool. We had the graffiti done by a real graffiti artist. We wanted to bring that authenticity to the look of the city as well as the characters."
It's also tuneful, with extended "mixtape sequences" that help tell the story.
"They're basically music video sequences, where everything comes together, the action, the music, and we flip to different color palettes," producer Pilar Flynn says. It's just total nonstop magic and poppy, gorgeous colors."
But this isn't just any original music; the show has R&B legend Raphael Saadiq creating its tunes. Loter had a unique approach to getting the producer on board.
"He was doing a signing at a record store in LA, so I went down there, first in line," Loter says. "In the 30 seconds he was signing my record, I convinced him to be on the show. I literally pitched him in those 30 seconds. So by the time my record was signed, he was signed on to the show. The thing that I always take away from that is, you know, people always say, 'don't meet your heroes.' But the truth is, maybe you should meet your heroes because eventually, they'll do music on your show."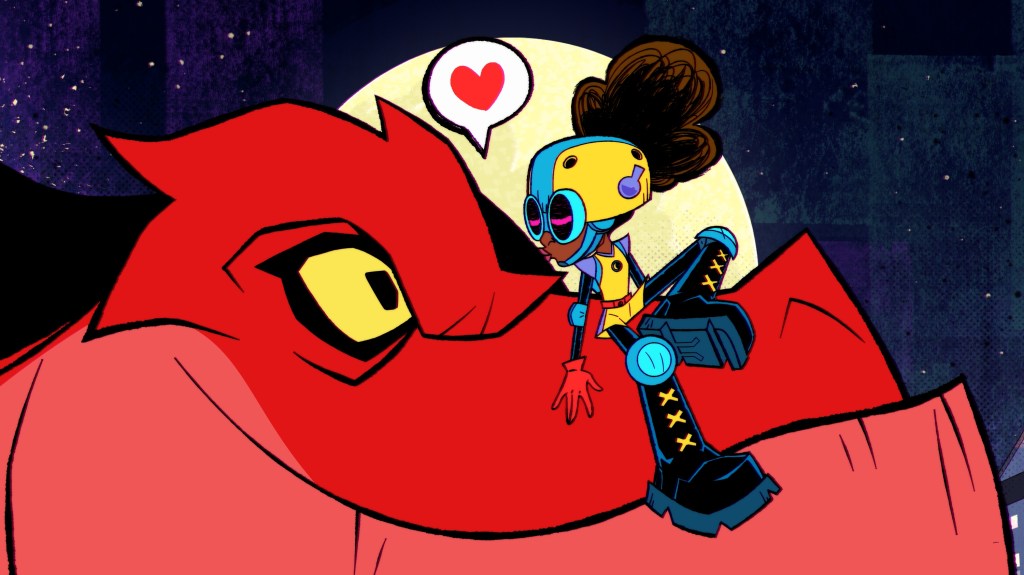 MEET THE FAMILY
We briefly caught up with the stars of Moon Girl and Devil Dinosaur to get their insights on the new Marvel series!
LUNELLA LAFAYETTE (Diamond White)
"My first thought was this is something that I needed growing up. I watched a lot of cartoons, and I haven't seen anything like this, showing Marvel and Disney's first Black teenage girl superhero. It's historic, and it teaches all the young kids like me that quantum physics is cool and one girl can make a difference. I feel like that's a really important message that I needed."
DEVIL DINOSAUR (Fred Tatasciore)
"He's a 10-ton dog! He loves Lunella and would do anything for her. He's not just her pet; they're partners and friends. Where I am weak, she's strong [and vice versa]. And she knows how to interpret my chirps and roars. He prefers to be with her. That's home for him."
POPS (Gary Anthony Williams)
"Pops is Lunella's granddad. He started this roller rink back in the '70s… and he's making something that's inclusive for the entire community. He's got the background of the Lower East Side [and] even now, this place sits on millions of dollars worth of property, but he's not getting rid of it because it's all about family and community to him."
Moon Girl and Devil Dinosaur is now airing on the Disney Channel and hits Disney+ on Feb. 15.