News
Loki Season 2 Episode 5 Release Time and Recap So Far
The penultimate episode of Loki's second season is heading to Disney+ this week after a huge cliffhanger.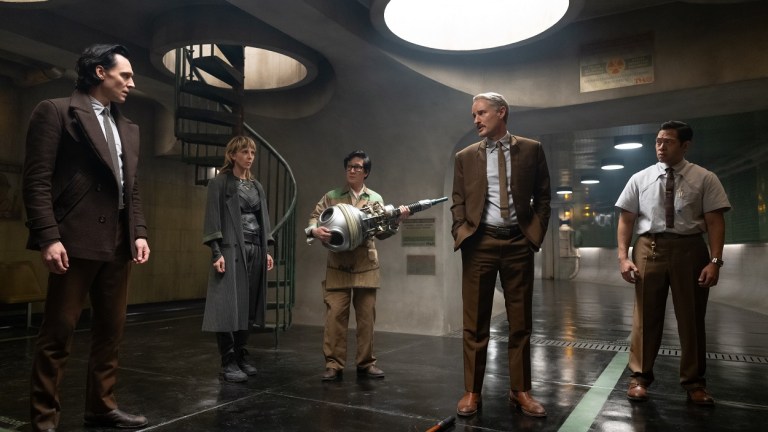 This article contains spoilers
It's hard to believe, but we're about to be treated to the penultimate episode of Loki's second season! After waiting for so long to catch up with the God of Mischief's continuing adventures in the Marvel Cinematic Universe, there are only two episodes left until we find out what Marvel has (or hasn't) got in store for Loki beyond this series.
Season two has seemingly played out over a few days in TVA time so far, and originally picked up right where the first season left off. Thanks to Sylvie (Sophia Di Martino) pushing him through a special Time Door during the season one finale, Loki (Tom Hiddleston) ended up "time slipping" through the past, present, and near future of the TVA. In the past, he saw He Who Remains' huge power over the employees of the TVA, including his second-in-command, Ravonna Renslayer (Gugu Mbatha-Raw). In the future, he saw a TVA on the verge of annihilation. But in the present, he met a technician called Ouroboros (Ke Huy Quan), who he and Mobius (Owen Wilson) thought might have some key knowledge that could save the TVA from its future doom – a temporal meltdown.
While they worked hard to adapt the temporal loom (a time-threading machine at the heart of the TVA) so that it could manage the expanding multiverse without killing any new timelines, Loki and Mobius also had to protect it from old TVA loyalists like General Dox (Kate Dickie), who planned to continue bombing the new timelines. Ultimately, she got away with doing so on quite a large scale after Loki and Sylvie failed to stop her in time. Meanwhile, Dox's favorite hunter, X-5 (Raphael Casal), had his own loyalties tested, and it turned out he was only loyal to his own comfort and ambition!
Renslayer and Miss Minutes, who were MIA for the first two episodes of Loki season two, finally emerged halfway through the story when they traveled back in time to connect with a He Who Remains variant (Jonathan Majors again) who they hoped might replace their dead leader. Victor Timely, as he was called, was given a copy of the TVA guidebook in the 1800s so that he could begin inventing the contraptions that the TVA used to meddle with time. Unfortunately, although Victor was a very clever man, the radiation of the destabilized temporal loom turned him to spaghetti just after he and OB had finally found a way to expand the loom.
With Renslayer pruned by a magically-controlled X-5, Dox and her loyalists dead thanks to Renslayer, and the villainous AI Miss Minutes taken offline, Loki, OB, Sylvie, Hunter B-15, Mobius, and Casey were left with no other options, and they could only watch helplessly as the temporal loom went into meltdown!
When Does Loki Episode 5 Come Out?
Loki episode 5 will be available to watch on Disney+ in the US on Thursday, Nov. 2 at 6pm PT/9pm ET and in the UK on Friday, Nov. 3 at 2am BST.
What to Expect in Loki Episode 5
It's hard to know what we can expect to see in Loki episode five, as the events of episode four left us all with such an incredible cliffhanger, one that seemed to spell doom for all our TVA heroes and villains alike! However, with two installments left to go in season two, the story is not over yet, and as such Loki and Sylvie are likely to witness the ongoing ramifications of a temporal loom meltdown at the TVA.
Whether this meltdown will result in the complete destruction of the TVA remains unclear, but in several trailers released by Marvel for Loki season two, there are plenty of brief moments still unseen, including one that hints at some jet ski escapades from Mobius, and others that suggest Loki and Sylvie will be traveling to several mysterious moments in time. Whether the God of Mischief will eventually make it through the fallout of the burgeoning multiverse remains to be seen, as the creators of the series have said that this season is set to close the book on this chapter of Loki's life.