Reviews
Little Birds Review: Intoxicating, Lavish 1950s-Set Drama
Sky Atlantic's Little Birds is an unusual, ambitious and visually striking series about power and freedom. Its narrative strands may not all coalesce, but its imagery and force is unforgettable…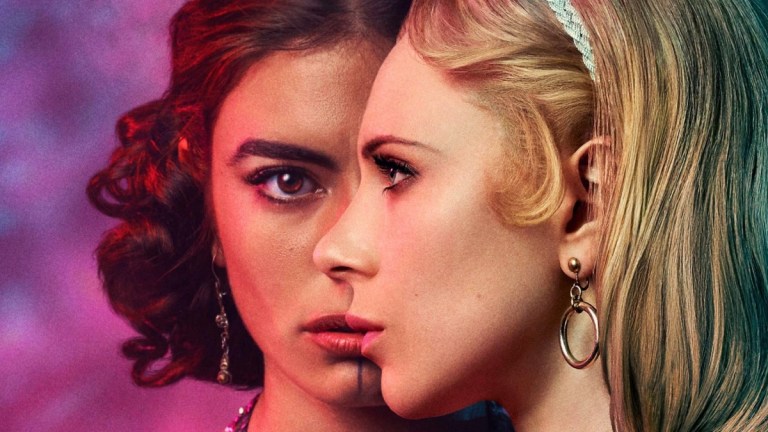 This review of all six episodes is spoiler-free.
If proof were needed that TV drama can be anything it wants these days, Little Birds is it. The Sky Atlantic series is a confection of wild ingredients – glamour, satire, feminist fantasy, postcolonial politics, espionage noir, sex, violence and comedy. It's a heady mix, not all of which coheres but which leaves you with unforgettable images and a distinct sense of having been transported.
Set in 1955 Tangier, the six-part series is inspired by a collection of erotic short stories written in the 1940s by Cuban-French author Anais Nin. It's not strictly an adaptation, as the characters, setting and the plot – such as it is – are largely the invention of writer and artist Sophia Al-Maria. The characters' experiences and stories are drawn from Nin's pages and translated to the screen in vibrant style by director Stacie Passon whose previous TV work includes Tales of the City, American Gods and Transparent.
The story centres around two women: American heiress Lucy Savage (the name a gag that means her firearms-dealing family can every so often be referred to as 'the Savages') and Moroccan dominatrix Cherifa. Lucy's a caged bird who longs for freedom – in other words a classic 20th century American feminist heroine. Moroccan nationalist Cherifa bristles under different restraints, namely the censure of being a self-described whore in Muslim society, and the oppressive French colonial regime in power.
Freedom and power are the series' two poles. Its characters – Moroccan, American, English, French, Egyptian and Spanish – variously abuse both, or bemoan their lack of either. Alongside a colourful cast, Lucy and Cherifa walk different but intersecting paths in search of their own. There's also a penniless English lord, a hedonistic American celebrity, an Egyptian prince whose closeted lover is drowning in shame about his sexuality, a sadistic high-ranking French army official, and a cartoonish countess with two wicked – and wickedly glamorous – daughters.
The casting is choice. Juno Temple plays Lucy with the perfect blend of doll-pretty naïveté and steely vigour. A Park Lane princess on prescription pills to level out her 'hysteria' and quieten her libido (her relationship with her father hums with unsettling incestuous overtones), Lucy was raised to marry well, keep her figure and keep quiet. For her, Little Birds is a Pinocchio-like fairy tale about her transformation from decorative ornament to flesh-and-blood person. She arrives in Morocco hoping it will mean freedom and sensual awakening. Decadent though Tangier is, Lucy finds herself thrilled but stymied and continually on the edge of satisfaction.
Yumna Marwan is unforgettable as the imperious, unquellable Cherifa, champing at the bit of colonial oppression while French officers pay her to horsewhip and abuse them. Rossy de Palma, muse of Spanish filmmaker Pedro Almodovar, is monstrously captivating as a highly sexed Contessa who's obsessed with her pet gecko, Chico. Nina Sosanya has almost as much fun as the scandalous, ultra-glamorous Lili Von X. They're all as memorable as the soundtrack, a jazzy drum score showcasing cool 1950s hits by Peggy Lee, Eartha Kitt and Jacques Brel.
After six episodes in this world, you'll come away feeling as though you've woken up from a dream equal parts disorienting and intoxicating. It's a heightened, fantasy world filled with colour and music, desire and sex. Though more a series of arresting moments than a cohesive whole, if you're missing out on a foreign holiday this year, take up its invitation.
But don't mistake Little Birds' beauty for empty escapism. It's sly, saucy and intelligent, using the period backdrop to stage debates about identity politics that are still vital today. Its strikingly sexy looks and erotic interludes aren't a disguise for what it has to say, but part and parcel – just another language in this multilingual jewellery box of a show.
Little Birds airs on Tuesdays at 9pm on Sky Atlantic. All six episodes are available to stream on NOW TV in the UK.