Features
The Steamiest Erotic Thrillers From the 1990s
Back in the early '90s, saucy thrillers were the cinematic genre du jour. We take a look at some of the key milestones…
Moviegoers have VHS to thank for the glut of erotic thrillers that arrived in theaters and video stores over the first half of the 1990s. While the "video nasty" was the "enfant terrible" of the format in the 1980s, the next decade ushered in the era of the 'video naughty' with movies that blended film noir tropes and titillation.
Much of that was down to the rise of video rental giants like Blockbuster. Keen to maintain a family friendly image, the chain was one of many big names to steadfastly refuse to stock adult movies. Yet there remained a need to cater to couples and other adults eager to rent films that were strictly not for kids. Into the void stepped the erotic thriller, with the genre's softcore stylings and seductive crime-led storylines faring well with censors and audiences alike.
It also helped that VHS brought with it a rather nifty pause and rewind function, which gave viewers a chance to "analyze" films, almost frame by frame and also relive some of the genre's most celebrated highlights.
Brian De Palma may have laid the foundations of the modern erotic thriller with his 1980s efforts Dressed to Kill and Body Double, although perhaps the most respected neo noir that also was hot and heavy in eroticism was thanks to, of all people, Empire Strikes Back and Raiders of the Lost Ark screenwriter, Lawrence Kasdan. His Body Heat (1981) remade Double Indemnity (1944) in all but name, well that plus a lot of between the sheets vignettes. Still, English filmmaker Adrian Lyne scored the genre's second major hit with 1987's Fatal Attraction–a film that became the highest-grossing film of 1987 worldwide, earned star Glenn Close an Oscar nomination and, more significantly, helped erotic thrillers go global.
It was the early '90s, however, where the genre really became a Hollywood staple. For a short few years, fans lapped up erotic thrillers faster than Sharon Stone crossing her legs as Catherine Tramell in Basic Instinct. Then, like Stone's career, it all went quiet.
The demise of the erotic thriller in mainstream Hollywood can be attributed to many things. The bastardization of the genre–through direct-to-TV fare like 1990's Night Eyes—didn't help, with filmmakers taking low-budget liberties that resulted in a doubling down on the softcore elements at the expense of important factors like plot and acting.
There was also the gradual emergence of the internet to contend with, plus the advent of HBO's prestige programming going further in the 2000s than MPAA-conscious Hollywood studios ever could, and the fact the adult industry became increasingly mainstream as the decade progressed. Then again, it may have all been down to the films themselves. Here are 12 notable highs and lows from the genre's heyday…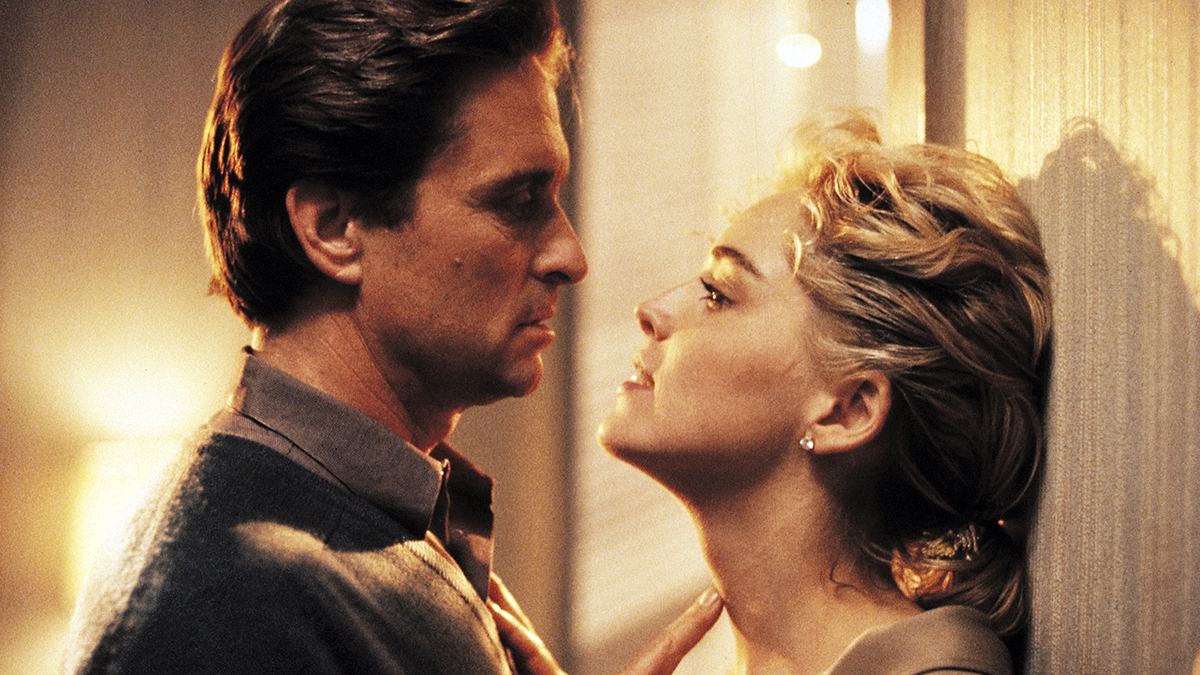 Basic Instinct (1992)
Five years after Fatal Attraction, star Michael Douglas dipped his toe back into erotic thrillers with Paul Verhoeven's memorable effort. Nothing short of a cultural phenomenon, Basic Instinct was written by Joe Eszterhas, who had been best known for writing Flashdance. That would soon change. Eszterhas claims to have written the script over the course of just 10 days while listening to nothing but the Rolling Stones and without having a story outline in place. That may go some way to explaining the finished product, but he was nevertheless laughing all the way to the bank after Carolco Pictures shelled out $3 million for the rights.
The film centred on Douglas' police detective Nick Curran, who is tasked with investigating the death of a rock star murdered with an ice pick, and the prime suspect–enigmatic writer Catherine Tramell (Sharon Stone).
read more: The Erotic Thrillers That Followed Basic Instinct's Success
Though Carolco were confident about the project's success, plenty were not. As many as 13 actresses turned down the part of Tramell before Stone, who had considered quitting acting altogether to study law, landed the defining role of her career.
Grossing $352 million worldwide to become the fourth most profitable film of 1992, Basic Instinct's infamous interrogation scene, which Stone filmed minus her underwear, helped the movie enjoy further success on VHS. No prizes for guessing why…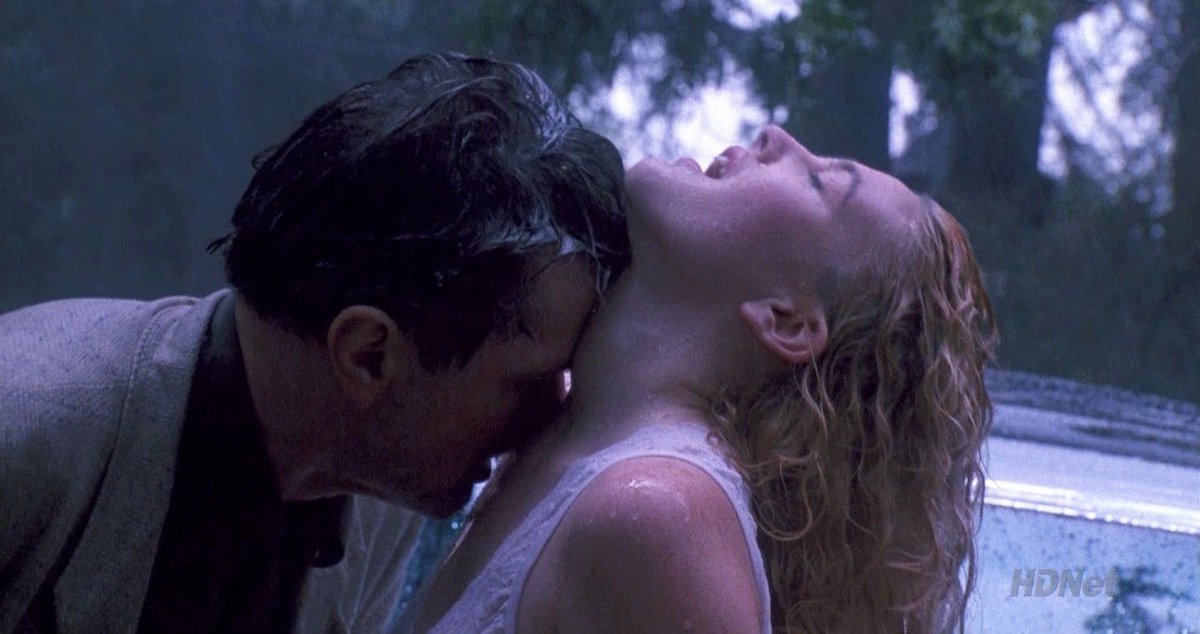 Poison Ivy (1992)
One of the few films on this list to be directed by a woman, filmmaker Katt Shea approached New Line Cinema with the idea for Poison Ivy. It was apparently based on the real-life experience of producer Melissa Goddard, who had revealed to Shea she once had a friend stay with her family only for them to eventually seduce her stepfather.
New Line Cinema immediately saw the potential in the premise, and instructed Shea to deliver "a teenage Fatal Attraction." Shea had earned her stripes making movies on a strict budget for low-fi filmmaking legend Roger Corman but went big for Poison Ivy, casting a young Drew Barrymore. Barrymore's troubled childhood was well documented and she appeared perfect for the part of Ivy, even if she did fail to turn up to two auditions.
read more: Top 10 Lesbian Vampire Movies
The cast was rounded off nicely by future Roseanne alumni Sara Gilbert as Sylvie, the high-school misfit that Ivy befriends while Tom Skerrit and Cheryl Ladd added further clout as Sylvie's wealthy parents. Only a moderate hit upon release, Poison Ivy's positive reviews did see it enjoy a second life on VHS. So much so, in fact, it went on to spawn three direct-to-video sequels of dubious quality.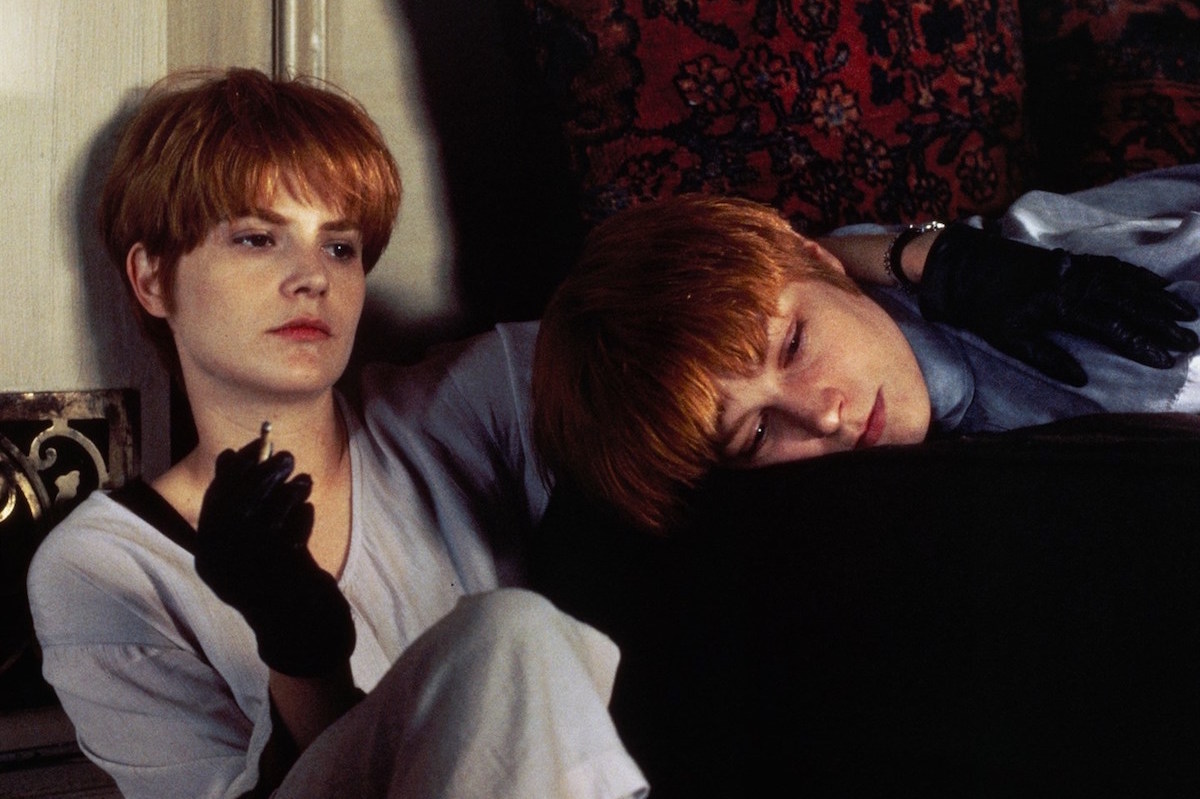 Single White Female (1992)
A fresh twist on the erotic thriller concept, Single White Female stars Bridget Fonda as Allie Jones, a New York software designer who spends much of the movie being badly mistreated by men. Her fiancé Sam (Steven Weber) has been cheating on her with his ex-wife while her one client, Mitchell (Stephen Tobolowksy), not only tries to cheat her out of a deal but later puts the moves on her.
Allie finds solace in the friendship she eventually forges with her new roommate Hedy, played by Jennifer Jason Leigh, but it soon becomes apparent that something strange is going on. Something that involves Hedy going to BDSM nightclubs where she pretends to be Allie.
Hedy's love of BDSM is paralleled by Catherine Tramel's bisexuality in Basic Instinct and the inference that women who demonstrate overt sexual confidence are bad news and possibly disturbed. Though such indications are dated, to say the least, they prove correct in this case, with the increasingly obsessive Hedy stopping at nothing to destroy her life, as typified in one particularly memorable sequence that ends with a spot of post-felatio stiletto impalement.
This film was essentially remade in everything but name with 2011's The Roommate. As the old saying goes, imitation is the best form of flattery. Although whoever said that clearly never saw The Roommate.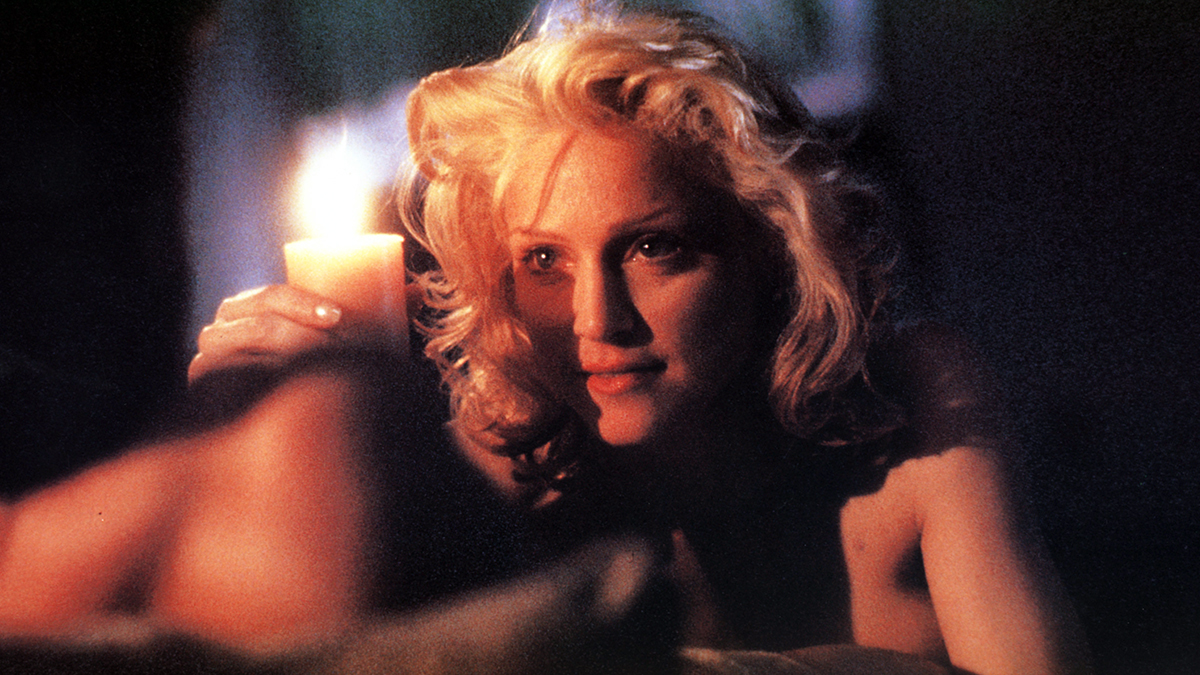 Body of Evidence (1993)
When it comes to her film work, Madonna has developed something of a habit of spoiling the party. She starred in Swept Away, Guy Ritchie's first genuinely bad movie, while Pierce Brosnan's time as James Bond came to a shuddering halt after Die Another Day, a film featuring a double-entendre-laden cameo from Madge herself.
She was party-pooping way before then though, with Body of Evidence marking the first major studio misstep in the erotic thriller era. A blatant attempt to cash-in on the success of Basic Instinct, Madonna plays Rebecca Carlson, a woman accused of killing her older lover in the throes of passion in order to land $8 million from his will–see how clever the title is now? Her body is evidence! Or something like that.
read more: The Top 10 Unerotic Erotic Thrillers
Though Madonna does her best to channel the spirit of Sharon Stone, she's let down by a clunky script, which sees her seduce lawyer-turned-lover Frank Dulaney (Willem Dafoe) with classic lines like: "Have you ever seen animals make love, Frank? It's intense." Okay…
Once again tapping into the idea that sexual kink equals stone-cold psychopath, both Madonna and her co-star Dafoe flash plenty in the way of flesh in their onscreen sadomasochistic encounters, but failed to prevent the film from flopping with audiences and critics alike.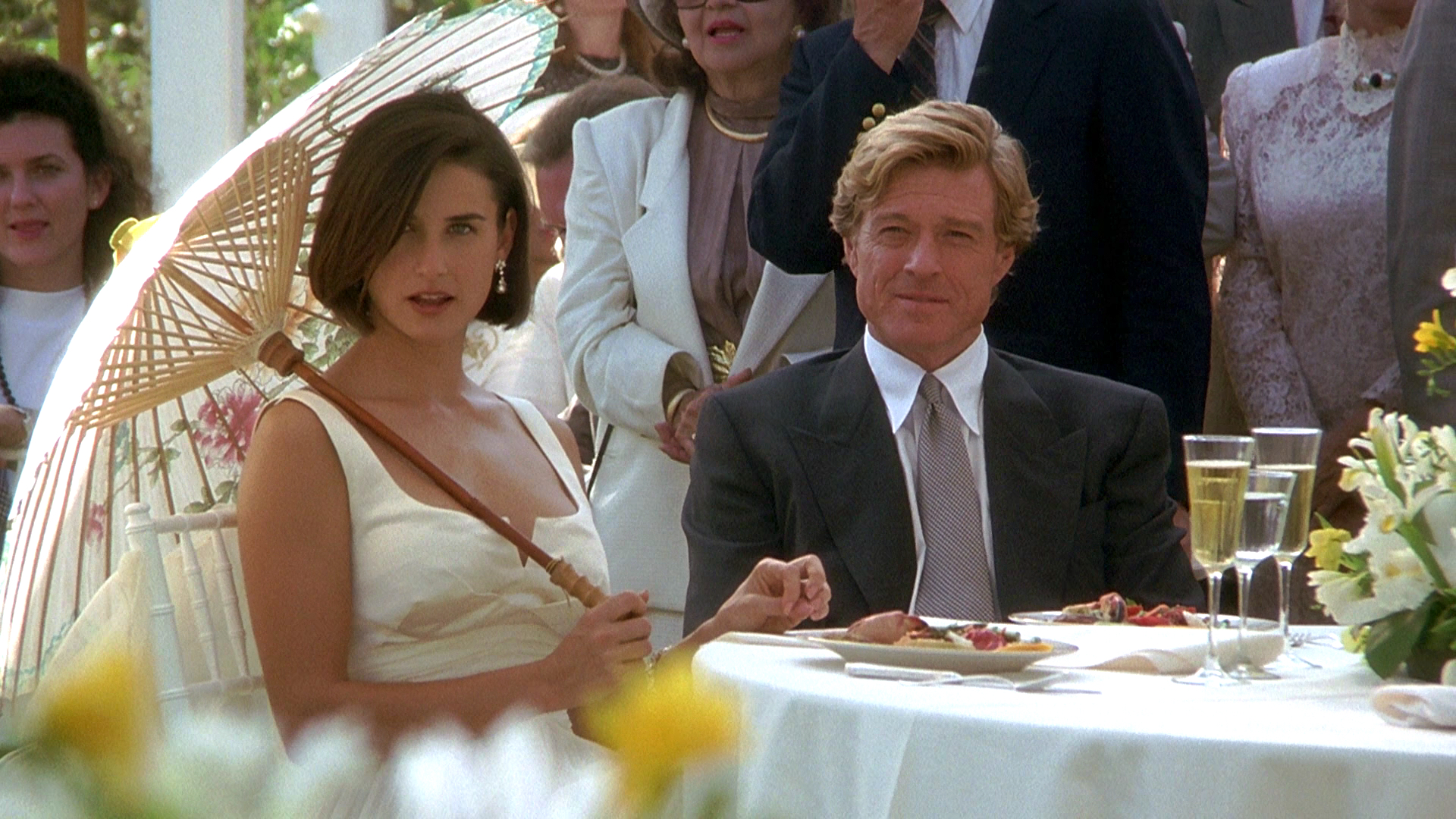 Indecent Proposal (1993)
Indecent Proposal may not have featured any femme fatale lead but it was undoubtedly marketed on the sex appeal of its central couple, Demi Moore and Woody Harrelson, with the pair pictured, mid-coitus, on the film's poster. The film's trailer also featured the scene in which the twosome enjoyed a tryst on a bed covered in money. Then there's the small matter of the film's director, Adrian Lynne, returning to his steamy roots a few years on from Fatal Attraction.
Adapted from Jack Engelhard's novel of the same name, Indecent Proposal posed the ultimate question to couples watching on at home: what would you do if someone offered you $1 million for a single night with your other half? Harrelson and Moore were the couple in this instance, with debonair millionaire Robert Redford the man willing to open his checkbook.
The casting of Redford marked a significant departure from Engelhard's book, which centred on a Jewish couple and a billionaire Arab, with Amy Holden Jones' script doing away with the theme of money vs. religion that ran throughout the novel. It also felt like something of a cop-out, with Redford far too dashing and nice to perpetrate such a dastardly and dangerously outdated scheme. Not that it mattered all that much to audiences, with Indecent Proposal raking in $267 million from a budget of $38 million, and Moore emerging as a star of the genre in the process.
Sliver (1993)
Sliver should have been a slam dunk. It was based on a best-selling novel by Ira Levin, the author behind classics like Rosemary's Baby, and reunited screenwriter Joe Eszterhas with his Basic Instinct star Sharon Stone, netting the latter a $2.5 million payday in the process.
The plot seemed ready-made for erotic thriller antics, with Stone's character Carly moving into an apartment block where tenants are unknowingly being watched via hidden cameras and a number having already met grisly deaths. But while Levin's book served as both a thriller and comment on surveillance, Philip Noyce's film was neither thrilling nor clever, instead opting to double-down on the voyeuristic pleasure of the central conceit right down to the film's tagline, which read: "You like watching, don't you?"
read more: Best Romantic Movies on Amazon Prime
Unfortunately, few liked watching the end result, which was hampered by a lack of chemistry between Stone and the film's male lead, William Baldwin, with the pair rumored to have taken an almost instant dislike to each other during filming. Good old studio interference also played a part, with the film recut beyond recognition after poor test screenings and concerns over some of the film's racier moments, including full-frontal male nudity. Eszterhas was even drafted back in to write a new ending. He ended up writing five. None of which were used. Ouch.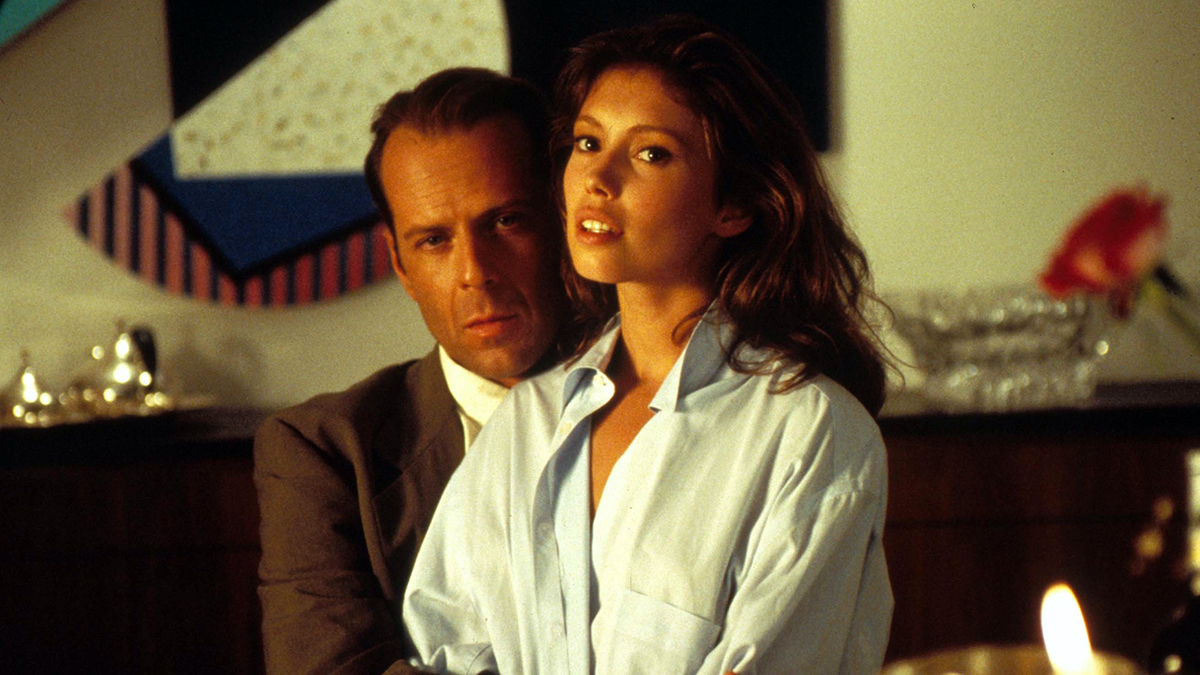 Color of Night (1994)
Color of Night completed a rotten run of films for Bruce Willis over the early 1990s, alongside The Bonfire of The Vanities, Hudson Hawk, and Striking Distance. He played Bill Capa, a psychologist grappling with the impact of a client's suicide, in an incident that leaves him unable to see the color red for reasons unexplained. Matters are made worse when a friend and fellow therapist is brutally murdered.
Deducing that the killer is likely part of his pal's Monday night therapy group, he decides to insert himself in their lives–pun intended–as his friend's replacement. All the cliché classics are present: a nymphomaniac, a masochist, a neat freak and a shut-down macho man, although Capa only has eyes for one member–a mystery woman by the name of Rose (Jane March).
read more: Best Romantic Movies on Hulu
Unfortunately, the only member that ended up dominating the discussion around this so-so thriller belonged to Brucey. Director Richard Bush clashed with producer Andrew Vajna and the censors over the inclusion of one explicit sex scene featuring a glimpse of Willis' willy. He eventually relented, removing the offensive object from the theatrical cut but restoring it for the VHS version. Though the film stank up cinemas, it scored big with audiences at home, ending 1995 as one of the 20 most-rented films in the U.S.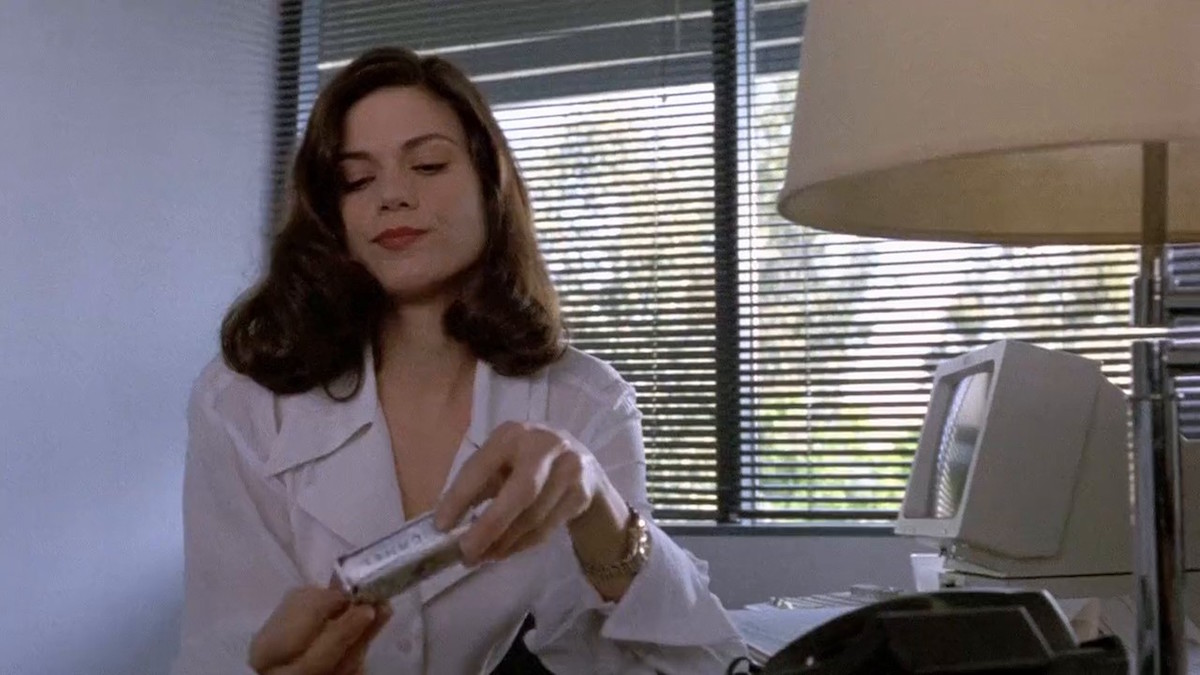 The Last Seduction (1994)
One of only a handful of genuinely great erotic thrillers, The Last Seduction provides the perfect showcase of two largely unheralded Hollywood talents: director John Dahl and star Linda Fiorentino. Now more commonly found helming TV projects, the 1990s saw Dahl carve out a niche with neo noir efforts like the Val Kilmer led Kill Me Again and the Nicolas Cage classic Red Rock West. It was a similar story with The Last Seduction, although this time Dahl placed the focus firmly on the femme fatale in Fiorentino's Bridget, a scheming and scorned housewife who steals $700,000 from her abusive husband following a drug deal and escapes out of town.
Originally made for HBO, screenwriter Steve Barancik first pitched the film as a softcore-heavy direct-to-TV effort that would trade heavily in titillation. However, in truth, he always had something more sophisticated in mind.
The Last Seduction perfectly balances the two, with Bridget using her sexuality to manipulate the hapless men around her as part of a con that ends with her as the last woman standing. It's salacious, for sure, but there are some dark moments along the way, and it's all held together by a powerhouse performance from Fiorentino. The only shame is it didn't garner awards recognition. That and it spawned an unrelated direct-to-video sequel that was pure softcore codswallop.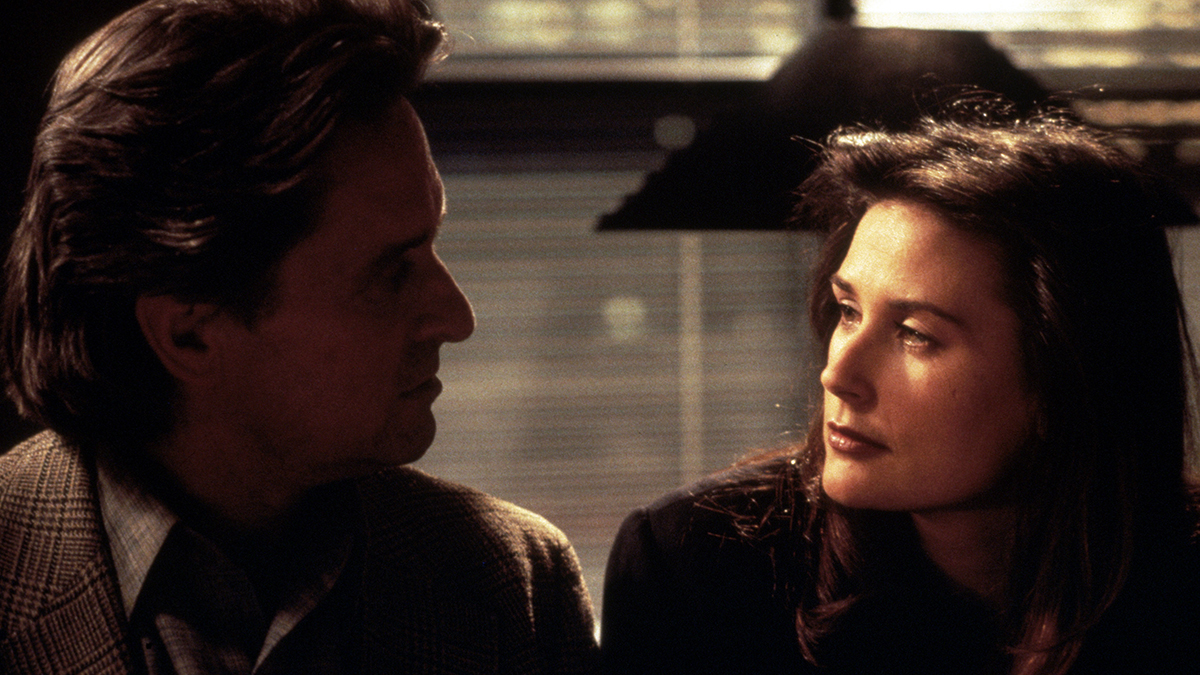 Disclosure (1994)
The erotic thriller's answer to Heat, in place of Robert De Niro and Al Pacino, Disclosure brought together the genre's two biggest stars in Michael Douglas and Demi Moore but ended up something of a damp squib.
Completing Douglas' "I'm too sexy" trilogy, it sees him play a computer specialist who is sued by his ex-lover turned boss, played by Moore. The big twist? It turns out she sexually harassed him and now no one believes him. Oh boy.
Steering clear of the film's contentious central conceit, it's worth remembering the incredible talent that contributed to Disclosure. It was directed by Barry Levinson, based on a book by Michael Jurassic Park Crichton, and scripted by the creator of House, Paul Attansio. Ennio Morricone did the film's score while Donald Sutherland even pops up. It was a hit too, raking in $214 million off a $55 million budget, even if the film did fail to live up to the billing.
Disclosure's poster campaign made headlines. Featuring Moore and Douglas in a suggestive clinch, with his hands first clasping her posterior, it sparked complaints in the UK where it was deemed too sexually suggestive. They should have watched the film. While the initial aborted tryst between Douglas and Moore is steamy enough, it serves as something of a misnomer for a movie largely concerned with computer tech and corporate espionage. Little here has aged well either, whether it's the film's hilariously bad virtual reality sequence or the general attitude toward women in the workplace.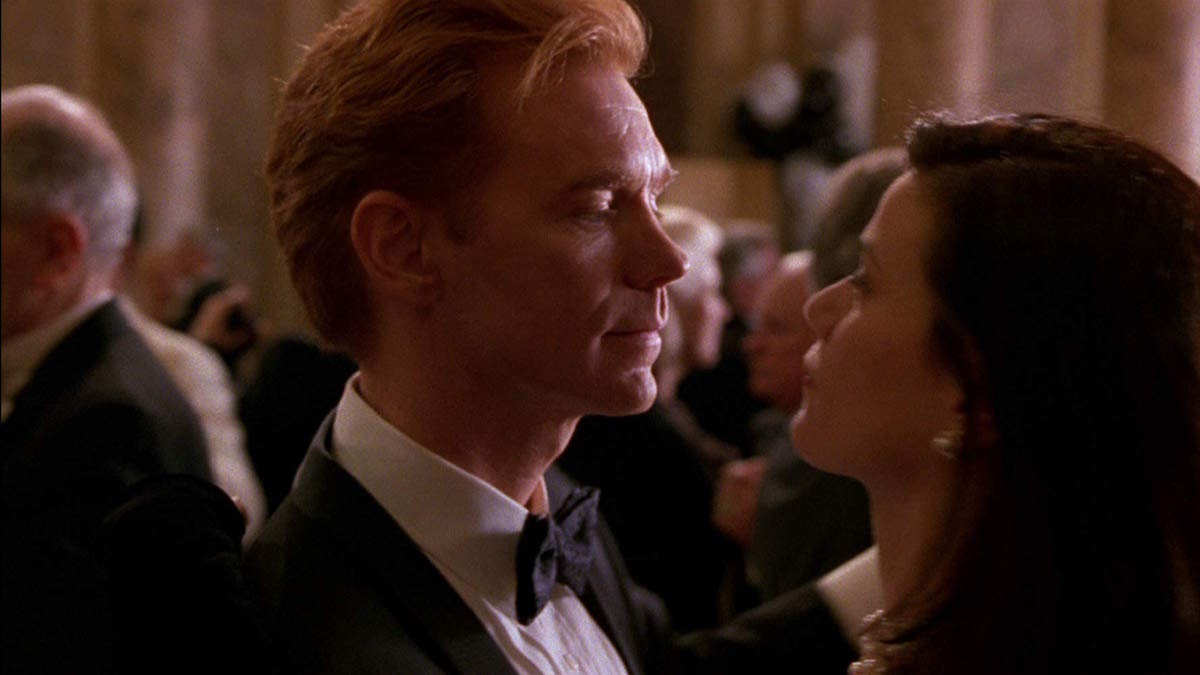 Jade (1995)
David Caruso famously walked away from a lucrative main role on NYPD Blue to pursue a film career. How the likes of Dennis Franz must have laughed when they saw the resulting movies like Jade.
Caruso plays a district attorney tasked with investigating a gruesome hatchet murder that leads to a former flame turned femme fatale. Written by Joe Eszterhas, the screenwriter pulled all the same old tricks with Jade, right down to trying to get Sharon Stone to star. But despite the presence of William Friedkin as director, Stone declined, having gone on to pursue more critically-lauded work like Martin Scorsese's Casino.
In her place came flavor of the month Linda Fiorentino, but while the newcomer had shone in The Last Seduction, she could do little to save the jumbled mess that was Jade. While the cast blamed Eszterhas' confusing script, the writer himself blamed Friedkin for rewriting almost all of it. Audiences, meanwhile, blamed Caruso, with the flame-haired star earning negative reviews that derailed his film career before it had even begun. He was most recently seen back on television, hiding behind a pair of sunglasses on CSI: Miami.
Showgirls (1995)
The nadir of the erotic thriller movement, Joe Eszterhas returned to the well for one final time, teaming up with Basic Instinct director Paul Verhoeven for an erotic thriller in the broadest sense.
In truth, it's difficult to pigeonhole Eszterhas' trashy epic, which follows the journey of Elizabeth Berkley's Nomi from young drifter to Las Vegas showgirl. Part musical, part melodrama, part seedy sexploitation, one thing audiences definitely agreed on was that Showgirls was bad. Really bad.
To make matters worse, Eszterhas had been paid handsomely for a concept he recalled first writing out on a napkin, earning a staggering $2 million advance with a further $1.7 million once it was produced. That made him the highest-paid screenwriter in Hollywood history, but put a target on his back among most critics. Even so, critiquing Showgirls was like shooting fish in a barrel. Nothing made sense, the acting was awful, the dance numbers were bad, and the sex scenes borderline offensive.
read more: How Showgirls (Eventually) Turned into a Hit Movie
"Maybe there was a certain hubris involved," Eszterhas later reflected. You think? But while Showgirls bombed theatrically, it went on to rake in over $100 million on VHS aided by audiences seeking either titillation or unintentional laughs. But while it ended up recouping its budget, Eszterhas, Verhoeven, Berkley, and the genre as a whole never quite recovered.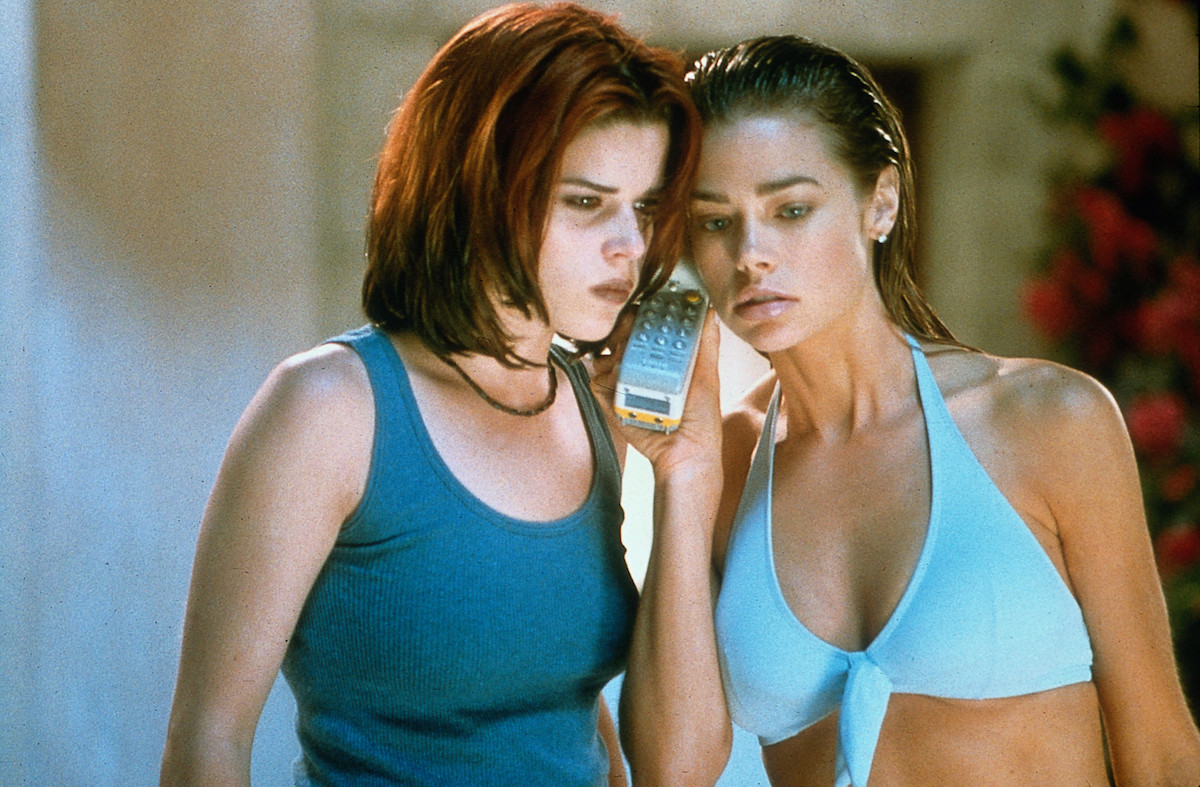 Wild Things (1998)
Likely a sign the end was nigh for the legitimacy of erotic thrillers (if they ever enjoyed it in the first place), Wild Things was an unabashed attempt to cross the genre's enticements over to the MTV generation. While Poison Ivy already strove for "a teenage Fatal Attraction," director John McNaughton (Henry: Portrait of a Serial Killer) and writer Stephen Peters' Wild Things became a degenerate diverson for millenials growing up on Footloose, Scream, and Party of Five. Indeed, Kevin Bacon starred and even produced this thriller after saying the script was "the trashiest piece of crap I ever read."
That trash revolves around a quintet of schemers in the Flordia everglades who have a habit of breaking off into threesomes and other random poolside pairings. In addition to Bacon as a crooked police detective, the movie stars Scream final girl Neve Campbell as something a little less wholesome from the trailer park and Denise Richards–before her days as a Bond girl–as Kelly, the rich mean girl at their high school. Both accuse their guidance counselor Sam Lombardo (Matt Dillon) of rape, but in reliably dated tropes about women and their sexual desires, it is revealed to be all a con intended to soak the bank account of Kelly's parents.
Gross sexual politics aside, what follows is a surprisingly knotty and clever series of noir double crosses between the threesome that eventually ensare Bacon's gumshoe and even an unexpected Bill Murray, who features in a glorified cameo as Sam's seemingly clueless lawyer. Of course the movie is mostly remembered today for the naughty bits between the teacher and his students that turned Richards into a movie star of sorts, and a flash of Bacon's full frontal sizzle. One wonders though what its legacy might've been if its original casting of Sam Lombardo had stuck with future Iron Man actor Robert Downey Jr., but alas producers cut him because of his drug habit at the time. Instead its heirs turned out to be three horrible direct-to-video sequels.