Features
Killing Eve Season 3 Star Discusses That Shocking Death
Killing Eve season 3 lead writer Suzanne Heathcote and a special guest from beyond the grave break down the show's latest casualty.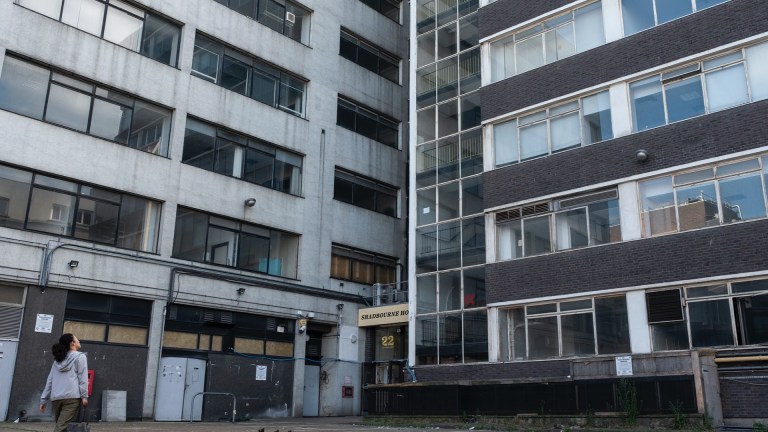 The following contains major spoilers for Killing Eve season 3 episode 1.
Good news, everyone! Killing Eve season 3 reveals early on that title character Eve Polastri (Sandra Oh) survived her gunshot from Villanelle (Jodie Comer) at the conclusion of last season. Bad news, everyone! That means that the show's bloodlust has not been sated.
The end of the Killing Eve season 3 premiere sees the death of a character who has been around from the very beginning. That's right: they killed Kenny! Those bastards! Kenny Stowton (Sean Delaney) is an analytically-minded ex-hacker who joined MI6 Villanelle task force at the behest of his mom, Carolyn Martens (Fiona Shaw). Following the events of season 2, Kenny decides to leave the spy game behind and works for investigative online media outlet Bitter Pill.
Unfortunately, the spy game isn't ready to leave him behind and Eve arrives at the Bitter Pill offices after-hours only to see Kenny plummet to his death from the top of the building. Then, to remove any doubt, Eve rushes downstairs to see the bloodied and unmistakably dead form of one of her best friends. It's a shocking, brutal moment. And according to Killing Eve season 3 lead writer Suzanne Heathcote, it's a moment that wasn't approached lightly.
"It's hard because Kenny's so beloved and understandably so. Sean is a brilliant actor as well. It's always hard making those decisions," she says. "The reality is it's because he's such a beloved character and because Eve has such an emotional connection to him that (the death) has the impact that it has. It needed to be something really monumental that brought Eve back into the investigation of The Twelve."
Kenny's death is the inciting incident that gets Eve back in the game and sets up Killing Eve's thrilling third season. Since Eve is no longer involved with MI6, she needs a reason to stay involved in the action…and that reason regrettably had to be Kenny's death. That's something that even Kenny actor Sean Delaney understands, despite now being out of a job.
"I was actually really excited by it simply because I knew what that would mean for the other characters in the show, particularly Carolyn and Eve. Since then obviously, I've realized I'm unemployed and, you know, just had the highlight of my professional and personal career," he says.
Kenny's death has such significance for the series going forward that Delaney had to pose as his own corpse twice when producers realized the first shot of Kenny's body wasn't grisly enough. Originally Kenny's body was barely shown, leading to a more open-ended finish to the first episode. But Heathcote and company realized that Eve…and Eve fans would need more immediate closure. So Delaney donned his trademark Kenny shorts once again for reshoots in frigid December.
"The idea was that Eve was always the first person to find the body. And she is now. I think they realized we needed the trauma of seeing that to explain Sandra's behavior as the series goes on," Delaney says. "It's important for people to see because otherwise I feel like it holds back, and Killing Eve from day one has taken pride in not holding anything back."
Kenny and Eve have enjoyed a particularly close relationship on Killing Eve, thanks to their shared shortcomings in the art of social interaction. They also were able to empathize with each other in their relationship to the towering figure in their lives: Carolyn Martens. Viewers may not have realized that the quiet moment between Kenny and Eve in Eve's dingy apartment was the last time the two characters would be together. But it was something that Oh and Delaney were certainly aware of.
"I think we both found that quite emotional, knowing full well that we were going to be leaving each other for the foreseeable future. The scene's beautifully written and it was an amazing sendoff," Delaney says. "They don't know that they are saying goodbye to each other, which is even more heartbreaking. I remember it really clearly. It's something I'll take with me for the rest of my career."
Now, as Killing Eve season 3 builds its central plot around his ghost, Delaney is preparing for a life as a Killing Eve viewer and fan.
"I've had such a fun ride and I've honestly stretched out much as I possibly could over the last couple of years. I'm heartbroken not to be a part of the fourth (season) and not be able to see out towards the end," he says. "But I think in terms of what it does for the story, it's genius. It's really, really dangerous and clever."