News
Killing Eve Season 4: Cast, Release Date, Trailer, News
BBC America has already ordered a fourth season of its acclaimed crime drama Killing Eve.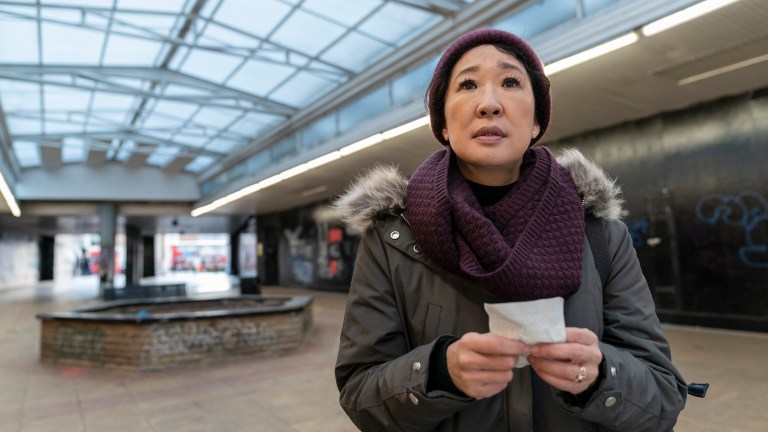 Killing Eve Season 4 was, thankfully, confirmed long ago. A fourth season of BBC America's brilliant and highly-addictive spy-assassin show was ordered way back in January, before Season 3 even started. Basically, everyone involved in this production knows that they have a hit on their hands and is acting accordingly.
As Sarah Barnett, President, AMC Networks Entertainment Group and AMC Studios, lauds in a statement:
"How could we not have massive confidence in Killing Eve? It has won big in every major award show and is the highest growing show on U.S. television for six years. The reason for this series' emphatic embrace is the brilliant women who breathed it into being: Phoebe Waller-Bridge, Emerald Fennell, Sandra Oh, Jodie Comer, Fiona Shaw and its fairy godmother, executive producer Sally Woodward Gentle.
As Executive Producer Sally Woodward Gentle states:
"I am beyond thrilled that we can continue our extraordinary journey. It is [a] testament to everyone involved that we have been picked up so early – the magnificent actors, writers, directors and production team. We are extremely lucky to work with such fierce and dedicated people."
Here's everything we know about Killing Eve Season 4 so far…
Killing Eve Season 4 Cast
Presumably, Jodie Comer (Villanelle), Sandra Oh (Eve), and Fiona Shaw (Carolyn) will all be back. Jury is technically out on Konstantin's Kim Bodnia, but give that he ended the season alive, I would expect him to pop back up in Season 4 at least in a recurring role.
We'll have to wait and see who else might make it onto the Season 4 roster, but characters who were alive at the end of Season 3 who have unfinished business include Twelve representative Helene and Carolyn's daughter Geraldine. Let us know which characters you'd like to see return in the comments below.
Killing Eve Season 4 Release Date
Every season of Killing Eve thus far has premiered in April. However, with the current production hiatus in place due to COVID-19, it feels premature to guess when Killing Eve Season 4 might come out, given this era of unique uncertainty. That being said, if everything goes according to plan, it will likely arrive sometime in spring 2021.
Killing Eve Season 4 Head Writer
As you may already know, Killing Eve has the tradition of replacing the head writer of the series every season. In Season 1, it was creator Phoebe Waller-Bridge. In Season 2, it was Emerald Fennell. In Season 3, it has been Suzanne Heathcote. Who will take over the position in Season 4?
BBC America announced that Laura Neal, who has previously worked on Sex Education and Secret Diary of a Call Girl, will serve as the head writer for Season 4. You can read more about that here.