Features
Jeopardy! Masters: Who Are the Contestants?
From Matt Amodio to Amy Schneider, get to know the trivia experts contending for the title of Jeopardy! Master.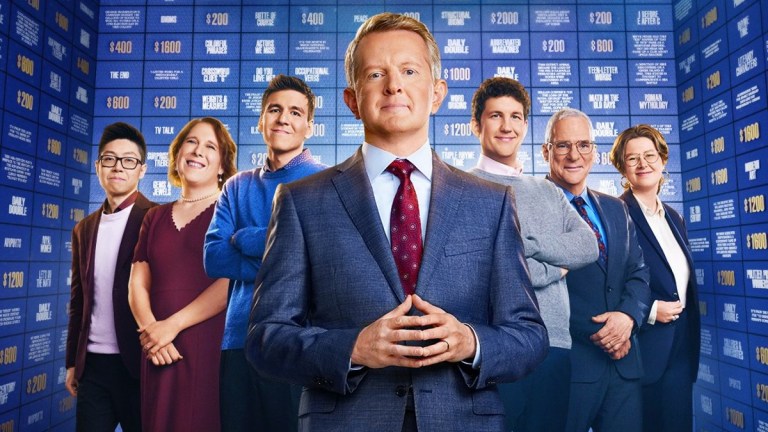 Jeopardy!, America's premier TV trivia institution, likes to throw itself a tournament on occasion.
Ever since 1964, the show has featured a yearly "Tournament of Champions" that gathers together the previous season's most successful champions to determine who is the best of the best. Beyond that, the long-running syndicated program, now in its 39th season, has also trotted out additional tournaments to find out who is really the best of the best of the best. The most recent example is 2020's Jeopardy! The Greatest of All Time tournament. Hosted by the late Alex Trebek, this tourney pitted Jeopardy!'s three most successful-ever contestants, Ken Jennings, Brad Rutter, and James Holzhauer against one another. Jennings won that one and perhaps not coincidentally he's the man the show turned to to take over hosting duties (alongside occasional helper Mayim Bialik) following Trebek's death.
Following the success of the GOAT tournament and Jeopardy!'s continued ascension as a pop culture powerhouse, the franchise is once again brining some of its best contenders back for a special tournament. Jeopardy! Masters premieres Monday, May 8 at 8 p.m. ET on ABC and will find six recent super champions once again duking it out for the title of Jeopardy! Master.
Jeopardy! is a very old TV institution. But it's possible that its recent batch of super champions is the most intelligent, knowledgable, and skilled the show has ever had. That's likely due to the show broadening its application process and the vibrant online community of uber fans constantly researching ways to get better at the show's deceptively simple format.
As such, whoever wins the Jeopardy! Masters tournament will have a strong claim to being Jeopardy!'s best ever contestant…after Ken, of course, who is now and forever the unimpeachable GOAT.
So let's go ahead and get to learn more about the six geniuses engaging in this latest tournament.
Matt Amodio
An Ohio-born Yale PhD student, Matt Amodio has the third longest winning streak on Jeopardy! behind only Amy Schneider (more on her later) and the GOAT Ken Jennings. His run of 38 consecutive games won in 2021 was impressive enough on its own merits but he also happened to do it during a time of particularly instability in Jeopardy!'s history.
With the show looking for a new game master following Trebek's death, Amodio's streak ultimately spanned seven different hosts, culminating with eventual final stewards Jennings and Mayim Bialik. Amodio was a source of playful annoyance for Jeopardy! fans due to his penchant for never saying the magic phrase "I'd like to make this a true Daily Double" on Daily Double wagers and answering each question with "What's" regardless of the answer's appropriate interrogative pronoun. (All answers on Jeopardy! must be phrased in the form of a question. Most contestants update their question asking to begin with the correct "What's/Who's/Where's/etc. but Amodio stuck with "What's" for simplicity's sake).
Sam Buttrey
Sam Buttrey comes to the Jeopardy! Masters tournament from a somewhat unexpected place: the Jeopardy! Professors Tournament. Buttrey applied to be on the "usual" Jeopardy! program but due to his status as an associate professor at the Naval Postgraduate School, show producers decided to bump him over to the new themed tournament they were trying out – which proved to be quite unlucky for all the other educators.
Sam dominated the Professors Tournament with ease and was welcomed back for the Tournament of Champions, in which he made the final three alongside other heavy hitters Andrew He and Amy Schneider. The mild-mannered professor is probably considered something of a dark horse for Jeopardy! Masters but don't count him out: he's a real threat…unless there are any controversial Bible questions on the board.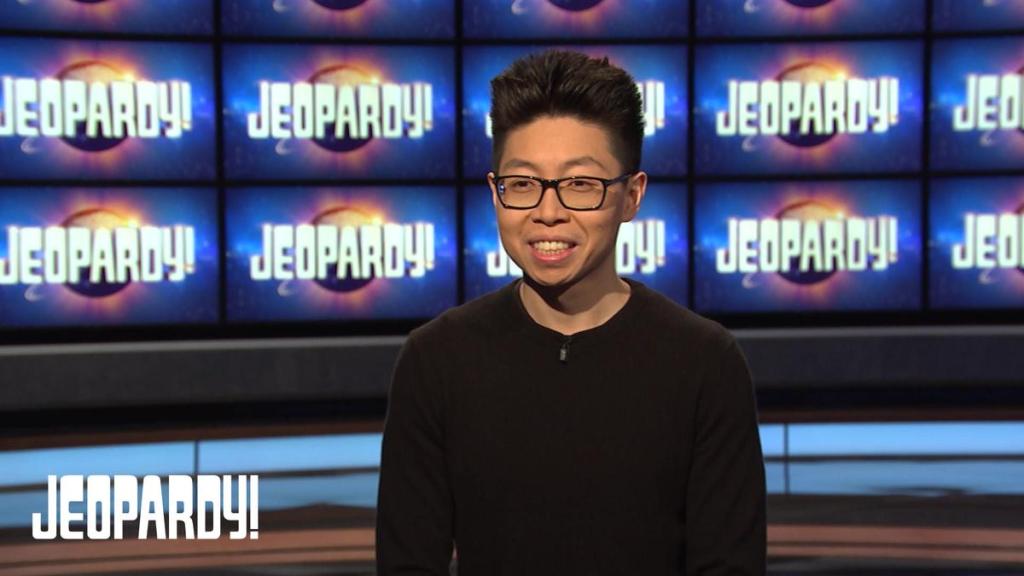 Andrew He
While Jeopardy! is primarily a game of skill, luck also plays a role. Sometimes the board of questions might not be favorable to a particular contestant's knowledge base. Or sometimes, as poor Andrew He found out, you might just run into a super champion buzzsaw through no fault of your own. In software developer He's first appearance on Nov. 10, 2021, he set the record for largest amount of money a player has ever won in their first game ($52,001).
After rattling off five more wins, Andrew seemed primed to go on an historic winning streak. Unfortunately for him, Amy Schneider turned up for his sixth game, beat him, and then went on an historic winning streak of her own. He was naturally welcomed back for the Tournament of Champions where he gave Schneider a real scare before ultimately finishing second. Jeopardy! Masters provides him with an opportunity to fully establish himself as a Jeopardy! heavy hitter and also finally put his Amy nightmares to rest.
James Holzhauer
James Holzhauer is probably the most famous contestant to take the Jeopardy! Masters stage. His 32-game winning streak in mid-2019 was by far the most impressive feat the show had seen seen since the days of Ken Jennings himself and it helped reinvigorate interest in the long-running trivia program. Of course, Holzhauer's streak would almost immediately get eclipsed by new contests Matt Amodio and Amy Schneider, but the dollar amounts he took home remain staggering.
Befitting his status as a professional gambler, Holzhauer went hard on Daily Doubles and as a result he owns every spot in Jeopardy!'s top ten list of highest single game winnings. Despite winning less than half as many games as Jennings, Holzhauer is only $58,000 behind him in career earnings (not counting tournaments). The Seattle-based sports fan also embraces his status as "the bad boy of Jeopardy!," frequently ribbing his fellow contestants and occasionally criticizing the show on social media.
Mattea Roach
Though created and produced in Hollywood, Jeopardy! enjoys a special relationship with Canada. Alex Trebek himself hailed from The Great White North and so too do many notable Jeopardy! champions. The most successful of them all is recent super champ Mattea Roach. The Halifax native won a staggering 23 games and $560,983 before falling to Danielle Maurer in a game decided by only $1.
Roach returned for her season's Tournament of Champions which featured fellow heavy hitters like Andrew He, Sam Buttrey, and Amy Schneider. Ultimately she wasn't able to crack the top three but now has another chance to make Canada proud.
Amy Schneider
When James Holzhauer took a serious run at Ken Jennings' all-time Jeopardy! record in 2019, it ushered in the era of the Jeopardy! "super champion." Whether they were inspired by Holzhauer's performance or emboldened by the show's updated testing procedures, Jeopardy! contestants have quite simply been on fire since 2019. In fact, more than half of the show's 10 longest winning streaks all occurred within the past three years.
Of all the recent super champions, however, Amy Schneider is comfortably the most dominant. The Oakland-based writer has the second longest winning streak in Jeopardy! history (40 games), and has the fourth highest winnings ($1,382,800). More impressive than her regular season play though was her victory in what was surely one of the most stacked Tournament of Champions ever. Schneider is the likely favorite in Jeopardy! Masters.