News
Is Jeopardy! Finally Preparing Ken Jennings for the Hosting Job?
Jeopardy! has announced Mayim Bialik and Ken Jennings will host for the rest of the calendar year. Could one of them be the permanent hosting solution?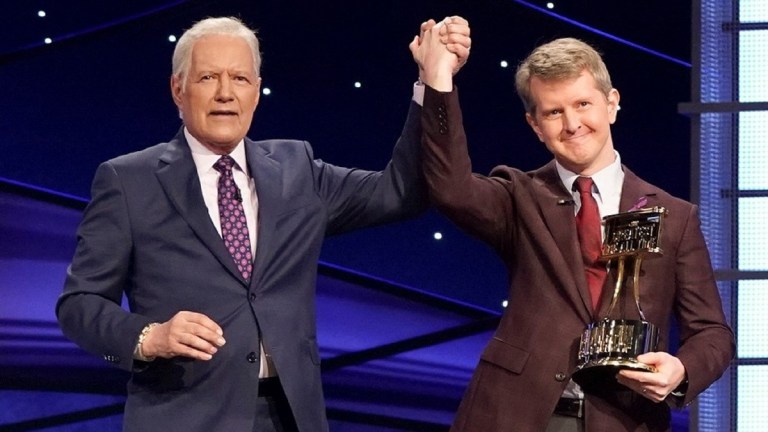 What if the right Jeopardy! host was the obvious choice all along?
Sony Pictures Television, the studio behind Jeopardy!, announced today that two guest hosts will see the beloved quiz show institution through to the end of the calendar year, following the ousting of the former executive producer and the show's (poor) choice to replace Alex Trebek, Mike Richards.
Former guest host Mayim Bialik, who has already secured a job hosting primetime Jeopardy! specials, will begin her next guest hosting stint on September 20 and end it the first week of November, for seven weeks total. Ken Jennings, the undisputed Jeopardy! GOAT, will then take over through December.
Though Sony previously claimed that it would restart the guest hosting "audition" process that saw Jennings, Bialik, Richards, and nearly a dozen other contestants try their hands at replacing the departed Trebek, it now seems possible that it will just try to have this whole thing wrapped up for good by January 2022. If that's the case, perhaps Jeopardy! has finally given into the inevitable: Ken Jennings is the only viable option for the job.
Back before this whole mess started, Jennings seemed like the obvious choice to replace trivia hosting titan. Jennings' Jeopardy! connections run deep, with the former contestant holding just about every record it is possible to hold on the show. Jennings' streak of 74 consecutive games won is not only more than twice that of the runner-up (James Holzhauer with 32), it also helped the syndicated quiz show experience new pop culture life in the early 2000s. Jennings would later cement his status as Jeopardy!'s Greatest of All Time (GOAT) by winning a primetime tournament against the only other two possible contenders: Holzhauer and Brad Rutter.
Shortly before Trebek died at 80 from cancer, Jeopardy! appeared to be setting Jennings up as the legendary host's replacement. Jennings was added to the show as a consulting producer and occasionally received his own category of questions to ask contestants. Jennings was also the first guest host to run the game show following Trebek's death.
So why then did Jeopardy! ever deviate from the Ken Jennings path in the first place? There are a few possible answers. The first is that there was no harm in doing some due diligence. Bringing on several guest stars over the span of the year was both an appropriately bombastic way to celebrate Trebek's legacy and an opportunity to see if someone not on the traditional Jeopardy! radar was a good hosting fit. This had mixed results as it brought the charming Bialik into the fold but also led the show to go with its own not properly vetted producer for the fulltime job.
The other possibility for why Jeopardy! balked at Jennings is that he also had some of his own Richards-style social media skeletons in his closet. Jennings has been a consistent presence on Twitter for years. In that time, he has made some attempts at humor that he has admitted he would like back. Back in January 2021, Jennings also became embroiled in a truly bizarre and uniquely Internet-age controversy when his podcast co-hosting partner John Roderick went viral for a story about how he wouldn't open a can of beans for his daughter. Shortly after that, racist tweets from Roderick a.k.a. "Bean Dad" re-emerged and Jennings defended his friend as "a loving and attentive dad who … tells heightened-for-effect stories." Yes, reality is weird.
At the time, several sources including The Wall Street Journal reported that the incident hurt Jennings' standing with Jeopardy! and may have even taken him out of the running for full-time host. Given the level of due diligence that producers gave Richards though, it's questionable as to whether that was really the case.
Ultimately, the real reason why Jennings wasn't handed the full-time hosting job is probably a tale of old as time: scheduling conflicts. Alongside his fellow Jeopardy! GOAT contestants, Jennings serves as a trivia expert known as a "Chaser" on ABC's The Chase, an adaptation of a U.K. trivia series. The first season of The Chase was filmed in advance but premiered on January 7, 2021. Jennings was able to host the first six weeks of post-Trebek Jeopardy! episodes but then had to return to production on his ABC obligations, which is what began Richards' guest-hosting stint in the first place. 
Still, Jennings remained very much in Jeopardy!'s long-term plans. Or at least he wanted to be. Jennings confirmed to Claire McNear of The Ringer that his series of question categories would return for the show's 38th season and said: "Obviously I'm disappointed with how this process played out, but I'd rather look ahead. I plan to be with the show as long as they'll have me, no matter who's hosting."
And now he's back already. Though Sony may still make good on its pledge to restart the guest hosting process, the two hosts in the fold for the rest of this year appear to be the best of the crop already. Each of them has their problem areas – Jennings with his tweets and Bialik with a colorful history of her own. But at some point, someone is going to have to be named Alex Trebek's replacement. 
We already know that someone will fall short of those mighty expectations, it's just a question of how far. The thoroughly-vetted Jennings with an established Jeopardy! history just might be the host they're looking for.