Features
Matt Amodio is the Real Jeopardy! Story Right Now
Forget Mike Richards, Mayim Bialik, and the struggle to replace Alex Trebek. A truly dominant contestant is the real talk of the Jeopardy! world.
As you may have heard, things are a bit hectic for Jeopardy! at the moment.
The beloved quiz show announced on August 11 that it had finally done the impossible and selected legendary host Alex Trebek's replacement. In this case, it's replacements. Jeopardy! executive producer Mike Richards will take over as the full time host of the syndicated series beginning with its 38th season. Meanwhile, fellow guest host and former Blossom and Big Bang Theory actress Mayim Bialik will also be involved with the show going forward. Bialik will shepherd several upcoming primetime Jeopardy! specials starting with the Jeopardy! National College Championship airing on ABC this year.
Naturally, the choices were immediately met with controversy, as any choices regarding Trebek's replacement(s) were bound to be. We went deep on our concerns over Richards' selection over here (TL;DR he's got some baggage and it's a little distasteful to have an executive producer conducting a hosting search choose himself).
Additionally, some people felt that the choice of two new hosts was a bit of a cop out. One of the reasons why Trebek became a TV icon in the first place was his sheer consistency. His onscreen presence was inseparable from Jeopardy! itself. By choosing Richards and Bialik, the show is making it difficult for either of them to truly make the role their own.
Jeopardy! GOAT contestant James Holzhauer made a joke of it on Twitter, as he is oft to do.
But enough about all that. For, while the journey to replace Alex Trebek is certainly fascinating, it's likely not what Trebek would want us to focus on right now. The star of Jeopardy! is always Jeopardy! And amid all the hosting shenanigans, there is a contestant who is absolutely kicking Jeopardy!'s ass right now and deserves our attention.
This is Matt Amodio. He is a monster.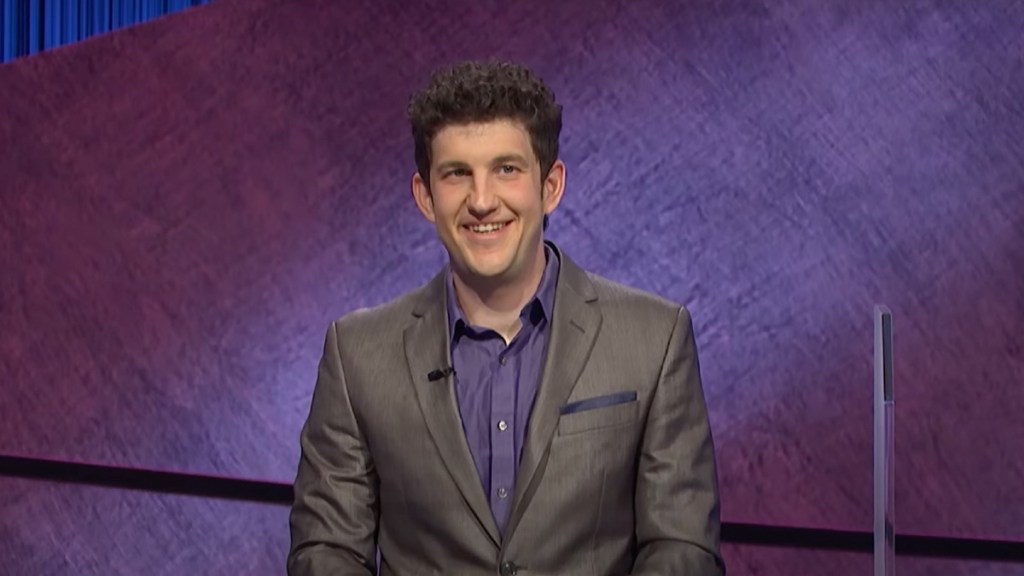 Following yet another victory on Wednesday, Amodio has won an astounding 16 games in a row and taken home over $500,000 (you know, before taxes and stuff). The graduate student based in New Haven, Connecticut has now firmly inserted himself into the Jeopardy! record books. He's fifth in consecutive wins and fourth in highest winnings (regular season play). The only players to have won more prize money are Ken Jennings, James Holzhauer, and Jason Zuffranieri.
What's arguably more impressive, however, is how Amodio is winning. The genial man from Medina, Ohio is destroying his competition. His games are usually over shortly after Double Jeopardy! begins. By the time Final Jeopardy! rolls around, he's often competing against only himself.
Interestingly Final Jeopardy! may be his only weakness as several times he's bet aggressively to inflate his already massive score yet answered incorrectly. If Amodio had nailed any of these Final Jeopardy! gambits, he would have a few entries in the top 10 of highest single game winnings. Right now that top 10 category is absurdly 10 different James Holzhauer games.
In addition to being an incredible Jeopardy! player, Amodio is a wonderful Jeopardy! personality. Matt has several idiosyncrasies that drive longtime viewers of the show crazy. The first is his stubborn refusal to ever say "I'd like to make this a true daily double" when betting all of his money during a daily double. That seems like a deep violation to Jeopardy! purists whose most sincere goal is to be able to utter those memeable words.
Amodio also begins every answer (or question as Jeopardy!'s answers are technically styled) with "What's." Every answer on Jeopardy! must be phrased in the form of the question, of course. But Amodio refuses to exert any brain power on figuring out the correct article to begin his question with. An answer that should be "Who is Chester Arthur?" becomes "What's Chester Arthur?" This is in keeping with Jeopardy!'s rules but it still feels like a spiritual violation to some fans.
In this way, Amodio has become something like a "bad boy" of Jeopardy! in only the delightfully pedantic way that nerds would categorize it. More importantly: he's exactly what the show needs right now. Runs like this are far from unprecedented in Jeopardy! history. But this is the first time we've seen such dominance since Trebek died late last year.
It's Amodio, more than any guest host, who has proven that it's possible for the Jeopardy! magic to continue into a new era.