Features
How Lucky Hank Became Bob Odenkirk's Saul Goodman Palate Cleanser
After more than a decade of playing one of TV's most iconic characters, Bob Odenkirk wasted no time in embodying AMC's Lucky Hank.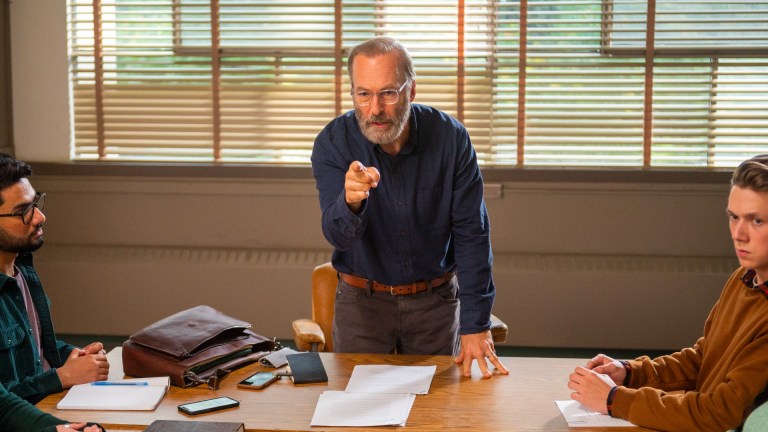 When prolific producer Mark Johnson acquired the TV rights to Richard Russo's 1997 novel Straight Man, he knew that Saul Goodman actor Bob Odenkirk would be the perfect fit to play its lead character, William Henry Devereaux Jr. But Johnson, who also served as a producer on Breaking Bad and Better Call Saul, was hesitant to bring the role of the ornery Railton College English department head Odenkirk's way for one very understandable reason.
"I'm the idiot who had the book for I don't know how long and I was afraid to give it to Bob," Johnson tells Den of Geek during SXSW. "I was afraid it was going to break his concentration for Saul Goodman."
"What concentration?" Odenkirk quips.
Obviously, Johnson's caution was well-founded. Saul Goodman proved to be the role of a lifetime for Bob Odenkirk. After spending much of his career as arguably one of the most notable American comedy writers of all time, the Chicago native became a household name when he first joined the cast of Breaking Bad as the criminal lawyer in the season 2 episode "Better Call Saul." Already an iconic supporting character in Vince Gilligan's Albuquerque meth-iverse, Saul Goodman would become an honest-to-goodness leading man with Breaking Bad prequel Better Call Saul.
Still, despite entering into the eternal TV canon together, Saul Goodman and Bob Odenkirk were never ideal fits for each other.
"Saul is hard to play because he's quite different from me," Odenkirk tells Den of Geek. "This guy was a little closer. I felt like I related to him more."
"This guy" is the aforementioned William Henry "Hank" Devereaux Jr. in Russo's Straight Man, now the TV series Lucky Hank for AMC. During Better Call Saul's final season, Odenkirk finally read the pilot script for Lucky Hank, penned by fellow TV luminaries Paul Lieberstein (The Office) and Aaron Zelman (Law & Order), and identified with the fictional literary professor's use of humor to deal with the mediocrity all around him. He also enjoyed the down-to-Earth nature of this story about simple ennui and office politics in the world of academia.
"It's not a genre piece at all. There's no guns, there's no drugs, there's no zombies, there's no dystopian anything. There's humor. It's also a funny show. I think Lucky Hank is like 51% comedy and 49% drama."
With a TV producing superteam in place to go along with its lead, Lucky Hank made its premiere on Sunday, March 19 on AMC – a mere seven months after the Better Call Saul series finale for Odenkirk. Though the process from script to screen was quick and relatively smooth, Richard Russo's novel did require one alteration on its way to becoming Lucky Hank: a name change.
As is also the case in the show, in Russo's novel, Hank's internal monologue frequently comments upon events and people that he perceives to be ridiculous. It's in this way that Hank acts as a "straight man" in the context of an old comedy duo.
"He's not developing an act for standup night. But (the term) 'straight man' is about a comedy duo," Odenkirk says. "You've got the straight man and the clown of a comedy team. Dean Martin would be the straight man. The straight man is kind of rolling his eyes at the clown. And that's how Hank looks at the world, like 'look at these idiots.'"
In the modern era, however, "straight man" is more likely to have the connotation of referring to someone's sexuality, something that Lily Devereaux actress Mireille Enos (The Killing) discovered upon discussing the series with her family pre-name change.
"When I told my 12 year old 'I'm working on a new show, it's called Straight Man,' she wrinkled up her nose and was like 'Why is it called that?'" Enos says.
In the end the name "Lucky Hank" communicates the ironic tone the show's creators are going for anyway.
"I don't want to say what it means to me because I want people to watch the show and see what it means to them," Odenkirk says. "The first thing you can assume though is that he's not particularly lucky."
With marketing material that includes Odenkirk's Hank having a ringed notebook driven through his nose and enduring a dramatic confrontation with a goose, his lack of luck is very much apparent. But with a little luck of its own, Lucky Hank could be a breath of fresh air for its star and network. With mainstays like Better Call Saul and The Walking Dead flagship series now off the air, the cable entity that brought the world Mad Men appears poised to return to its more subdued roots with Lucky Hank.
If everything goes according to plan at Railton College, the quiet story of one man struggling with his personal life, professional life, and geese could indicate that TV audiences are ready for some adults in the room again. Albeit sad, broken adults in dead-end jobs but adults all the same.
New episodes of Lucky Hank premiere Sundays at 9 p.m. ET on AMC.