Features
Summer in Argyle is an Odenkirk Family Affair
Bob and Nate Odenkirk discuss their hotdog (and murder) centric podcast series Summer in Argyle.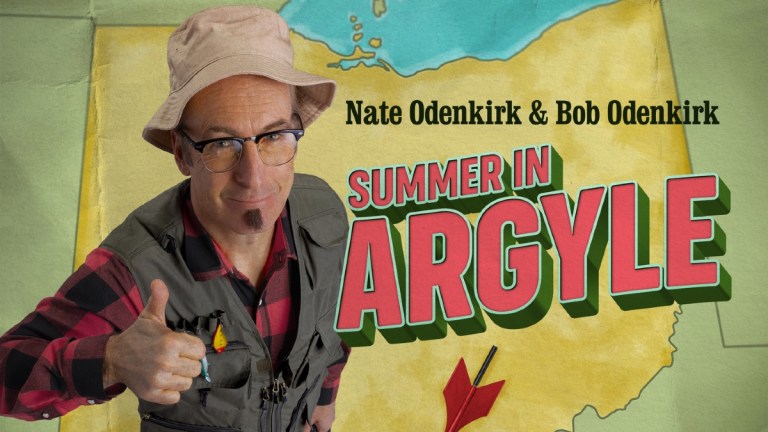 Collaboration in comedy can be hard. The genre is largely subjective and funny people have differing perspectives on what is and isn't funny. But what about when one comedic collaborator is an apple that hasn't fallen too far from the other's comedy tree, so to speak?
Such is the case with the new Audible podcast series Summer in Argyle. First developed and written by Nate Odenkirk, then punched up, rewritten, and produced with the assistance of his quite notable father, Bob Odenkirk (Better Call Saul, et. al), Summer in Argyle is a generational Odenkirk-ian effort. The father-son duo worked on the project during the height of the pandemic, turning the already fraught creative process into more intense of a beast. 
"You know, it's risky. You're locked down. You're in the house. You can't leave. Plus, he's my son," Bob Odenkirk tells Den of Geek. "But I had to be honest and critique it and punch it up and push it. Nate's been writing for years and years. It wasn't any issue. We got along well!"
"Yeah, Bob and I worked well together, I'd say," Nate adds. "We're keeping in contact. We might collaborate again, who knows. We're staying in touch via email here and there."
"Our assistants text each other," Bob clarifies.
Though Summer in Argyle was borne out of the Odenkirks' rigorous work ethic, the podcast is an unabashed celebration of all things mediocre. The series' 10 episodes are set in the fictional town of Argyle, Ohio, where locals are always happy to celebrate second place. The town's first settlers intended to make it all the way to California before getting tired in Ohio and figuring it was as good a place as any to lay down roots.
That spirit of "close enough" persists to the present day as the podcast features vignettes about the town's DMV/fancy restaurant, laundromat/town history center, and the spectacularly underperforming bowling team.
"It's a town of people who decided to stop trying," Bob Odenkirk says. "They stopped pretty early in their journey to get to California. It's about a bunch of people who are eagerly embracing second place. Nothing against Ohio though."
While the whole town is eager to embrace second place, the main thrust of Argyle's loosely connected story begins with the annual hotdog eating contest (which also doubles as a financially ruinous Easter egg hunt).
"If you add 'contest' to anything it's funny," Nate says. "That's just a truth of comedy. To add the words 'hot dog' to it, that's as good as it gets. I don't know of anything funnier than that."
"It's gonna be something to look forward to when you hear there's a hotdog hunt and a subsequent eating contest," Bob adds. "When you're trying to attract people to a story, you want to have a murder in there and you want to have food that sounds good."
Yes, Summer in Argyle also makes room for that most reliable of podcast ropes: a mysterious murder – one of the town's precisely one murder per year. That's not an average, mind you, but a bizarre phenomenon.
"It's a town tradition," Nate Odenkirk says. "I wanted the town to be OK with there being one murder a year. Like 'we just live in a town where there's one murder a year. OK.'"
Charged with solving (our perhaps perpetuating) said murder is the town's policeman, voiced by I Think You Should Leave's Tim Robinson. In fact, Argyle's voice cast is quite extensive and draws from much of the Odenkirk Extended Comedy Universe. In addition to Robinson as a cop and Odenkirk as the show's narrator/ town's resident metal detector enthusiast, Summer in Argyle features voice work from Stephanie Courtney, David Cross, J Andrew Friedman, Stephanie Hsu, Tom Kenny, Lyric Lewis, Michael Naughton, Brian Posehn, John C. Reilly, Jill Talley, Carl Tart, Paul F. Tompkins, Tim Kalpakis (who also directs the show), and many more.
"We just asked people and they said yes," Bob Odenkirk says of assembling the cast. "We did this during the pandemic so nothing's happening. And it's an audio thing so they can do it at home."
A whole group of talented people working from home – that's one way to keep the spirit of Argyle alive.
All 10 episodes of Summer in Argyle are available to stream now via Audible and wherever else podcasts can be found.