News
Did Bob Odenkirk Accidentally Spoil the Better Call Saul Midseason Finale?
Hey, mistakes happen! Why one errant Bob Odenkirk tweet may have spoiled a big Better Call Saul season 6 moment.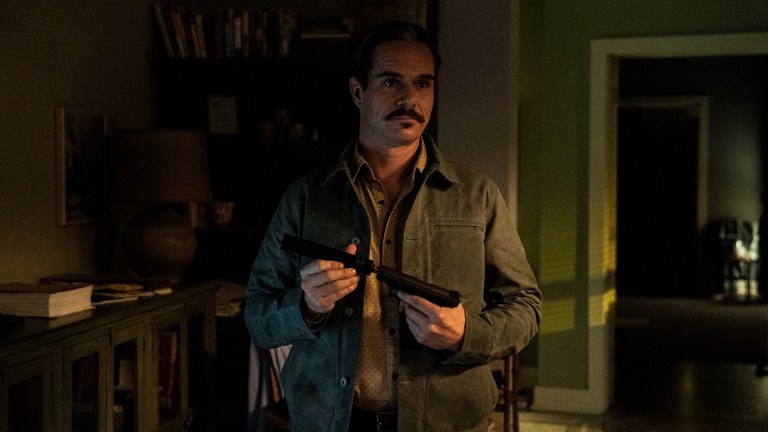 This article contains major spoilers for Better Call Saul season 6 episode 7.
Better Call Saul just aired one of the most shocking episodes of its entire run. "Plan and Execution," the midseason finale of the show's sixth and final season, features a truly shocking character death.
After Jimmy McGill (Bob Odenkirk) and Kim Wexler (Rhea Seehorn) thoroughly ruined his life with their cruelest con yet, soon-to-be-former lawyer Howard Hamlin (Patrick Fabian) pays them a visit to dress them down. The scene is already an emotionally fraught one, with Howard finally telling Jimmy and Kim everything he thinks about them and accurately pegging them as psychopaths who get off on other people's misery. Then, however, everything suddenly goes to 11.
Lalo Salamanca (Tony Dalton) emerges from the shadows, his arrival foretold by a flickering candle, and announces he would like to speak to his lawyer, Saul Goodman. Jimmy and Kim urge Howard to run away from this dangerous situation but before Howard can even take a step, Lalo executes him with a silenced pistol shot to the head.
The scene is absolute unmooring and without precedent in Better Call Saul's history. Howard is firmly a part of the show's legal world while Lalo is entrenched in the cartel world. Those two disparate threads rarely ever even meet outside of Saul Goodman's occasional dalliance with the darkness. It's a moment that absolutely no one could have reasonably seen coming. And yet, many people did. That's because in December of last year, Bob Odenkirk made a little whoopsy daisy.
Flash back to Dec. 7, 2021 with us if you will. It's the 77th day of fall, with winter 14 days away. It's also relatively slow news day. Warner Bros. officially announces that Collin Farrell will headline his own Penguin series for HBO Max and Outer Banks is picked up for season 3 at Netflix. Meanwhile, over on Bob Odenkirk's Twitter feed, the actor wants to commemorate the birthday of his dear friend and co-star Patrick Fabian. So he tweets out the following image:
Ah, that's sweet. Just two guys being dudes. Wait a minute though…what's going on with Patrick Fabian's hair? COMPUTER, ENHANCE!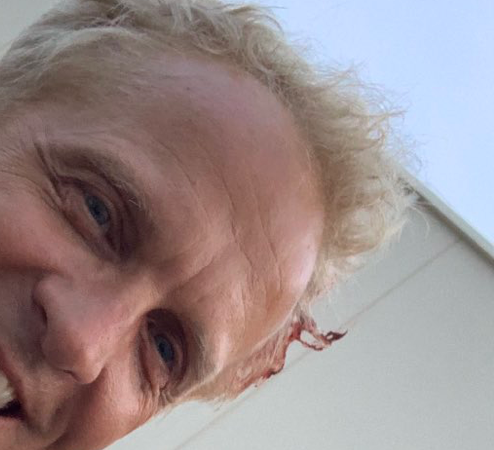 Well, I'll be damned if that doesn't look like bloody makeup applied to Patrick's head, almost as if his character has a reason to have a bullet exit wound on his dome. Many Twitter users pointed out the makeup and wondered if it meant Howard wasn't long for this world. Those users were proven right when "Plan and Execution" aired and proven even more right yesterday when Odenkirk owned up to the snafu.
Yes, Bob Odenkirk accidentally spoiled the Better Call Saul season 6 midseason finale more than five months prior to the episode aired. Still, please don't consider the existence of this article as an excuse to shame the man. Mistakes happen and to his credit, he handled the inadvertent spoiler-bomb quite well afterward. Odenkirk didn't delete the tweet with the revealing photo, which would have been a dead giveaway that viewers were on to something. He also didn't engage with replies to the photo in any way, letting users talk themselves into and then out of the notion that it was a spoiler.
The blood on Fabian's head was so noticeable that one could be forgiven that the Better Call Saul team was pulling off an elaborate troll job by applying blood just to release one misleading photo. If only that were the reality, then Howard may have lived to see another day.