Features
How Dangerous Liaisons Rejects Bridgerton's Historical Alternate Universe
Starz's Dangerous Liasions casts a spotlight on late 18th century Black French history.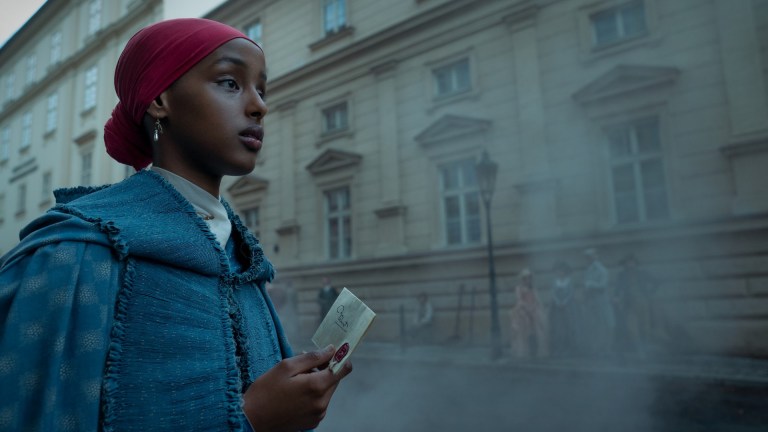 This article discusses broad plot points from the novel Dangerous Liaisons but does not contain spoilers for the series.
Starz's newest period drama miniseries Dangerous Liaisons is the cure for anyone who found Lady Whistledown's revelations in Bridgerton too tame. The secrets of debutantes pale in comparison to the married elites of pre-Revolution Paris who carry on secret affairs while pretending to be faithful to their spouses. These affairs also expose class and gender conflicts in a world even more cutthroat than the Ton.
Dangerous Liaisons is a prequel to the events of Pierre Choderos de Laclos' novel of the same name published in 1782. For many people, the movie from 1988 starring Glenn Close and John Malkovich would be the first thing that comes to mind. The 1999 movie Cruel Intentions starring Sarah Michelle Gellar and Ryan Phillippe is a modern-day set adaptation of the novel. The novel has also been adapted as a play, opera, and ballet several times, most recently by Donmar Warehouse in 2015. The West End production starred Dominic West and Janet McTeer with Liev Schrieber replacing West on Broadway.
The series introduces all of the major characters in their early years which makes it easy for folks who don't remember or have never seen the previous adaptations to follow the plot. Camille (Alice Englert) is a young woman in debt to a brothel owner and is depending on her lover Valmont (Nicholas Denton) to make enough money to pay off what is owed and marry her. She's also hoping her friend Victoire (Kosar Ali) can also escape the drudgery. Unfortunately for Camille, she discovers Valmont has cheated on her many times over and there are letters to prove it. One of these letters is from the Marquise de Merteuil (Lesley Manville) whose marriage would be ruined if the affair is exposed. Camille's anger over Valmont's lies fuels her to seek revenge and also to leverage this information to start a new life. While there are a lot of secrets to discuss, there are also the differences between the way Queen Charlotte and Lady Danbury influence the Ton and the positions of the Black characters in Dangerous Liaisons that are worth analyzing.
This adaptation of Dangerous Liaisons uses color-conscious casting whereas previous adaptations had no or few actors of color. Starz, starting with The Spanish Princess, has continually cast actors of color as servants or courtiers in their recent royalty dramas forcing costume drama fans to either accept the existence of people of color in Europe pre-1900 or leave it. Additionally, the show's production company Playground also produces All Creatures Great And Small which opted for color-conscious casting when adapting the James Herriot veterinary memoirs.
France's history in regard to racism and colonialism developed on a different trajectory than in the U.S. and U.K. Olivette Otele's groundbreaking biography African Europeans documents the development of racialized society across Europe from ancient times to today. Anyone who believes Dangerous Liaisons is "making up" the presence of BIPOC in Paris needs to be handed a link to buy or rent this book from the library.
Victoire has clearly bonded with Camille based on the shared struggle of life in general. There are vague hints about whether Victoire has ever slept with clients but it is very possible she has avoided that by cleaning and acting as a ladies' maid. For those who may find Victoire's positioning a rehashing of misogynoir tropes, social and legal discrimination in this era forced unmarried women into either domestic service or sex work. Victoire's costuming also provides hints about her background not explicitly mentioned in the script. She is wearing a headwrap that may appear to look like a tignon but it is tied differently. The tignon headwraps were legally mandated for both enslaved and free women of color in French Louisiana. However, Victoire's headwrap is more indicative of North and West African women's styles.
While Camille and Valmont have no issues with Victoire's appearance, other white elites are all too happy to reduce her to third-class citizenship. For example, the Marquise de Merteuil tells Victoire that while it would be easy for Camille to blend into high society, Victoire's origins would raise too many questions. The Marquise then references the thieves of Marseille which is clearly a racist stereotype about the residents of port cities. In many situations posing as Camille's "servant" is the only way Victoire can stay by her side. Victoire's difficulties have some parallels in the life of Majordome (Hakeem Kae-Kazim) who is the valet to the Merteuil household. While he is a servant like Victoire, he also wields considerable power when the Mertueils are out of the house because he can order the other household staff. At the same time, he is also the eyes and ears of his masters and he depends on their goodwill for his survival. However, unlike Victoire, Majordome would never be threatened by or subjected to gender-based violence. The story makes it a point to mention Jean de Mertueil's wealth is explicitly tied to owning slaves in the Caribbean and being an agent of the French crown in colonialist interests.
Ondine de Valmont (Colette Dalal Tchantcho) or "the widow Valmont" according to some characters is far above Victoire in the class system. Her marriage to Valmont's now-deceased father has secured her and her son riches and influence in Paris society. Valmont is convinced Ondine's lies cost him his inheritance. Ondine is invited to all of the most important occasions and wears all of the current fashions. She can enter spaces without question as opposed to Victoire. Although we do not know the full story of Ondines life before her marriage, it is clear that she sees a connection to Camille because she likely came from the outside of polite Parisian society.
The Chevalier de Saint-Jacques (Fisayo Akinade) is an opera singer and dance instructor, and Valmont's acquaintance. In the class system, he is in between Ondine and the servant characters. His talents are valued but it is dependent on the whims of rich white people. He's a favorite entertainer in the royal court. In the second half of the season, his patrons keep rejecting every revision he makes for an upcoming opera performance. If the Chevalier doesn't get through his creator's block he could very well end up homeless. The Chevalier's associates and colleagues are also the audiences' first exposure to queer characters outside of the sex worker context. These characters will likely have the audience questioning the legality of homosexuality in this era but there isn't a clear answer on that topic or how intersectionality with other identities affects legality.
All of these characters share similarities to real people documented in Chapters 3 and 4 of African Europeans. Otele features quite a few domestic servants like Victoire and Majordome. Very few details survive about Ourika's life but her ability to play both confidant and servant to a French aristocrat has some parallels with Victoire. Ondine's story has some common themes with Jeanne Duval, the poet Baudelaire's lover. The Chevalier's career is a clear reference to Joseph Boulougne who was also known as the Chevalier de Saint-Georges.
In terms of the legal and social restrictions on people of color pre-Revolution, Dangerous Liaisons takes a bit more creative license for ease of storytelling. The Code Noir or Black Code was first established in 1685 as the law in French colonies. The laws were amended to restrict the amount of time enslaved people spent on French soil to prevent people from liberating themselves or demanding better working conditions on their return to the colonies. Mixed-race and dual-heritage people were also seen as a threat and the Edict of 1724 restricted interracial marriage. In 1777, there was another law drafted establishing the Police des Noirs or "police for black people" which demanded Black people register for an identification card. This law also established detention centers to prevent enslaved people from moving around freely in port cities. These rules were extended to free Black people as well however in Paris fewer people registered for cards. Otele also documents how historians have tracked how these rules affected dual-heritage people, especially in regard to inheritance. White plantation owners had the ability to name their dual heritage children as heirs and even disinherit their white children. This explains why Ondine and Valmont's story is more complicated than spite from beyond the grave.
There is plenty of room for both period dramas such as Bridgerton and Mr. Malcolm's List to aim for escapism and for Dangerous Liaisons to recreate the triumphs and struggles of the Black French. Victoire, Ondine, the Chevalier, and Majordome in their own way throughout this season test the limits of their role in society and the visible and invisible wall of racism. In fact, we need more European period dramas to admit that BlPOC existed in their countries long before post-World War II immigration began. Since Dangerous Liaisons has already been renewed for Season 2 we can hope to follow these characters and for more BIPOC characters in the future.
New episodes of Dangerous Liaisons premiere Sundays at 8 p.m. ET on Start.