Features
Why Bridgerton Season 3 Should Skip the Next Book
Chronologically, the next Bridgerton book foregrounds Benedict, but the TV show could do well to leapfrog it and tell Colin and Penelope's story first.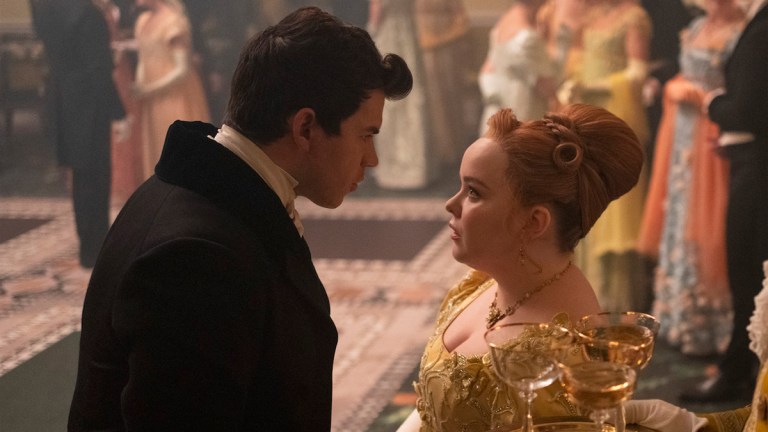 Warning: contains spoilers for Bridgerton seasons one and two, and for book three 'An Offer From a Gentleman'.
Bridgerton season one ended with romantic leads Daphne and Simon married and at peace (having worked out their issues in time for their sex life to actually bear issue) and with Anthony Bridgerton in crisis and cued-up to lead the next season. The Viscount's opera singer mistress had moved on, having made the tough decision for them both in the knowledge that Anthony's offer of a society-defying marriage could never work for a man of his responsibilities. So the stage was set for Anthony's season two search for a Viscountess.
By the season two finale, Anthony and his true love Kate were happily spliced and amusing themselves with sexy rom-com bickering, but who should be in the 'readying for next season' crisis? Not Luke Thompson's next-in-line brother Benedict (the lead in book three of Julia Quinn's series), whose biggest finale moment was closing his paint box in a sulk, but Penelope Featherington.
Pen and Colin – Season Three Leads?
Played by Nicola Coughlan, Penelope is the youngest Featherington, best friend of proto-feminist Eloise Bridgerton, and the writer behind anonymous gossip sheet columnist Lady Whistledown. The season two finale was a disaster for Penelope. She overheard the object of her unrequited affections Colin Bridgerton (Luke Newton) telling his pals that he'd never court her, and his sister Eloise had rumbled her Whistledown secret. It all ended in a painful fight that left Pen at rock bottom – friendless, humiliated, unloved and with little to lose. The crisis pushed her to re-start the Whistledown missives and lose herself in a world of arched-brow, catty gossip. In other words, Coughlan's character is now perfectly placed to lead season three, with well-defined romantic and friendship conflicts to resolve.
The TV show has already accelerated much of Penelope's story from the books. It took four novels for readers to discover that Pen was the writer behind Lady Whistledown (perhaps her name should have been a clue), while Netflix viewers learned her secret identity at the end of season one. Pen overheard Colin's tactless declaration in book three, but on TV it was pulled forward to season two. Is all this readying Penelope and Colin to jump ahead as season three's romantic leads?
'We're not necessarily going in order'
On the promotional circuit for season two, Bridgerton mega-producer Shonda Rhimes told Entertainment Tonight, "We're not necessarily going in order but we are going to be seeing each of the siblings and their stories." That points to a couple of possibilities for the already commissioned seasons three and four: either they're going to tell an ensemble story with multiple romantic Bridgerton pairings from this point on , or they've decided to switch the book order, perhaps making Penelope and Colin the focus of season three instead of Benedict and new character Sophie Beckett.
If it's the latter, it's a smart move. Firstly, because the TV show has dug much more groundwork for Penelope and Colin's characters than for Benedict's at this point. Colin's failed season one engagement to Marina Thompson led to season two scenes fleshing out both her character and that of Sir Philip Crane (who recurs later in the book series). Colin's travels and dealings with the new, scheming Lord Featherington (who was planning to abscond to America with the ton's fraudulently obtained investments), position him as a considered character with sound morals – exactly who we want for Penelope.
Conversely, Benedict's emotional character is currently less well developed, and more importantly, in book three An Offer From a Gentleman, he makes a pretty unlikeable lead.
Book Three's Problems
An issue with the third Bridgerton book is that the titular 'offer from a gentleman' isn't so much an offer as straight up blackmail and coercion. In the book, when Benedict attempts to make a woman (whom he thinks is a servant) his mistress, she refuses, and so he more or less abducts her. Benedict tells the woman that he will falsely accuse her of stealing if she doesn't accompany him to London to be placed in his mother's household staff. Of course, being Bridgerton, it's all very steamy and romantic and she's conflicted and he's aware that he's not acting honourably, but all the same, it makes him hard to admire. Benedict wouldn't be the first Bridgerton whose actions are more than questionable. Many were dismayed to see the book scene in which Daphne forces husband Simon into sex against his consent – yes, there's a word for that – made it into season one unchanged.
That leads us to another problem with adapting book three for the frivolously beautified world of Bridgerton – a balm of froofy production design and sumptuous costumery – An Offer From a Gentleman goes to a very nasty place. It begins as a Cinderella story, complete with wicked step-mother, two 'ugly' sisters (one much uglier on the inside than the other) and a ball where a poor servant in a masked disguise meets her 'Prince Charming'. So far, so fairy tale.
Then, after two years of searching for his elusive masquerade princess, 'Prince Charming' stumbles upon her again at a party (but doesn't recognise her dressed as a servant without the mask) where… she's about to be gang-raped. Naturally, Benedict rescues her and admonishes the so-called noblemen, but it's a horrible origin story and one at odds with the generally low-stakes, high-escapism world of Bridgerton romance. Add in other moments when Benedict has to stop himself from raising a hand to the woman, and when he later pins another woman against a wall by her neck (she's a villain, but all the same), and it's clear that the TV adaption will have serious trimming to do if Benedict Bridgerton is to be a worthy romantic hero for the TV show audience.
Much better for the TV adaptation to skip book three (with filming due to begin this summer, these decisions have doubtless already been taken) and to tell Penelope and Colin's story first, while building up Benedict's character in time for his starring moment. And when that starring moment comes, perhaps they could also come up with a replacement for the sexual assault rescue scene for the sake of everybody who watches Bridgerton to escape.
Bridgerton seasons 1 and 2 are available to stream on Netflix.