Features
The Mysterious Benedict Society is Disney+'s Answer to Marvel and Star Wars Fatigue
With its charming second season, The Mysterious Benedict Society could be Disney+'s best non-Marvel, non-Star Wars streaming option.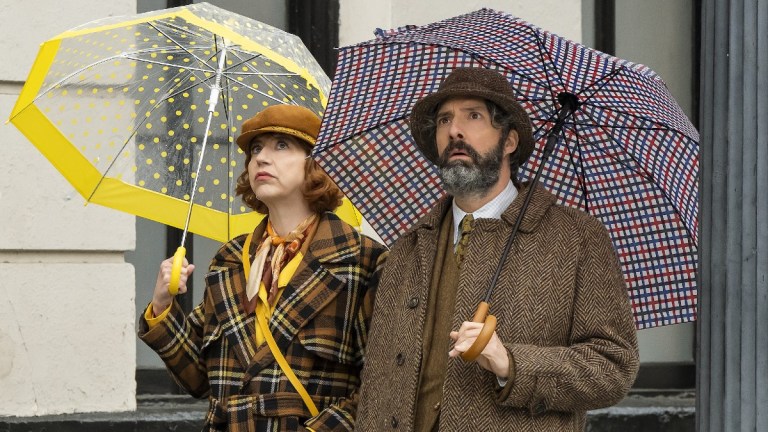 The Mysterious Benedict Society season 2 debuts Oct. 26 on Disney+, and now is the perfect time to catch up. Season 1 arrived in June 2020 but was quickly lost to adults in the shuffle of the new Marvel and Star Wars universe series. 
Season 2 follows up on season 1's unique combination of mystery and adventure with a necessary social message. Even though Disney+ is targeting the series for preteens and teens, the show's writers have made sure that there are plenty of strong concepts, jokes, and references adults can enjoy.
"We have kids thinking of the way they've experienced the recent past as a relentless tide of anxiety, and how do we get to the bottom of that and how do we find ways to contend with it?" co-creator and executive -roducer Phil Hay said in an interview with Den Of Geek in June 2020 before the premiere of season 1. 
"I think the message of [The Mysterious Benedict Society] in a way, is through getting to the truth and through finding the truth and then also through addressing others with care and with empathy and with kindness, and those things coalesced to be the bedrock of what we think the show is about."
Why is The Mysterious Benedict Society a series that neither Benedict Cumberbatch nor Benedict Wong is involved in? Trenton Lee Stewart wrote the first book with the same name in 2007, then proceeded to write three more novels plus a prequel. The novel series was a middle-grade bestseller long before either Benedict became famous in the US for playing Sherlock Holmes or the Sorcerer Supreme Wong.
Season 1 follows Nicholas Benedict (Tony Hale) as he fights his twin brother L.D. Curtain's (also Tony Hale) nefarious scheme to control the world via a massive mind control machine called The Whisperer. The world of Benedict and Curtain is an alternate reality version of our world where things went off the rails in the 1950s and '60s. This explains the lack of things like cell phones and the internet but the existence of television. Tony Hale's brilliant double act is in fact the most compelling reason for new viewers to start watching The Mysterious Benedict Society. How many series can claim one actor plays the hero and the villain/antagonist at the same time?!?
Curtain's web of government control and lies cannot be defeated solely by violence. Mr. Benedict uses his scientific skills and relies on a team of specialists in the areas he lacks to help disable the Whisperer. Number Two (Kristen Schaal), Rhonda Kazembe (MaameYaa Biafo), and Milligan (Ryan Hurst) are his faithful assistants and friends. Curtain's cover for operating the Whisperer is disguising itself as a gifted and talented school which requires assembling a group of orphan children who are also smart and able to see through the fake "Emergency" Curtain created for domination. The kids call themselves The Mysterious Benedict Society, hence the title. Reynie Muldoon (Mystic Inscho) is an ace riddle and puzzle solver and also serves as the de facto leader. Kate Weatherall (Emmy De Olivera) has tools in a bucket for every possible physical roadblock. Sticky Washington (Seth Carr) is a memorization master. Constance Contraire (Marta Kessler) ends up disabling the Whisperer by sheer force on the strength of her resistance to lies.
Season 2 picks up with the Society a year after the Whisperer is disabled. Mr. Benedict set up a reunion and scavenger hunt for the children to enjoy but he and Number Two are abducted during their trip abroad. The Society refuses to sit still while Milligan and Rhonda sort out what happened and find the trail of clues Mr. Benedict left behind.
Just when everyone thought Mr. Curtain was defeated, it turns out he's back with a brand new scam for world domination. He's rebranded himself as a self-help guru who supposedly defeated the "Emergency" by choosing happiness. Not only is Curtain taking credit for Mr. Benedict's hard work, but he's also employing underhanded psychological tricks. Curtain's henchmen have taken Mr. Benedict and Number Two to his fancy retreat which is really a massive jail and they have to find a way out.
At New York Comic Con earlier in October, Den of Geek caught up with the cast and crew to gain some insight into the inner workings of Season 2.
"Season 1 all kind of took place in a fixed location. Season 2, the books are like a road show, a road movie," co-showrunner and executive producer Darren Swimmer said. "It was a challenge to be able to do a television production that goes across the Atlantic, goes to several locations around Europe all while we were filming in Southern California. We put together our minds and got really talented art department and designers and prop people."
Underneath the emphasis on using the intellect over brute force is a powerful political subtext that is sure to catch the attention of adults. Season 1's The Whisperer plot highlights the dangers of fake news and politicians who advocate fascism. The message of believing in truth in a world of lies carries on into the beginning of Season 2 but the key difference is that the Society does not know the full extent of what Curtain is using to force happiness on people.
"I get really excited about the message this [season], the difference between Curtain selling happiness and the idea of happiness and Benedict representing authentic happiness," Tony Hale said. "[Authentic happiness] that's a full spectrum of emotions and it's very relatable in today's world…these quick fixes, social media, how do you get happy. Life is really up and down, walking through stuff and Benedict represents authenticity."
Season 2 of The Mysterious Benedict Society also reaffirms Season 1's commitment to racial inclusion as well as nods to the neurodiversity community. co-showrunner and executive producer Todd Slavkin commented on the intersection of the neurodiverse community and the series.
"We don't really write them through that lens [of neurodiversity]," Slavkin said. "We write them as the characters created by Trenton Lee Stewart. We're writing through the lens of heart, soul and emotion and humor of course. They end up that way because the four of us Executive producers are a little 'off' you know as well. And I think something that we love about this show is because you're a little different and because you're not like everyone else it means you're special and that's your superpower. It's not so cool to be 'normal' like everyone else. What's fun is that unique quality that every person has a kid or an adult or whoever you are that is what makes you so special. I think people have identified with that. We get letters from parents 'OMG my kids are finally represented on screen this is so great'. Nothing makes us feel better [than that positive reaction]."
Season 2's scavenger hunt dynamic continues the trend of the series celebrating different modes of interaction and problem-solving.
"One of the things we really loved about the book when we first read it is that these kids are like showing that there are so many different ways to approach a problem and sometimes even the technically correct solution that the puzzle designer may have intended may isn't the right one for the situation," said co-creator and executive producer Matt Manfredi. "To listen to the kids synthesize different ways of doing things and showing that was their greatest strength, that's what meant a lot to us. Some of them are gregarious, some of them, Constance, are just blunt, and there are times when both of those are kind of warranted and needed."
Hay added "Seeing the way the [kids] interact with one another and the way they socially navigate, they're not all incredibly suave and comfortable in the world. That's not who they are and that there's strength in who they are period and that's a big part of the show. It's important to us to put forward and the actors do a beautiful job of portraying it, there are different ways to be in the world that also are really valid and wonderful."
My own journey in reading the novel series was enriched by seeing aspects of my own life reflected in Sticky and Rhonda being both Black and neurodivergent. Even though season 2 was not written with the causes of the children's special abilities, the producers have definitely thought about this topic by having the children navigate through interpersonal conflict in a way that is true to their view of the world and not necessarily by how adults would expect them to behave.
Fans who have followed the Society since the novels should rest assured that the departures from the book canon in Season 2 make structural sense. Season 1 gave Mr. Benedict's adult team a much bigger role in defeating Curtain's evil. The second book not only has the problem of deprioritizing the adults but also some very challenging location descriptions to easily replicate on screen. Having Rhonda, Milligan, and Ms. Perumal (Gia Sandhu) form their own squad to track down the children reinforces season 1's increased focus on their character development. In fact, the scene where Ms. Perumal and Milligan admit their shared anxiety about parenthood is a deep emotional beat preteens may not catch but will definitely catch the attention of adults.
The first clue on the scavenger hunt takes kids aboard the ship the S.S. Shortcut. These scenes were filmed at the historic Queen Mary Hotel in Long Beach; a former cruise ship from the 1930s. Although the goals of the kids and the crew aboard the Shortcut have departed from the book plot. Captain Nolan (Fred Melamed) and Cannonball (Joel de la Fuente) are featured heavily as both comic relief and potential obstacles to the scavenger hunt mission in episodes 2 and 3.
Following each stage of the scavenger hunt as well as Mr. Benedict and Number Two's challenge to escape Curtain's clutches will be the main motivator for audiences to watch weekly. The cliffhangers in between each episode wouldn't have the same impact in the binge all-at-once format. Whether you're waiting for the next major franchise release or want to expand your horizons, following the adventures of The Mysterious Benedict Society will definitely be worth your while.
The first two episodes of The Mysterious Benedict Society season 2 are available to stream on Disney+ now with subsequent episodes released every Wednesday.