Features
Bridgerton Season 2 Charts A New Course For South Asian Representation In Period Dramas
Just like the precedent Brigerton's first season set, season 2 changes viewers' perception of how a TV period drama can look.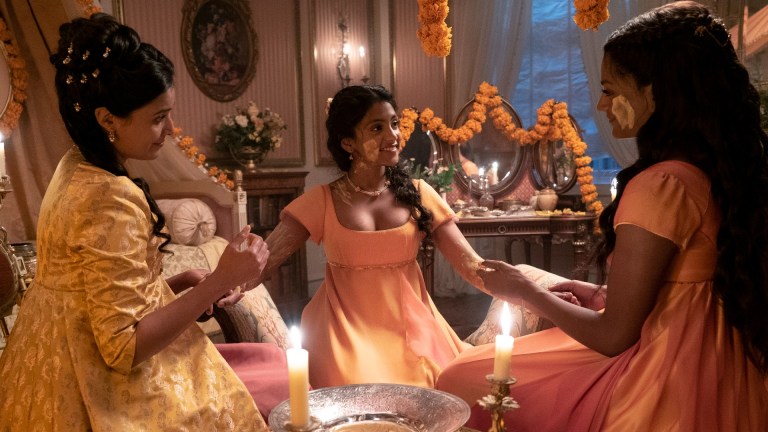 This article contains spoilers for Bridgerton season 2
Bridgerton season 2's decision to cast Kate, Edwina, and Lady Mary from the book series as South Asian women is a rarity for Regency-era productions. But, just as Bridgerton season 1 paved the way for more Black representation in UK period dramas, the show's second season may have done the same four South Asian representation.
While the show's depiction of the Sharma family was received by some South Asian viewers in varying ways (more on that later), it does present a welcome evolution for this kind of storytelling. Bridgerton is making the case for future period dramas to continue shifting away from glorifying British imperialism and creating more opportunities for South Asian actors.
It is important to note that Bridgerton never intended to be a perfect recreation of history but the show did seek advice from South Asian experts on characterization and historical background. Dr. Priya Atwal, who wrote a book on the Sikh Empire in the late 18th Century, advised the production on historical context for the Sharma family. Dr. Hannah Greig also consulted on Regency England etiquette and the lives of The Ton. All of this advisory work has to balance the show scripts' primary duty to adapt Julia Quinn's The Viscount Who Loved Me to the screen.
Simone Ashley and Charithra Chandran being cast as Kate and Edwina can be seen as an answer to season 1's critics who accused the show of colorism and only focusing on highlighting one type of racial/ethinic diversity. In the press notes provided to critics by Netflix, creator Shonda Rimes says "Finding some South Asian women with darker skin and making sure that they were represented on screen authentically and truthfully feels like something that we haven't seen nearly enough of….And the idea that they are from another culture, we weave that into the story in a wonderful way to enhance the idea that the very English values of our characters are not necessarily the only values worth having. That's reflected in Kate's reaction to English tea — but, really, it is a very important way of making sure that we are including the world in this."
Bridgerton season 2 merges representation of several regions and cultures of India together. Edwina says in episode 1 she can speak Marathi and Hindustani. Kate whose full name is Kathani often refers to Edwina affectionately as "bon" which in an interview Chandran says may be Bengali for "little sister" or akin to the French word for sweet. If you listen carefully, the sisters often switch their accent when they are at home versus speaking to other members of the Ton. The season also normalized traditions such as Edwina being bathed in haldi (turmeric) as part of her wedding preparations. A cover of "Kabhi Khushi Kabhie Gham" is played right alongside the usual pop music instrumental covers. All of these elements were added to show how Kate and Edwina would have a different perspective on what they want out of life compared to the Bridgerton and Featherington siblings.
For those who questioned the believability of either Kate or Edwina marrying an English suitor, there are real examples of interracial marriages from this era. Historian Dr. Durba Ghosh, a professor at Cornell University wrote an article earlier this year about real life figures Elizabeth Ducarel, Kitty Kirkpatrick, and Helene Bennett who were South Asian elite women who lived in Regency England and married white men. While it was possible these women experienced varying levels of racism, the Sharmas' negative experiences during the social season is firmly blamed on Lady Mary's parents holding onto a 30-year grudge. Kate repeatedly mentions returning to India in the early episodes because she has no desire to marry.
Like last season, Bridgerton season 2 heavily relies on costuming details to convey culture. Kate and Edwina's costumes purposely incorporate pashminas, beadworking, and other details inspired by India. Historical costume enthusiasts have already found dresses from museums similar in style to Kate and Edwina's costumes. Madame Delacroix and the rival dressmaker have a wide variety of silks, cotton, and linens in their shops. The history of textiles points to India as the main source of silks and muslin (fine cotton cloth from Bangladesh). Both seasons have scenes involving tea drinking, which is also a product of India. All of these products arrived in England via the British East India Company.
Although Atwal and Grieg in the previously linked LA Times interview mention the historical background for season 2 including the British East India Company, the season largely avoids a direct mention of this. This is where some historians and South Asian viewers alike struggle with Bridgerton season 2 as last season mentioned the slave trade. The British East India Company is not mentioned directly during the season, which carries the implication that all of their historical wars for territory and trade don't exist in Bridgerton's universe. How then did they obtain those materials? In fact, British intervention killed the muslin trade. My personal theory is that the British East India Company in this alternate universe is only involved in the warehousing and transport of fabrics, tea, and other consumer goods.
Some South Asian reviewers appreciated that Kate was "unapologetically Desi" and that this season's love triangle had hints of Bollywood movie plots. There is a full-scale war on TikTok between South Asian fans and critics of the Sharmas. Some native speakers were confused by the contradictory and blended naming. Other South Asian critics went as far as claiming the season was mocking Indian culture because no one advised the cast on finer details. The season is very vague on where Kate and Edwina lived before they started the season and many are looking for specificity the blending of cultures doesn't provide. Viewers who are not from South Asia should be respectful that not everyone will share their own perspectives on the topic. Both sides of the debate on Bridgerton season 2 prove that Netflix has the capability to inspire future productions to move the needle on positive South Asian representations in period dramas.
Any discussion of the Sharmas' presence in Bridgerton season 2 has to include the context of what has come before in terms of representing South Asia in period dramas. The miniseries Jewel In The Crown, set during WWII in India aired on Masterpiece PBS in the 1980s is frequently considered one of the best UK period dramas of all time for production, writing, and acting value. However, the main story combines colonialist critique with outdated stereotypes, especially when viewed with current political discussions about the British Commonwealth.
More recently, Indian Summers, which aired on UK Channel 4 and on Masterpiece in 2015 for two seasons also highlighted the turbulent politics of 1930s India and rising calls for the end of British control. Despite being filmed in HD, the writers also fell into the trap of not telling that history completely from the point of view of the Indian characters. There are other series where India is a component of storytelling in Masterpieces' back catalog such as The Moonstone (1972 and 1996) and Around The World In 80 Days which aired in January 2022.
Many British Indian characters in period dramas have plots where assimilation and racism dominate their storylines. The most prominent example of this is The Indian Doctor on Acorn TV starring Sanjeev Bhaskar as a doctor and the only man of color in a 1960's Welsh mining town. Social inequity and cultural differences also feature in British Asian characters who are part of the medical/criminal case of the week on Call The Midwife, Grantchester, and Endeavour. Kate marrying Anthony at the end of the season is the main reason for her to stay in England, not finding a way to endure adversity. This is another way in which Bridgerton season 2 is changing the tone of characterization.
Bridgerton is actually not the first production to color-consciously cast a British Indian actor as a previously white character. Dev Patel was cast as both the title character in The Personal History of David Copperfield and The Green Knight films. On television, Sacha Dhawan plays Catherine the Great's strategy partner Orlov in Hulu's The Great. Although it's often difficult to compare television and film, all three productions either are based on existing novels written by white authors with white characters and/or are alternate universe takes on established history.
The closest example to Bridgerton in terms of racebending the Regency is the short film Mr. Malcolm's List, soon to be a full-length movie based on Susanne Allain's romance novel of the same name in whichJulia (Gemma Chan) is snubbed by Mr. Malcolm (Sope Dirisu) and she invites her good friend Selina (Freida Pinto) to London to exact revenge on the failed date. Some may claim Mr. Malcolm's List ripped Bridgerton off conceptually with diversifying Regency England, however, the short film was released in February 2019 to drum up investors for continued production. The short film doesn't give viewers enough information to compare Selina to the Sharmas beyond costuming details but the feature-length production will likely have more discussion fodder.
Beecham House is the closest in time frame a UK period drama has come to addressing events in India during the Regency era. This miniseries written and produced by British Indian director Gurinder Chadha (best known for Bend It Like Beckham), paved the way for the Sharmas but does not get enough credit for doing so. Beecham House aired on ITV in the summer of 2019 and a few months later on Masterpiece PBS. The series was set much closer to Regency England in 1795 India. The show centers around John Beecham (Tom Bateman), a British East India Company staffer who quits because of corruption and violence. There are a lot more romance and political entanglement details, however. John Beecham's India, where the agents of European powers and rival local leaders fight for control, is the closest so far to what would likely fit into Kate and Edwina's memories. Chadha's goal in making the series was to bring shared Anglo-Indian history to the small screen while avoiding the complete glorification of the Raj.
If you have never heard of Beecham House before this article, there's a very good reason. UK ITV canceled the show after one season although it was planned to run for at least two. Masterpiece PBS, although they have excellent programming, has nowhere near Netflix's advertising budget. It aired in the UK at the same time as the final season of Poldark on the BBC. Secondly, mixed reviews from both racist critics and British Indians criticizing the show for centering on a white man turned potential viewers away. The renewal campaign for Sanditon which aired on ITV afterward quickly overtook any grassroots efforts for renewal. Given the current pandemic crisis in India, a renewal would have resulted in eventual cancelation. Despite the cliffhanger, Beecham House is a huge step in the right direction in regards to South Asian screenwriters getting a chance to show their stories on screen. One can only imagine what Chadha could have achieved if she had a bigger budget and more resources for publicity.
A Suitable Boy, the 2020 BBC miniseries adaptation of Vikram Seth's 1950's Indian family drama epic divorces India-set stories from colonial history narratives. US readers can find the miniseries on the AcornTV streaming service. However, Seth chose a white screenwriter, Andrew Davies to adapt his story for television. Despite Seth believing Davies was the best screenwriter for his story, many people believed he should have chosen a South Asian screenwriter. These critics said Mira Nair as director was not enough to fix potential pitfalls in regard to history and cultural sensitivity. There was also considerable controversy regarding the BBC casting mostly native Indian actors in key roles versus British Indian actors or actors from the wider South Asian diaspora. A Suitable Boy took one step forward in regards to positive depictions of India on UK TV and one step back in making many people see themselves in the main character's search to find the right husband.
Perfection is an unattainable goal for any period drama. The conversation around expanding diversity in the period drama genre so that everyone from a historically excluded race or ethnicity can see themselves in the alternate universe and historical recreation-based dramas are not going away. Bridgerton season 1 has already led to more Black actors in starring period drama roles. For example, Channel 4 and AMC+ released Anne Boleyn starring Jodie Turner-Smith last year. ITV and PBS are currently filming a new adaptation of the 18th Century novel Tom Jones with Solly McLeod as the female lead. Two of Bridgerton's producers are developing a screen adaptation of Island Queen by Black historical romance author Vanessa Riley. Hopefully Bridgerton season 2 will hopefully result in more opportunities for South Asian actors and storytellers.