News
Ghosts' Larry Rickard Explains the Show's Strict "Fanny Rule"
It's not a button they let themselves press too often.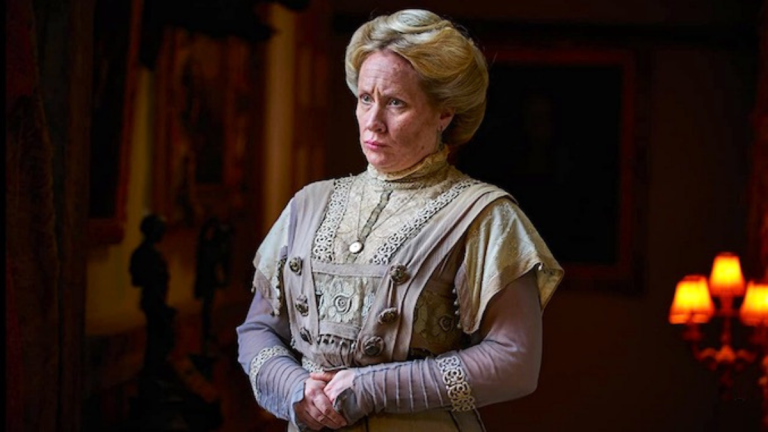 Warning: contains plot details for Ghosts series five episode two "Home", and smut.
BBC One's Ghosts is one of the few TV shows around that has successfully blurred the line between adult and child viewing. Kids love it, adults love it, and it's long been appointment viewing for families doing that (almost miraculous in 2023) thing of gathering together around the same screen.
Making Ghosts' comedy suitable for a mixed-age audience though, means keeping an eye on its adult content. The ruder gags need to be blink-and-you'll-miss-them and cheeky, but never crass. The sordid circumstances of Julian's 1990s Tory MP sex scandal death for instance, or Lady Button's husband's "Moroccan tea party" with two members of his household staff, are alluded to but never made explicit. The same goes for caveman Robin's romantic exploits over the centuries, and his (cough) close relationship with his sister. It's all hint and suggestion about which nobody could ever complain.
The Ghosts team work hard to maintain that family-friendly tone while, it's fair to say, getting away with an awful bloody lot. The name of Martha Howe-Douglas' character "Fanny Button" as one example, has served the show well.
(A word here for any readers outside the UK: the name "Fanny" is also a slang term. It's used in America to refer to one's rear end, but in Britain to refer to the area, let's say, on the far shore of Lake Perineum. Your more fronterly parts. The reproductive rodeo. A lady's… landing gear? Apologies for being so frank. Now that's established, the button part explains itself – or at least it really should, Ian.)
Larry Rickard, the writer-producer and the actor behind Robin and Humphrey, tells Den of Geek that he's always been slightly surprised that they've never had a question about Ghosts' cheekier gags. "We've always I think just stayed on the right side of the line."
They have sailed close to that line, by their own admission. Series two episode "Redding Weddy" saw Lady Button hot under the Edwardian collar over Kiell Smith-Bynoe's character Mike after reading about the saucy gardener/aristocrat pairing in D.H. Lawrence's Lady Chatterley's Lover. In one scene, Fanny blew her fuse watching Mike accidentally end up in a – how to put it – lip to lip position with a garden statue in the shape of a naked woman.
There are more juvenile gags. Series five saw the return of Kitty-flashback character Lord Bummenbach, "… and his friend Peter Pessenpugh" laughs Rickard. "I should say that in the writers' room I was the only voice going 'I don't think we should do that' and I got pooh-poohed so I was like 'you're all children, FINE'.
So, where is the line for the Ghosts team when it comes to the saucier side of things? "We slightly police each other," Rickard explains. "We've always been quite strict on our Fanny rule. Our Fanny rule is that you can't lean into the line."
You don't want to press that button too often? Den of Geek seeks clarification.
"Well exactly. As a rule, most of those [Fanny] lines, and certainly all of our favourites, always came up accidentally. There's one in this series after the poetry reading."
In series five episode two "Home," Romantic poet Thomas (played by Mat Baynton) is on a deadline trying to come up with a 200-word poem on the theme of home to enter a local newspaper poetry competition. Thomas' muse has escaped him, and so he secretly cribs Fanny's moving and improvised speech on Button House and plans to submit it for the comp, but gives her the credit at the last minute.
"When we were in the writers' room," recalls Rickard, "we said it should be that Thomas volunteers that it's not his poem and tells the truth even though he's getting all the plaudits. He's saying 'it's not mine' and one of the others compliments [Fanny]. It was about getting to Fanny saying 'no no no, not for me', because despite being a far better poet than Thomas, she's not bothered about doing it.
"So we said that Pat should say 'Beautiful, Fanny', and as he said it, we all laughed and said 'That's accidental, that goes in'. The rule is that if you were to change the name to any other name, the line must still work and be justified. You can't just do the double-entendre and then crowbar it into a script, because then we've crossed a line and it's not defensible."
"It's never been something where Compliance have had to lean into us and go 'oh god'," says Rickard. I should hope not. Sounds like it'd be a matter for the BBC HR department if they did?
Ghosts: The Button House Archives is published by Bloomsbury on 26th October, and is available to pre-order now.