Features
Criminal Minds: Evolution Season 2 Theories: What is Gold Star?
The finale of Criminal Minds: Evolution season 1 raises some major questions for season 2 to answer.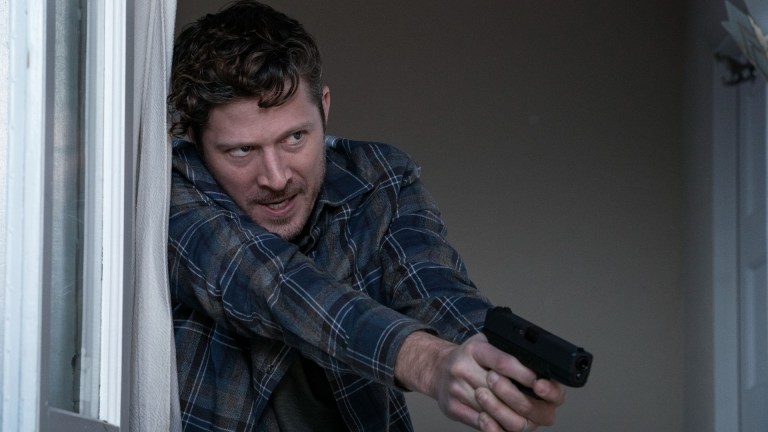 This article contains spoilers for the Criminal Minds: Evolution season 1 finale.
Police procedural drama Criminal Minds has captivated fans since its debut in 2005. The cancellation of the original series on CBS in 2020 didn't stop fans from desperately wishing the show would return, which it did two years later under a new title, Criminal Minds: Evolution.
The first season of the Paramount+ reboot wrapped up on a high note as FBI agents Emily Prentiss (Paget Brewster), David Rossi (Joe Mantegna), Jennifer "JJ" Jareau (A.J. Cook), Tara Lewis (Aisha Tyler), Luke Alvez (Adam Rodriguez), and Penelope Garcia (Kirsten Vangsness) worked against the clock to rescue Rossi and to locate the one of the worst serial killers the BAU had ever seen, Elias Voit (Zach Gilford) a.k.a. Sicarius, a.k.a Lee Duval – his birth name. Throughout the season we saw how Voit not only added to his body count (which is estimated to be over 50), but also built a network of serial killers during the COVID-19 pandemic.
It was announced before the finale that Criminal Minds: Evolution would be coming back for a second season and with the way the ending was set up, suggests that a second season was always on the cards for the much loved show as the finale set the foundation for the profilers next case. As the finale solved some mysteries, such as discovering where Rossi was located and Voit's plan, it also gave viewers new ones starting with figuring out what exactly the phrase "Gold Star" means and why it had the Attorney General and Deputy Director Doug Bailey (Nicholas D'Agosto) so scared that Bailey rushed to speak to Voit alone resulting in his own death.
When talking to TV Insider, showrunner Erica Messer said: "I can't say a whole heck of a lot about it right now because we are in the writers' room for this second season and Gold Star is shifting a little bit in our in our conversations, so I don't wanna say anything that we then veer away from. But I can say that Voit clearly thinks knowing that phrase is going to be helpful for him in some kind of negotiating."
Messer's comments only fuelled fans' anticipation for the next season and has aided them in cooking up theories on what Gold Star could be and what we could see in the upcoming season. So we thought we'd discuss some of the top theories for season 17.
What is Gold Star?
Voit uses the phrase "Gold Star" as a bargaining chip when talking to Deputy Director Bailey. Bailey's shocked and fearful reaction suggests that whatever Gold Star is, it is a secret that the FBI wants to keep buried. Bailey's subsequent decisions: to enter the field to speak to Voit despite not being a field agent and rejecting JJ's request of at least checking the perimeter of the property first in case there's a bomb. As well as his final comment to Voit "By my math, there's only two people who know about [Gold Star]…you and me," further highlighted that Gold Star was so secretive that only a few people know about it.
Voit's then decision to kill Bailey so he's the only one who supposedly knows the truth – even though we know the Attorney General and Rebecca Wilson (Nicole Pacent) know what the phrase means – suggests that Gold Star is much bigger than anything viewers have encountered so far. Thus it makes sense that Voit wants to keep the phrase as a bargaining chip now he's facing a lifetime behind bars.
There are various theories as to what Gold Star could be, starting with how in real life Gold Star is a reference used in the military to let people know that a service member died while serving their country. The FBI offices where the BAU is located has a wall with gold stars for agents that have been killed in the line of duty, something the show reflects on in the finale as we saw Bailey added to it, which suggests Gold Star could be linked to deceased agents of the Bureau or agents we think are deceased but could be alive, like they did with Prentiss back in season six. Fans who support this theory think it would be a valid justification to bring back Matt Simmons (Daniel Henney) from his special assignment. But whether or not this is the route Criminal Minds: Evolution is planning to explore, it can't be argued this could be a valid starting point, allowing the show to bring back old characters and pay homage to the original series.
Another popular theory is likened to the fact we already know Gold Star has governmental ties. There's arguments to be made that it could be a super-secret government organization, like B613 in Scandal. Or that it could be a failed government experiment, where Voit's family or the Lennox family were part of a government experiment where they tried to create the perfect assassin. This could be a valid theory when taken into consideration the meticulous way Voit has worked throughout the season, particularly while making his kill kits which had a military feel to them. Also, if the government were manufacturing assassins they wouldn't want that to become public information. Additionally, before he dies, Voit's Uncle Cyrus (Silas Weir Mitchell) says killing is in his blood which could potentially be a reference to his parents who we know died in a fire that Voit may or may not have started. It could mean the next seasons' focus being the BAU hunting down the rest of the failed assassin experiments.
Other fans believe the mystery of Gold Star is rooted in the truth and that when Voit convinced his wife Sydney (Kiele Sanchez) to run saying he stumbled upon something he shouldn't have at his job, it was true. Some fans think that Gold Star could be a software code the government intends to use to control people.
Who Walked Into The Interrogation Room?
Most of the theories relating to who walked into the interrogation room in the final few minutes of the finale are around currently absent profilers returning. Most fans are hopeful it could be Dr. Spencer Reid (Matthew Gray Gubler) who could make a return to study serial killers like Voit or how the government uses serial killers. Showrunner Messer already confirmed that Voit will be returning as our "Hannibal" Lecter which gives the perfect opening for any profiler's return
There's also hopes from fans that it could be Aaron Hotchner (Thomas Gibson) or Jason Gideon (Mandy Patinkin). But these are very weak theories considering Patinkin has discussed how playing the role and the show's content deeply affected his mental health and Gideon has died off screen. Likewise a return for Hotch is unlikely because of behind the scene incidents.
Other theories are that it could be POTUS or the Director of the NSA since Sicarius is a tech genius who even had Garcia stumped at some points which would make sense as the hallways were full of a SWAT team in full tactical gear.
Will There Be New Additions To The BAU Team?
With the removal of Deputy Director Doug Bailey there is an opening for a new character and a lot of fans are convinced Criminal Minds is setting it up to be JJ's husband Detective Will LaMontagne (Josh Stewart). Especially as he aided the team in the field in the final episode. But if Will does become a profiler and Reid returns it would create for very interesting TV as we know JJ had feelings for Reid.
We could also see Rebecca maintaining in the show despite her supposed to be moving to the Sacramento office. The absence of Bailey means a senior character is needed and relationship with Tara makes her the obvious choice.
All 10 episodes of Criminal Minds: Evolution are available to stream on Paramount + now.