Features
How Criminal Minds: Evolution Finally Deals With Mental Health
The latest iteration of Criminal Minds has a keener, less exploitative understanding of mental health than the original.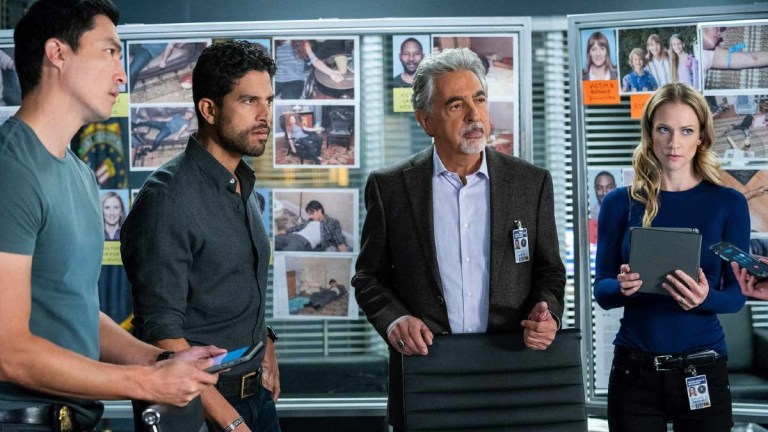 This article contains spoilers for Criminal Minds: Evolution episodes 1 and 2.
The CBS drama Criminal Minds debuted back in 2005 and lasted an incredible 15 seasons and 324 episodes. But despite its long run, it did have a few issues, which a new spinoff series on Paramount+ has now aimed to rectify. And while only three episodes of Criminal Minds: Evolution have debuted on the streaming platform, it's safe to say that the crime drama is already better than its predecessor in one key aspect: its portrayal of mental health.
It's unsurprising that a show that debuted 17 years ago didn't have the best understanding of mental illnesses and shares some outdated views. But considering Criminal Minds hinges on the behavioral analysis of humans, you would expect it not to have as many toxic depictions of people with mental illnesses as it does and be unable to deal with the mental health of its own main characters.
One of the first instances in which it was clear that Criminal Minds had an issue with depictions of mental health was in season 1 episode 9 "Derailed." In the episode, psychiatrist Dr. Linda Deaton (Susan Ginny) is on her way to a conference where she plans to sell her books by bringing along Teddy, her schizophrenic patient, who she classifies as her success story. The episode utilizes Teddy's schizophrenia by having him steal an armed officer's gun, take the train hostage and later kill an officer. The show's use of Teddy's mental illness to create drama sees the episode laud Deaton as a hero while condemning Teddy. Yet the doctor was happy to put her ambition and fame above her patient's well being.
While it's clear Criminal Minds is fiction and has creative license, media shapes our view of the world meaning inaccuracy on issues like mental health can have damaging effects societally, whether we realize it or not. That's not to say that the show should not showcase the violence within disorders, but such cases of violence within disorders are a rarer depiction than Criminal Minds indicates.
The original series' tendency to cast mentally ill characters as violent and dangerous with very few examples of mentally ill people not acting as harmful stereotypes to balance it out, perpetuated the fallacy that most or all people with mental health issues can become serial killers or violent. It reinforces the idea that society must fear anyone who is classed as other or different. But according to a 2020 multicenter study, mentally ill individuals have a much higher risk of becoming victims rather than perpetrators of violence. Proving mental illnesses do not equal criminal behavior in both Criminal Minds and the real world. 
Criminal Minds inability to understand the realities of mental health also affects its main characters as it neglects to address and deal with theirs. Agent Elle Greenaway (Lola Glaudini) goes through a lot mentally during her brief time on the show. In the season one finale, she is shot by murderer Randall Garner (Charles Haid), and Garner writes "RULES" on her walls in her blood in retaliation for the BAU disobeying the rules to his "game." Greenaway's subsequent four-month leave of absence to heal, highlights the psychological changes in Greenaway as she becomes more withdrawn from everyone around her.
Her second incident in which a serial rapist taunts her, and she ends up shooting him dead, sees her eventual departure from the show. Dr. Spencer Reid (Matthew Gray Gubler) blames himself for not seeing the signs of her impending breakdown, and while hindsight is a nice thing, the lack of support Elle received after both incidents, considering she works in a department where analyzing the changes in human behavior, is literally their job, is alarming. It is also the first of many cases in which BAU agents go back into the field too soon after significant trauma.
Additionally, in season 2 episode 22, agents Jennifer Jareau (A.J. Cook) and Aaron Hotchner (Thomas Gibson) decide to deem a detective unreliable and mentally unstable because he is showing signs of Obsessive-Compulsive Disorder as he is obsessive about note-taking. This is incredibly harmful, especially considering that obsessive-compulsive disorder affects 2.5 million adults or 1.2% of the U.S. population, according to the Anxiety & Depression Association of America. The show's earlier seasons are a showcase of how societal views have changed over time, but that doesn't make them any less unfortunate.
You would have expected by season three, the show would have gotten its act together, especially considering Mandy Patinkin, who played Jason Gideon, left the show in season three for his mental health because he was experiencing emotional distress from the dark subject matter. And in some ways, it did. One of the few examples in which mental illness is handled well in the series is with the portrayal of Dr. Reid's mum who suffers from schizophrenia. The show does well to portray her as more than her disorder. But the majority of improvement towards the crime drama's portrayal of mental health has only got better with its revival and reboot.
From the get-go, Criminal Minds: Evolution shows the varying states of its main characters' mental health and how there is support for them as they struggle with things like grief. From the first two episodes, sensitivity in approaching mental health is evident. Criminal Minds: Evolution's particular focus on David Rossi's (Joe Mantegna) grief after the sudden death of his wife and Penelope Garcia's (Kirsten Vangsness) reluctance to come back to work for the BAU, are extremely powerful improvements made by the show.
When we see Rossi in the first two episodes of the reboot, he's incredibly angry at everyone and everything. This representation of his grief is important because it depicts what a lot of society has gone through since we last watched the show particularly with the pandemic and because unfortunately death is a part of life and grief is the final act of love. His speech to the young girl they rescue at the end of episode one, who is struggling to find a point to life without her family who was killed by a guy she was talking to online, is a clear nod from the show to anyone who's ever lost someone and needed to know they shouldn't give up.
By depicting grief in its rawest form the show reveals how the agents too are affected by mental health. Subsequently, how the team deals with Rossi's change in personality and his anger due to what he's gone through can be seen as the show rectifying how poorly agent Greenaway's mental health was approached in the earlier seasons. The team, individually and as a collective, urge Rossi to make changes to his life, such as moving out of the hotel room he's been living in since his wife died because he found it too hard to live at home and listen to the silence. His eventual departure from the hotel by the end of episode two shows progress but it's evident from the way the series depicts Rossi's grief that it will be a story arc the show will take across the whole season.
Moreover, the scenes between Rossi and Garcia in the first two episodes are stand out moments for how the show is finally dealing with mental health productively. Garcia standing up for herself against Rossi's grief fuelled anger and frustration when she says "You don't know what it took for me to dive back in. I want to help, and I'm going to. But nobody talks to me like that anymore. Especially not people I love. So… bye" suggests the show is not going to gloss over important emotional topics anymore. Especially as the moment leads to a conversation between Rossi and Garcia in episode two where she urges Rossi to seek therapy like she did.
Garcia's recommendation of therapy comes with her expanding on how her journey through therapy allowed her to acknowledge she'd gone through a lot and had been absorbing trauma her whole life. From her parents' death when she was young to the work she did at the BAU. Likewise her decision to care for herself first is massive and a development in her character from the original series.
The new shows' ability to acknowledge that the agents have complex emotions and that their mental health needs to be dealt with reveals the key difference between this iteration of Criminal Minds and the original.
The first three episodes of Criminal Minds: Evolution are available to stream on Paramount+ now. New episodes premiere each Thursday.