Features
Sarah Michelle Gellar Explains Why Wolf Pack is More Than Buffy 2.0
Like Buffy the Vampire Slayer before it, Sarah Michelle Gellar's latest TV offering Wolf Pack uses monsters as metaphors.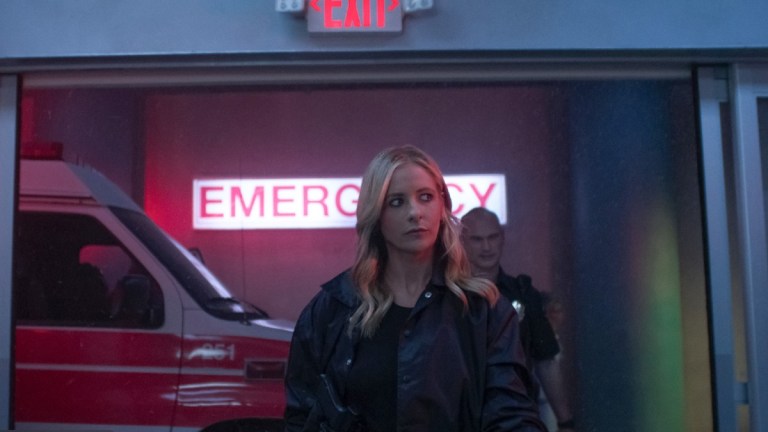 This article contains no Wolf Pack spoilers.
In every generation, there is a Chosen One. But for many, there's a particular Chosen One who has transcended all that with a legacy that endures from one generation to the next.
Kendra and Faith both hold a special place in our hearts, but it's Buffy Summers who will forever remain the blueprint, even now. Sunnydale would have been a very different place without its signature Slayer, and it's safe to say that TV as a whole would have been very different without Sarah Michelle Gellar too.
In the 20 years that have passed since Buffy the Vampire Slayer ended, Gellar has slayed all manner of projects, from underrated roles in Ringer and Southland Tales to an instantly iconic comeback in Do Revenge (a spiritual sequel, of sorts, to her role as Kathryn Merteuil in Cruel Intentions).
And now she's back on our screens, working both in-front-of and behind the camera for a new TV show called Wolf Pack. Gellar plays Kristin Ramsey, an arson investigator who may know more about all these pesky werewolves than meets the eye.  
With each of these roles, old and new, Gellar brings a huge diehard fan base who are all eager to see the next chapter in her career. But with this spotlight also comes the inevitable comparisons to Buffy, the show that started it all.
And now, these comparisons have been magnified tenfold with her latest project, which also happens to be a supernatural teen show about things that go bump in the night…
"Yes, it does have a kind of pressure and expectation," Gellar tells Den of Geek. And it turns out that there's also been a struggle to "have people understand that they are separate."
You'd think that would have been a given, but just to reiterate Sarah's point: Yes, both shows are set in California, but no, if the apocalypse comes, you can't beep her this time around. That's not to say Buffy and Wolf Pack feel completely different though.
"I do think that there's a similarity," says Gellar, "in that they both utilize the supernatural to give answers to the questions that we have in life."
"That's where all these stories came from," she adds. "When there's light, and you see things, and you don't know what they are."
These days, we have a much better understanding of what's actually going on in the world around us, but that doesn't mean stories on werewolves and vampires are no longer of interest. If anything, they're more relevant now than ever, even if the focus has shifted somewhat.
"Buffy utilized the monsters as metaphors for the horrors of adolescence. We use the monsters as a metaphor for life's new challenges, whether it's anxiety, isolation, finding your path. We're answering the unanswered."
Gellar admits that comparisons between Buffy and Wolf Pack are "fair" to make in that case, but aside from this, "They're pretty different."
One key difference that's clear from the start is Wolf Pack's structure. While Buffy helped popularize the notion of one Big Bad who taunts our heroes throughout any given season, Wolf Pack is more concerned with wider mysteries that underpin the horror. There's something more going on with all the characters here, something even darker that lurks just below the surface.
"We're giving you clues throughout the first couple [of episodes] that start to get explained in five through eight," says Gellar. "But you really have to pay attention because you can miss them. I liken it to Sixth Sense in that once you watch it, you then go back and you realize that there were clues and breadcrumbs the whole time. You sort of clock them, but they don't really register." 
Things are now a lot different for the actress behind-the-scenes too.
As the lead on Buffy, Gellar advocated for her fellow cast members and tried to protect them from unsafe conditions on set. However, the producers didn't take too kindly to that as numerous co-stars reported just recently. This time around though, Gellar's leadership skills have been recognized with a key executive producer role, which she used to help ensure the safety of younger cast members while filming.        
"There's something to be said for having an executive producer that is on set every day, who really knows everything that's happening and can say, 'Guys, if we've been working too long, the shot isn't important. We'll make a plate shot and we'll do it later.' Or the crew's getting tired, like 'Let's move on."
Wolf Pack co-star Rodrigo Santoro agrees, praising how "she took care" of the actors while filming. "It was very, very nice and important to have her on set just to be able to talk to. [Sarah] was very hands-on, doing both things."
This hands-on approach has also extended to work on the post-production side of Wolf Pack. "That's something I haven't had as much experience with in genre," says Gellar, but it's "been really fun" to get involved with "the marketing aspect of it, the trailers, getting to edit all of those sides of it."
As you'd expect, Gellar's character has rightly stood at the forefront of Wolf Pack's marketing. And we reckon it won't be long before Kristin Ramsey ends up in the pantheon of roles that fans have grown to love her for. Just don't ask Gellar to choose a favorite: "That's like asking which is my favorite child."
What about her greatest career achievement?
"It's not awards," says Sarah. "It's not magazine covers. It's that every Halloween, I get pictures of people dressed up as a whole bunch of my characters. And the fact that I've had so many characters like that on Halloween? That, to me, is like, 'Hey, that's something cool.'"
Buffy Summers might be the blueprint, but Sarah Michelle Gellar's legacy continues to grow and evolve far beyond Sunnydale. And that's why you might just end up seeing a few Kristin's along with all the usual Buffy's and Kathryn's by the time Halloween comes around this year.
Wolf Pack is available to stream on Paramount+ now in the U.S. and will premiere Friday, Jan. 27 on Paramount+ in the U.K.