Features
Chilling Adventures of Sabrina: Kiernan Shipka On Her Character's Future
We talked to Chilling Adventures of Sabrina stars Kiernan Shipka and Gavin Leatherwood about the final season of the Netflix series... and beyond.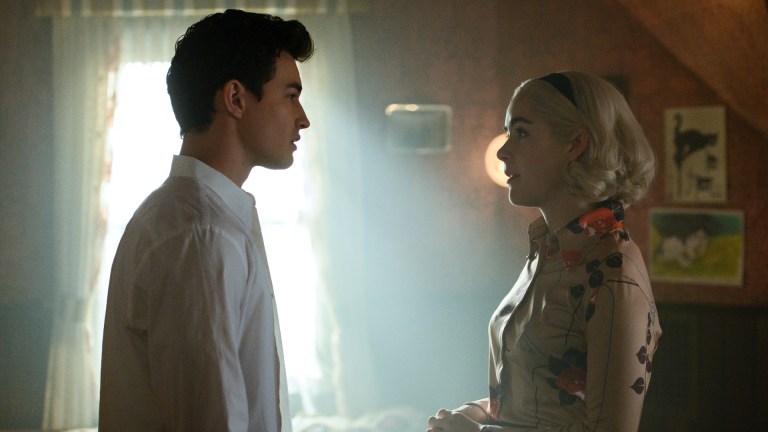 Viewers of Chilling Adventures of Sabrina were heartbroken to learn that Netflix was cancelling the Archie Comics-based series following its fourth season, which debuts in the streaming service on December 31st. But before we say goodbye to Greendale, we still have one final batch of adventures to get through…and the stakes have never been higher. We talked to Chilling Adventures of Sabrina stars Kiernan Shipka and Gavin Leatherwood to discuss what's next for Nick and Sabrina in the show's fourth and final season, why their relationship is a fan favorite, and whether or not there is a future for Shipka as Sabrina.
When we last saw Sabrina she had used her powers to solve the problem that has vexed her since the series premiered in 2018 — how to both live a normal mortal life and fulfill her destiny as Queen of Hell. As a result, we have two similar-yet-vastly differently Sabrinas existing as this season begins: One in Greendale and the other ruling over the underworld.
As you can image, things get complicated quickly, and both realms — and possibly all of existence — lie in the balance when Father Blackwood sets in motion his diabolical endgame. To say anymore would be to ruin the surprises that await you in the series' final eight episodes. Not that we are keeping our lips completely sealed. We recently had the opportunity to talk to Sabrina and Nick Scratch themselves, who gave us some insight into what journeys await their characters.
Den of Geek: Why do you think audiences have connected with Sabrina and Nick's relationship on such a powerful level?
Kiernan Shipka: I think Sabrina and Nick are pretty magnetic together. When you meet your person, or at least one of your people, in life you feel a certain way. And I think that people saw that in Sabrina and Nick, and in turn felt that. I think that there's just this endgame nature to them that really gets people stoked. And they're great together in lots of ways, just so fun and such a power duo. I think that they've got kind of everything going for them.
Gavin Leatherwood: Nick was on top of his game before Sabrina came into his world. He was really sort of chillaxing. Then all of a sudden this new girl at school comes in and she's this half mortal, half witch. It sounds a little cheesy, but there is kind of this love at first sight thing there. We've just seen it blossom over four parts, which is fun. To play with it where it is now and having all that history has been a really fun challenge.
Speaking of challenges, Kiernan, this season, you have to play two versions of your character. What was that experience like? And do you have a preferred Sabrina?
Kiernan Shipka: It was just an interesting exercise as an actor. I really enjoyed playing both. Obviously Sabrina Spellman is very close to my heart and I've been playing her for some time. But Sabrina Morningstar? I felt like I got to have so much fun with just her mannerisms because I wanted her to be different than Sabrina Spellman. I think people are, "Well, are you playing two different characters?" And I think that Sabrina Spellman is Sabrina Spellman. Right? And Sabrina Morningstar is kind of her offshoot. Who she would be in another life in a lot of ways. And just assuming that role and playing Morningstar, I got to, it was double the fun.
And Gavin, this season seems to be very much kind of about the redemption of Nick. We see a lot in these episodes of a much different version of Nick than we've ever seen before. What can you tell us a little bit about that?
Gavin Leatherwood: Something I like a lot about my character is just how much he's grown from part one through part four. I feel like his arc has been really rewarding to play. We see him in a lot of different ways, and everyone loves a redemption story and coming back from places that have been dark, and we see him go through that struggle. But ultimately, Nick's driving force is love, and when that is the intention behind what you do, the universe clears a path. I hope that fans get a bit of closure with Nick and with him reconciling what love is for him and what it means and how that plays a part with Sabrina as well.
With the show being canceled, do you feel like you've played Sabrina for the last time, or do you think we'll see her again down the road at some point?
Kiernan Shipka: I always hold out a shred of hope. I always do. For any character I ever play. I would love to meet Sabrina again. And I hope we do. I don't know when, but I hope we do.
Thanks to Kiernan Shipka and Gavin Leatherwood for their time, and be sure to check out what the future holds for them when the final season of Chilling Adventures of Sabrina drops on December 31st.