Features
Chilling Adventures of Sabrina Canceled at Netflix
Though the final eight episodes of Chilling Adventures of Sabrina are set to air later this year, that will be the last gasp for Netflix's Archie-verse series.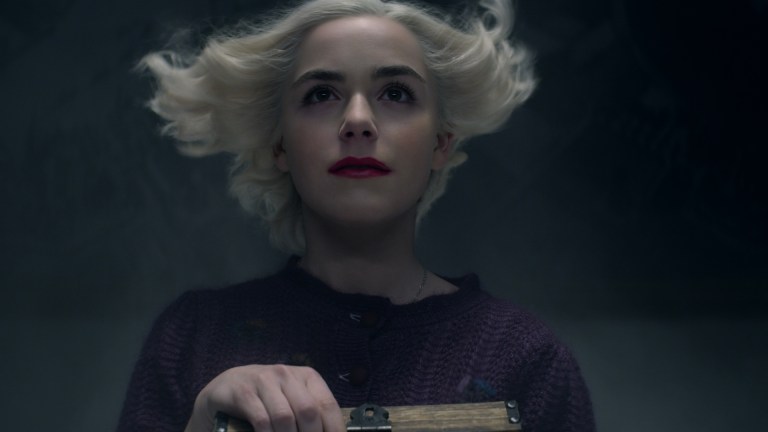 Good news, everyone! Chilling Adventures of Sabrina season 4 (or Part Four in the preferred parlance) is on track to air in late 2020. Now some less than good news…
TVLine reports that Netflix has canceled Chilling Adventures of Sabrina and the show will conclude after its eight-episode fourth season. Though Netflix has been on a bit of a cancellation spree of late, axing shows like Dead to Me, Ozark, and more, this one comes as a particular shock. Sabrina showrunner Roberto Aguirre-Sacasa provided the following statement to TVLine.
"Working on Chilling Adventures of Sabrina has been an incredible honor from Day One. The cast, beginning with Kiernan as everyone's favorite teen witch, has been an absolute joy. I am beyond thankful to the crew, writers, editors, assistants, and everyone for pouring so much love into this dark dream of a show. I'm also grateful to our partners at Netflix, Warner Bros., Berlanti Television and Archie Comics for letting us tell the story we wanted to tell, the way we wanted to tell it. We can't wait for everyone to see Part Four."
This is the second surprising cancellation in the Archie-verse in under a week. Riverdale spinoff (and therefore CAoS cousin) Katy Keene was canceled at The CW on July 2.
Chilling Adventures of Sabrina started its life as a planned spinoff to Riverdale for The CW. When The CW passed on the concept, Netflix stepped in to buy the show for 20 episodes spread over two seasons. Following the premiere of those two seasons (dubbed Part One and Part Two), Netflix ordered sixteen more episodes to be split into two parts. The first of those two parts premiered with 8 episodes on January 24, 2020. Now the second 8 are expected to arrive by the end of this year.
As is usually the case for most streaming series, Netflix does not make any solid viewership data public. So it's unknown how Chilling Adventures of Sabrina performed in terms of sheer numbers, but the series was well-received by fans and critics alike according to metrics like Rotten Tomatoes. And indeed the show did seem to drive quite a bit of discussion here at Den of Geek.
The reasons for Chilling Adventures of Sabrina are unclear, but as most things in life do, it probably boils down to money. Netflix's subscription numbers have risen during the coronavirus pandemic, but so too has the company's spending as it tries to continue to build its formidable library to stay competitive with the deep pockets of WarnerMedia's HBO Max and Disney's Disney+. Netflix execs have also claimed that a large percentage of the value of a show isn't apparent until it's three or four seasons in. And then after that actors and creators are likely able to negotiate higher contracts. So this era of three-or-four-and-outs at Netflix might be here to stay for awhile, regardless of how beloved a show is.
Chilling Adventures of Sabrina stars Kiernan Shipka in the title role. Netflix's description for the fourth and final season reads:
"The Eldritch Terrors will descend upon Greendale. The coven must fight each terrifying threat one-by-one (The Weird, The Returned, The Darkness to name a few), all leading up to…The Void, which is the End of All Things. As the witches wage war, with the help of The Fright Club, Nick begins to slowly earn his way back into Sabrina's heart, but will it be too late?"
Well it may or may not be too late for Nick, but it's certainly too late to save Chilling Adventures of Sabrina.