News
Spider-Man 3: Charlie Cox Daredevil Return Would Redeem the Marvel Netflix Universe
Charlie Cox's Daredevil is heavily rumored to join Tom Holland in the ever-growing ensemble of Spider-Man 3.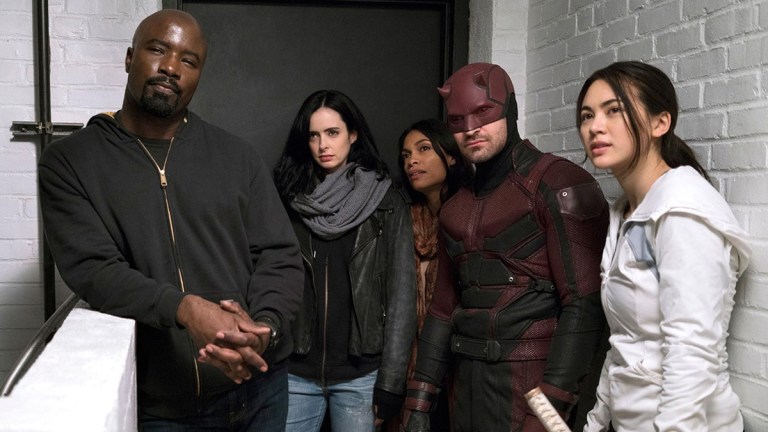 Casting news for Spider-Man 3 has been surreal and chaotic—in the best possible way. Now, in the aftermath of reports that villains from previous franchise iterations like Alfred Molina's Doc Ock and Jamie Foxx's Electro will return (in a manner not yet known), a strong rumor is now pointing to the addition of a displaced Marvel hero, Charlie Cox's Daredevil; a move that, if true, would mark the first big screen acknowledgement of Marvel's nixed Netflix television corner.
The ever-growing rumor (recently boosted by trade TV Line,) implies that Cox's Matt Murdock, a.k.a. Daredevil, will go from small-screen cancelation by Netflix to big-screen splendor alongside star Tom Holland (and Benedict Cumberbatch's Doctor Strange,) as part of the ever-growing Spider-Man 3 cast. The rumor's renewed momentum noticeably occurs shortly after Netflix's licensed exclusive rights to Daredevil expired this past November, rendering it open season for Marvel regarding its signature blind lawyer vigilante. Thus, it seems that Marvel Studios' creative coalition might be on the cusp of mollifying the legion of fans who have long been hashtagging #SaveDaredevil ever since the Netflix series—along with continuity siblings Jessica Jones, Luke Cage, The Punisher, Iron Fist, and The Defenders—came to a screeching halt by the end of 2018.
It may seem like eons ago, but back in 2015—a quaint time in which Marvel didn't have a fancy Disney+ direct-distribution streaming platform—the MCU's small screen offshoots only consisted of ABC network offerings Agents of SHIELD and Agent Carter. They were joined that April by the premiere of Netflix's bingeable upstart streaming series, Daredevil. Serving as a clear breakthrough starring role for London-born actor Cox, the series was a gritty, dramatic contrast from its small screen contemporaries, and garnered tremendous acclaim. Of course, it was also a bellwether offering for the subsequent spate of similarly MCU-adjacent shows on Netflix.
Yet, while Cox's authentic performance effectively cemented him as the definitive onscreen Daredevil, both he and his Netflix TV cohorts remained relegated to their small New York City corner of the larger MCU, dubbed the "Street Level," to which movie connectivity was only kept afloat by occasional universe-acknowledging Easter Eggs (e.g. a framed newspaper article on a wall referencing The Avengers's "Battle of New York").
Consequently, the prospective inclusion of Cox's Daredevil in Spider-Man 3 would provide the definitive cinematic-canonical link to the lucrative MCU that the Netflix shows, despite their popularity, could not get during their short-but-sweet collective lifespan. It was a missed opportunity, seeing as the Netflix heroes operated in New York City—a small world for superheroes despite its urban enormity and population density—where Avengers Tower fills the MCU's city skyline, Doctor Strange's Sanctum Sanctorum stands in Greenwich Village, and Holland's Queens-based Spider-Man operates from home. Indeed, fans will finally be relieved from the perpetual plot-hole-pointing question that asks how Daredevil, Jessica Jones, Luke Cage, Iron Fist, or stealthy slayer the Punisher somehow never crossed paths with the rest of the MCU.
The Kingpin Question
Additionally, the big screen christening of Cox's Daredevil—and the events of the television series—could also yield one of the biggest fringe benefits yet: more phenomenal, psychologically-powerful performances by Vincent D'Onofrio as Wilson Fisk, a.k.a. The Kingpin, an A-list Marvel Comics villain, previously played by the late Michael Clarke Duncan in the 2003 Ben Affleck Daredevil movie. D'Onofrio clearly owned the role, redefined it, and brought Fisk to life in a spectacularly nuanced manner, showcasing the often-conflicting personality of the domineering mobster, in a way that was tragic and even sympathetic—at least when he's not using a car door to smash someone's head to pieces like a leftover pumpkin. Such an inclusion would be especially apropos, seeing as Kingpin—created by Stan Lee and artist John Romita Sr.—was originally introduced in 1967 as an antagonist for Spider-Man before eventually igniting defining comic book rivalries with Daredevil and Punisher.
Of course, at the time of this writing, the notion of Daredevil (or Kingpin) joining Spider-Man 3 remains unconfirmed. Moreover, given the film's speculated Spider-Verse plot developments, possibly via Doctor Strange-spun magic, it could even be the case that the version of Cox's character we'd get in the film won't be the one from the television series, which would be a waste of backstory. Barring that, the move could yield canonical redemption in other movie appearances for Krysten Ritter's Jessica Jones, Mike Colter's Luke Cage, Jon Bernthal's Punisher and Finn Jones's Iron Fist (bottom of that food chain as he may be). We could also see ideas used from the never-realized "Daughters of the Dragon" martial-arts-centric spinoff with Simone Missick's Misty Knight, Rosario Dawson's Claire Temple, and Jessica Henwick's Colleen Wing for a Shang-Chi sequel.
Nevertheless, it does seem that the veracity of the rumor will be revealed sooner, rather than later, as Spider-Man 3 gears up for production. The film is still scheduled to hit theaters (at least, if Warner's recent monumental streaming move doesn't bankrupt them all) on December 17, 2021.