Features
Brett Goldstein: Where to Watch the Ted Lasso Actor Next
While Roy Kent's playing days are behind him on Ted Lasso, star Brett Goldstein has a bright Hollywood future to look forward to.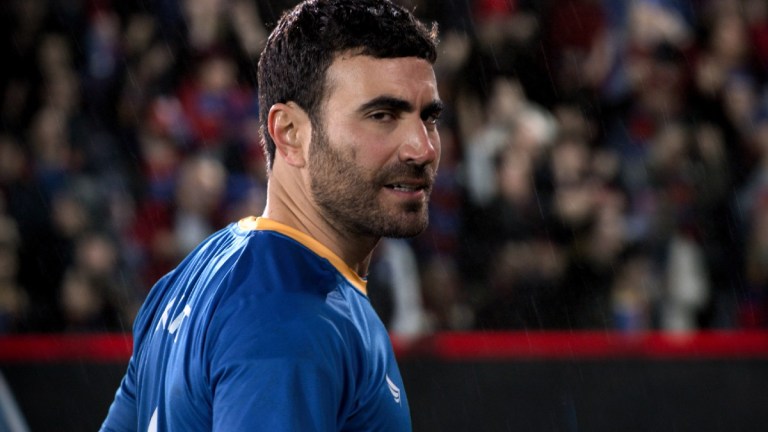 How far can immaculate eyebrows and a whole host of talent get you in life? Well, if Ted Lasso star Brett Goldstein is any indication, the answer is pretty freaking far!
When Ted Lasso first premiered on Apple TV+ in August 2020, it immediately made waves for having a deep bench of compelling supporting players to act opposite lead Jason Sudeikis. But with the utmost respect to Hannah Waddingham, Juno Temple, and everyone else in the AFC Richmond football team's orbit, it was Brett Goldstein's Roy Kent who jumped off the screen in particular.
Loosely inspired by the real life footballer Roy Keane, Roy Kent is a veteran at the tail end of his career whose gruff exterior (including multiple profanities and damn near monosyllabic speech patterns) neatly cover up a vibrant inner sensitivity. In embodying the surprisingly deep Kent, Goldstein won the Primetime Emmy Award for Outstanding Supporting Actor in a Comedy Series in 2021 and there's no reason he can't win it again this year.
Before Ted Lasso, Goldstein had a successful career as an actor, writer, and comedian in the U.K. In fact, he was hired as a writer on Lasso before producers wisely realized he would fit the role of Roy Kent perfectly. Goldstein has written for UK comedy luminaries like Catherine Tate while producing some of his own content as well. He is the host of the film history podcast Films to Be Buried With and also created AMC anthology series Soulmates alongside Black Mirror writer Will Bridges. Next up, he and Ted Lasso showrunner Bill Lawrence will be producing another project they created in the Jason Segel-starring Shrinking.
With both Shrinking and Ted Lasso Season 3 coming up, we thought it might be helpful to gather a list of places you can check out Goldstein's work in the meantime. Bear in mind, these are just the highlights while the writer/actor/comedian's IMDb profile can be found over here.
Ted Lasso
Where to Watch: Apple TV+
If you somehow came to this article without having seen Ted Lasso, first of all: congrats on being a Brett Goldstein OG, and second of all: watch Ted Lasso. Goldstein's performance as the world's crankiest footballer quickly becomes the show's beating heart. Never will you be able to forget the chant "He's here, he's there, he's every-fucking-where – ROOOY KENTTT ROY KENT!" Here are just some Roy highlights.
Doctor Who
Where to Watch: HBO Max (U.S.), Sky (UK)
Can a prominent British actor really exist if they haven't been involved with Doctor Who in some way? Thankfully, Goldstein joins the ranks of the elite with a (brief) appearance in Doctor Who lore. In Doctor Who series 11 episode 5, "The Tsuranga Conundrum," Goldstein portrays Astos, the chief medic on board the titular Tsuranga hospital ship. Astos is a decently prominent role but those who watched the episode in question know that Goldstein likely won't be portraying him any time soon.
Adult Life Skills
Where to Watch: fuboTV (U.S.), Google Play (For purchase in UK)
As one might imagine, the "Awards" section on Brett Goldstein's C.V. is filled with honors the actor won for playing Roy Kent. Before Roy, however, Goldstein did pick up one major bit of acting hardware. For his role as Brendan in the 2016 film Adult Life Skills, Goldstein took home the British Independent Film Award for Best Supporting Actor. The film stars future Doctor Who Jodie Whitaker as Anna, a woman with a severe case of arrested development. After being forced out of her mom's home (or more accurately: shed), she befriends Clint, a troubled eight-year-old boy. Goldstein's Brendan is Anna's awkward love interest.
SuperBob
Where to Watch: fuobTV (U.S.), Freevee (UK)
A critical role in any serious actor's repertoire nowadays is that of a superhero. With low budget comedy SuperBob, Brett Goldstein (sort of) fulfills that role. In this 2015 movie that features a screenplay he co-wrote, Goldstein stars as Bob Kenner, a lowly Peckham postman who develops superpowers after being hit by a meteorite
Drifters
Where to Watch: The Roku Channel (U.S.), Netflix (U.K)
The 2013 Channel 4 comedy Drifters deserves a lot of credit for establishing the meme of Brett Goldstein: total hottie. In this four-season series about three female friends adjusting to life after university, Goldstein co-stars as the aptly named "Hot Scott." Scott is a trainee counsellor who two of the lead characters each have a crush on.
Derek
Where to Watch: Netflix
Before Ted Lasso, the Ricky Gervais comedy Derek was the TV show that Brett Goldstein logged the most time with. Derek was a series created by and starring Gervais, who embodied the lead titular character, a sweet yet idiosyncratic caretaker at a nursing home. Goldstein appeared in 11 of the series' 14 episodes as Tom, the grandson of Anna, one of the home's residents. He was the romantic interest of Kerry Goodliman's Hannah, the care home manager.
Bonus – Sesame Street
Where to Watch: Right here
So Brett's favorite letter is "f" huh? That tracks.