Features
Ted Lasso: Roy and Keeley Share the Best Season 2 Scene Yet
Roy Kent and Keeley Jones are among Ted Lasso's greatest creations. Here is how one bawdy season 2 scene hammers it home.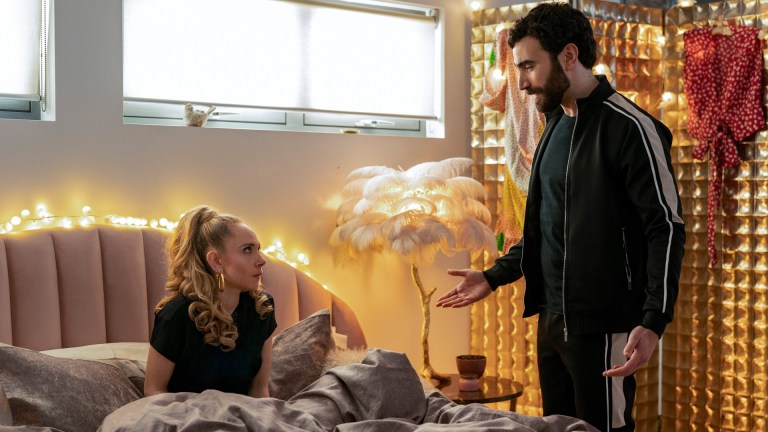 This article contains spoilers for Ted Lasso season 2 episode 2.
Ted Lasso's Roy Kent (Brett Goldstein) and Keeley Jones (Juno Temple) are a special kind of TV couple. Like other character pairings on Bill Lawrence-produced shows before them (Turk and Carla on Scrubs, Jules and Grayson on Cougar Town), Roy and Keeley reject the "will they or won't they" sitcom binary. 
Instead these are two adults who share an intense emotional and physical connection and who are bound and determined to make an adult relationship work. The show has already borne the fruit of their efforts. After a touching conclusion to season 1, Roy and Keeley's dynamic got even more acute in season 2's first episode. The soft-spoken ex-footballer, emboldened by the relationship with his better half, passionately informs Rebecca Welton (Hannah Waddingham) that she should never, ever settle.
It was a monologue that indicated just how far Roy and Keeley have come (and one that got basically half of Roy Kent Twitter stans pregnant). This week, however, the Roy and Keeley pairing outdoes itself in one hilarious, yet completely touching moment.
When Roy returns home from coaching his girls soccer team, he walks into the bedroom to find Keeley wearing headphones, phone in hand, and…what's the most delicate way to put this? Keeley is: checking the undercarriage, dialing the rotary phone, taking a self-guided tour, engaging in the queen's gambit … you know: massurbatin'.
While a lesser show would turn this into a punchline surrounding embarrassment, this episode immediately turns it on its head. Though Roy came across Keeley in a vulnerable situation, it's not her vulnerability that Ted Lasso is concerned with: it's Roy's. It turns out that Keeley's wank material had been Roy's tear-filled retirement press conference, one of the only times that Roy has ever been outwardly emotional in his life. 
"I love that scene," Juno Temple tells Den of Geek. "It covers so much ground. It brings a comedy element and then a kind of seduction moment. Then a moment being like, 'You know what? Being a man that's as sexy as you are and being vulnerable and owning that is such a turn on.' It literally has so many things in one scene. It's a microuniverse. I loved it."
According to Temple's scene partner Goldstein, that moment is a highlight of the early season and was an unusually long undertaking, making up around five pages of the episode two script.
"It was like doing a mini play, that scene. There's lots of levels going on in it," he says. "We loved doing it. I just think the moment of him catching her is really unusual, I don't think you see a lot of that. It's also funny, sexy, and all this stuff."
The key to it all, however, is what comes after. While Roy is initially horrified at the prospect of Keeley being turned on by him being "pathetic", he comes to understand that she's right…as she usually is. At Keeley's urging, Roy gets back on the football horse and serves as a pundit on "Soccer Saturday" alongside Jeff Stelling and Chris Kamara.
Invigorated by his return to football and the accessing of his emotions once again, Roy comes back to Keeley to inform her that she had him pegged. That's when he places the headphones back in her ears, cues up the press conference, and…you know what – I'm not gonna do the euphemisms again – performs cunnilingus. And that's how Ted Lasso takes what could have been a crude, one-off joke and turns it into a learning experience for perhaps its two most mature characters.
"It's an example that a man doesn't have to be macho to be a turn on. It's so hot when somebody shows their emotions," Temple says.
It's scenes like this that run the risk of the public's already well-documented love for Roy Kent reaching a fever pitch. According to Goldstein though, his character's surly reputation should help in that regard.
"I'm still in a mask (out in public), but I seem to be easy to recognize because I've still got these fucking eyebrows," he says "People are slightly wary of being too effusive with me. I have people quietly go to me, 'I really like the show,' as they walk past. I go, 'Good,' and keep walking."
Ted Lasso season 2 premieres new episodes every Friday on Apple TV+.