Reviews
Soulmates: Amazon Sci-Fi Is Not Your Valentine's Day Binge
Anthology series Soulmates, streaming now on Amazon in the UK, is an often bleak take on love and relationships that skewers the idea of 'The One'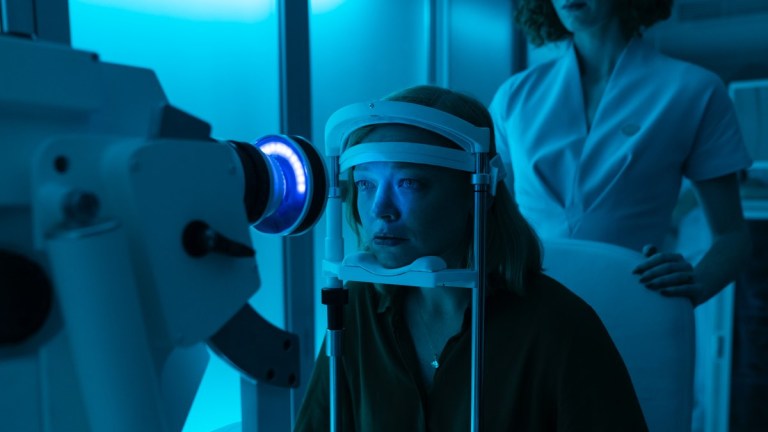 Eight. That's how many types of bread you can choose between in the world's biggest sandwich franchise. And that is the reason none of us will ever be truly happy. Eight different varieties of bread, from Hearty Italian to Herb and Cheese to 9-Grain Multi-Seeded to another five, just in case those first three aren't the most absolutely perfect breads for us.
Because we deserve the best, don't we? If there's another bread out there that could slightly increase our happiness, then it should be ours. It's not enough to be satisfied that we have any bread at all, that lettuce, tomato and mayonnaise doesn't slide out between our fingers each lunchtime; perfection is the aim, and therein lies our curse.
The first three episodes of Soulmates, a six-part relationship anthology drama with a sci-fi premise, are about the corrosive effects of the modern drive for perfected happiness. It presents characters needled by the sense that, no matter how content they already are in a relationship, there could be something better out there.
Not 'could be' but 'is'. 15 years in the future, thanks to the discovery of "the soul particle", there's a test that pairs people with their scientifically identified soulmate. Sign up, pay the fee, and wait to be matched with the one person you will love, and who will love you, the most. You may already be married to somebody else. Your soulmate may be on the other side of the world. They may not be the gender you were expecting, or necessarily speak your language, but science reliably informs you that they are The One. Tempted?
Maybe watch this series, created by William Bridges and Brett Goldstein based on their 2013 short film For Life, and it'll give you pause. The first three distinct stories explore the folly of believing that the grass is always greener.
Not that the first three episodes are all that distinct, at least in setting. They're set among the affluent American upper middle classes living in beautiful designer houses (and puzzlingly in one case, a primary school teacher and graphic artist nonetheless living in a beautiful designer house). Each one shows us a character who blows up their life in pursuit of relationship perfection, and in the process, either loses, or comes close to losing, what they already had.
The first, 'Watershed' stars Succession's Sarah Snook as Nikki, a married mother-of-two whose feet start to itch when it seems as though the world and its wife are discovering true relationship bliss thanks to the test. The second, 'The Lovers' stars Billions' David Costabile as an art history professor whose soulmate threatens to destabilise his married and professional life. The third 'Little Adventures' stars Victoria's Laia Costa and Wynonna Earp's Shamier Anderson as a married couple who think they've nailed monogamy by using a hook-up app for added marital spice.
Despite strong casts, it's difficult to warm to much of the series' first half. It's peopled by self-absorbed characters who are a good advert for the shortcomings of the anthology format, which has a tendency to build scenarios out from an intellectual idea, rather than building stories out from engaging characters or situations. So what if a WASP is bored in her marriage? Or a professor messes up his very comfortable life? Or a gorgeous young couple has too many sexual options? It's not only hard to feel sorry for these characters, it's hard to feel anything much at all.
The next two episodes – 'Layover' and 'Break On Through' are much more engaging, and final instalment 'The (Power) Ballad of Caitlin Jones' has a nasty pulp appeal. When Soulmates moves out of a single social stratum and mixes things up, it's an improvement. When the central premise of the soulmate test is used a pivot point for new locales and tones, the anthology starts to come into its own.
Incidentally, a minor but welcome distraction for UK viewers (the series aired on AMC in the US last year) is the great proportion of British actors playing Americans across the six episodes. Nathan Stewart-Jarrett, Darren Boyd, Kingsley Ben-Adir, Georgina Campbell, Charlotte Spencer, Steven Mackintosh, Paul Chahidi, Charlie Heaton, Steve Oram, Dolly Wells… all acquit themselves well as transatlantic players.
Utopia's Nathan Stewart-Jarrett and IT's Bill Skarsgard's Mexico-set episode injects real energy and romance into proceedings in dynamic romp 'Layover'. Stranger Things' Charlie Heaton ably leads 'Break On Through', a proper story with not one but two interesting takes on the soulmate test: 1) what happens to those predeceased by their match?, and 2) how might the unscrupulous exploit it? Finally, Breaking Bad's Betsy Brandt anchors an uneven instalment that asks in very broad terms whether our soulmates are good for us.
Soulmates' perspective isn't sentimental but pragmatic. Its sci-fi premise is used to prod the popular obsession with finding 'The One', and probe its limitations. Like any anthology, it's a mixed bag by nature, and at its best when it breaks out of bland, well-heeled suburbia and takes advantage of the breadth and scope of its multi-angled genre.
While stopping just short of being cautionary tales, the six stories explore the harm of blinkered faith in religion, science and romance. They warn against missing out on what we already have by focusing only on what we could possibly have, and lay bare some unflattering love and relationship truths. A cosy Valentine's Day binge watch this isn't.
All episodes of Soulmates are available to stream now on Amazon Prime Video UK