Features
Blue Lights Ending Explained: What Happened To The McIntyres?
The BBC's hit Belfast police drama reached its nail-biting, emotional conclusion – but did Gerry survive, and will there be a series 2? Spoilers!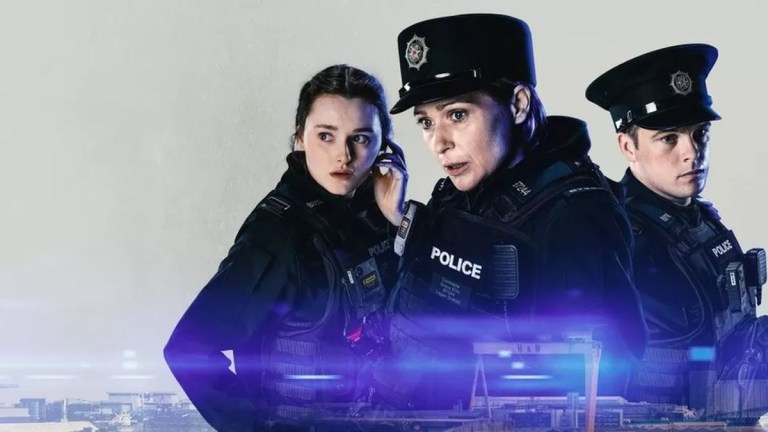 Warning: This article contains spoilers for Blue Lights (obviously!)
It's been wonderful to see Blue Lights capture the hearts of the nation – it deserves every bit of its enthusiastic praise. This compelling, Northern Ireland-set crime drama about three rookie cops has been packed full to bursting with a gripping plot, lovable characters and impressive performances from start to captivating finish.
The one comforting thought now that it's over is that there's already good news on the series two front – but before we get to that, let's unpack Blue Lights' first series. Did that dastardly-but-misunderstood McIntyre gang get what's coming to them? Did Stevie and Grace get it on? And will our beloved Gerry be back telling Tommy to "take a beat" any time soon?
Read on for all the spoilers…
First Things First: Did Gerry Die?
We wish he didn't, but yes. Richard Dormer (Game of Thrones) did such a sterling job making Constable Gerry Cliff Blue Lights' lovable, roguish, father figure – a mentor to Tommy, a kind soul to troubled characters like Happy, and not backwards in coming forwards when it came to showing his wife, desk sergeant Sandra (Andi Osho, Line of Duty), just how attracted he was to her.
Sadly, after being shot multiple times at the end of episode five – and despite the best efforts of Constable Jen Robinson (Hannah McClean), who overcame her fear of policing to do her best to save him – Gerry succumbed to his injuries and died. It was the shock of the series, and a testament to what a great character he was that after just five episodes losing him was such a gut punch. Seeing Sandra saying goodbye at his bedside is a scene that will stay with us for a long time.
Go well, Gerry. The only comfort we've got is that before he died Jen managed to return the favour to his killer – drug dealer Eoin (Art Campion, Derry Girls) – shooting him dead on sight.
What Happened To The McIntyres?
Losing Gerry also finally led to the McIntyre gang's downfall, taking a dangerous crime family off the streets.
Of course, it wasn't as simple as that, as at the end of episode four we discovered patriarch James McIntyre (John Lynch, The Terror) had actually been secretly working with MI5 (aka the sneaky-beakies) as an informant since 1998, in an attempt to earn his family's safety – and only his wife Tina (Abigail McGibbon) knew.
MI5 boss Joseph (Nabil Elouahabi, Trigger Point) had convinced James he had to do one last thing for them in exchange for freedom: let the gun deal his son Mo (Michael Shea) was secretly planning with the dangerous Ginley gang go ahead, so the intelligence services could track the guns and nab the Ginleys, taking another criminal gang off the streets.
After the gun trade goes south when Gerry interrupts them (RIP), Mo finds out his dad's true relationship with MI5, and why they've been seemingly untouchable in Belfast all these years. James is offered protection and a new identity for him and just one other person, forcing him to choose between his wife and his son, but he chooses Mo and takes him to the agreed meeting place. Unfortunately for both of them, things don't go to plan.
Why Didn't Those Sneaky-Beakies Keep Their Word?
Probation officer Grace (Siân Brooke, Good Omens) to the rescue! She stole footage from the MI5 officers' camera proving they witnessed Gerry's death and fled the scene, a gross misconduct which was thankfully leverage enough to get Joseph to reveal the McIntyres' agreed meeting place.
This allowed Tommy (Nathan Braniff) and the gang to arrest the McIntyres before they had a chance to escape, leading to that emotional scene as the whole precinct stood by to witness them being brought in, and Sandra booked her husband's killers into a cell.
What Happened To Gordy And His Mum?
Troubled teenager Gordy (Dane Whyte O'Hara) had been well in with the McIntyres, much to his mum's despair, then left to fend for himself against the police when the gun deal went wrong. Luckily, Grace convinced him to testify against them, and in exchange secured him and his mum the two witness protection places instead of the McIntyres.
What About Scaredycop Jen Robinson?
Poor Jen spent most of the series making some very bad decisions: hiding her terror of front-line policing behind a stuck-up, snooty facade – which her colleagues put down to her mum being the Chief Superintendent – as well as secretly shacking up with the precinct boss, Jonty (Jonathan Harden).
She came good in the end, though, bravely ending the affair and admitting that police work wasn't for her, and handing in her resignation. And then her badass mum instructed Jonty to resign too.
Did Tommy Ever Learn To Shoot Straight?
Yes! A fitting legacy to his excellent teacher, Gerry. But he also asked to be taken off the fast-track programme so he could rise through the ranks with his colleagues. We see him and his fellow probation graduate Annie (Katherine Devlin) going out on patrol together.
Did Stevie and Grace Get Together?
Well, no, sadly. As police partners, with Stevie (Martin McCann) showing rookie Grace the ropes, we saw them get closer over the course of the series, and in episode four we discover Stevie's got feelings for Grace, but he's yet to make his move.
He did finally get her to try some of his home-baked vol-au-vents though (not a euphemism), and there were definite signs that their relationship was getting warmer. Thankfully, it looks like we might get an update on how they're getting on, though – because:
Will Blue Lights Get a Series 2?
Yes! Series two of Blue Lights was green-lit in April, and filming will commence on six fresh episodes this summer.
So far, the confirmed returning cast includes Siân Brooke (Grace), Martin McCann (Stevie), Katherine Devlin (Annie), Nathan Braniff (Tommy), Joanne Crawford (Sergeant McNally), Andi Osho (Sandra), and Hannah McClean (Jen).
Blue Lights is available to stream on BBC iPlayer