Reviews
Ted Lasso Season 2 Review: A Welcome, Warm Return
While things are rough for AFC Richmond, Ted Lasso remains a charming, essential hit in its second season.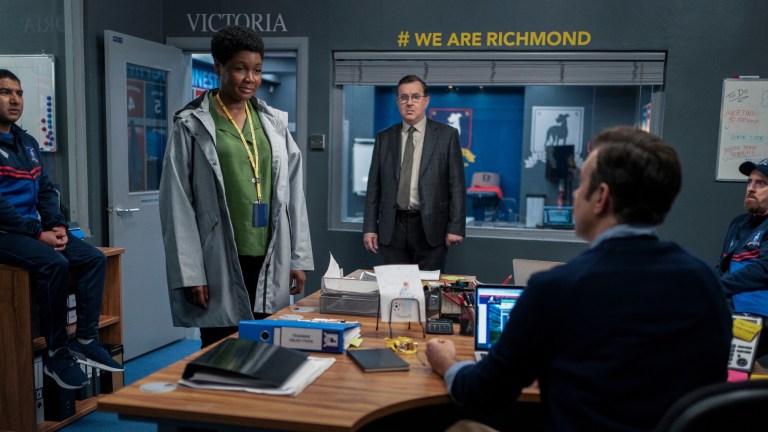 In one of the worst years in recent memory, a mustachioed fish out of water with a sunny disposition helped audiences cope with their new abnormal. By playing into underdog sports story tropes and preaching the virtue of kindness, Apple TV+'s Ted Lasso was a soothing balm for stressful times. 
Who could have imagined that the character that Jason Sudeikis created for NBC Sports commercials would become one of the most welcomed sights for sore eyes on streaming platforms? Word of mouth and way too much time inside helped Ted Lasso become something of an underdog success story for Apple's fledgling platform, but season 2 of the comedy series now has expectations to meet. Could this Cinderella story avoid the sophomore slump?
In short; yes. Ted Lasso remains the television equivalent of a warm hug by an old friend. While the show still scores laughs with Ted's silly pop culture references or the easy banter between Lasso and Coach Beard (Brendan Hunt), the series is still at its best showing friendly people looking out for each other's best interest with thought and care. Ted Lasso is like the polar opposite of a show like Succession; it charms by showing people being the best version of themselves. 
Season 2 picks up several months after the last season's finale. AFC Richmond is now in second tier English league, EFL Championship, and stuck in a stagnant series of ties despite their best efforts. To help the team get over the hump, Richmond hires a sports psychologist (Sarah Niles) to assist in helping the players overcome their lack of confidence. Ever the optimist, Ted doesn't see an immediate need for psychology, but as we saw last season, he has some issues that unrelenting positivity cannot overcome. 
It's very interesting to consider why season 1 resonated in 2020 and why this new season will likely strike a nerve with viewers in 2021. During quarantine, we all needed the cheery outlook that Ted Lasso was offering, but a year later, it's time to process where that horrible year left us. Season 2 stresses the importance of communicating your issues or feelings, whether with friends and loved ones or with a professional.
However, mental health doesn't dominate every episode screened for critics. Season 2 dives deeper into Ted Lasso's supporting cast, with Rebecca (Hannah Waddingham) back on the prowl looking for love. Along the way, she encounters several sweet examples of what a healthy relationship looks like, such as Roy (Brett Goldstein) and Keeley (Juno Temple) and their wonderful communication and even Higgins (Jeremy Swift) and his loving marriage with his wife, to go along with some examples of what she shouldn't be searching for, like Beard's new volatile relationship. Every character is given something meaningful to do, highlighting just how special this ensemble truly is.
If Ted Lasso season 2 has faults, it's that there just isn't enough conflict. One would think that Richmond's relegation and a shaky start to the new season would put pressure on Lasso and the rest of the club, but that pressure really isn't felt until late in the season. And while the emphasis on the supporting cast is great, Ted's feelings about being away from home and his relationship with his ex-wife feel a bit removed from the spotlight in early outings. Thankfully, this isn't as big of an issue as it seems, because characters like Rebecca, Roy, and even Jamie Tartt (Phil Dunster) are able to shoulder the weight just fine.
Do not be mistaken; Ted Lasso is still the most cozy, pleasant watch one can find on television and it still manages to surprise in small, yet rewarding ways. Roy Kent has become one of my most beloved television characters and a special Christmas installment this season is sure to be a holiday favorite for many years to come. We still need Ted Lasso because we will always need works of art that are life-affirming, warmhearted, and comforting. It's rare that something can so consistently lift your spirit, and we certainly shouldn't take it for granted.
Ted Lasso season 2 premieres its first episode Friday, July 23 on Apple TV+.