Features
Hank Azaria Signs Off As Brockmire: "It's Been The Great Joy of My Life"
The viral short turned critically-acclaimed half-hour comedy, Brockmire, authored one of baseball's greatest redemption stories. Now its star, Hank Azaria, says goodbye.
There's no crying in baseball, but there were plenty of teary eyes while shooting the final episode of Brockmire.
"I didn't really plan on tearing up myself, but I think the combination of ending it all and just the beauty of the moment overtook me and I got really choked up on a couple of takes," says star Hank Azaria as he recalls the emotional final scene.
"I was really gratified to look up and see everybody on the crew wiping their eyes at the end of it too. [Jim Brockmire's] a guy who's finally learned to shut up and appreciate what's around him, including baseball. And I found myself, a lot like with the show, I underestimate the emotion of it until I do it."
The weight that Brockmire carried during its four seasons snuck up on nearly everyone from fans to critics to those directly involved with the show. Azaria's Jim Brockmire voice was a great bit by a great voice actor that turned into a fun viral short, but that alone couldn't sustain a full-fledged TV show. IFC signed up for what may have initially appeared to be a slapstick comedy. Watching Brockmire blossom from its Bear News Bears roots in season 1 to a meditation on codependency, alcoholism, and redemption in season 2 was like watching a one-tool prospect develop into a five-tool All-Star.
It was an impressive jump in quality, but the show strove for more than just individual accolades. Making elite TV is a team sport. Series co-creator and writer Joel Church-Cooper, Azaria (who serves as executive producer) and director Mo Marable (who helmed all of seasons 2-4) had the ultimate goal of walking away on top: four seasons and a complete narrative arc that saw Jim Brockmire go from a broken man who nearly loses everything to gaining something much more valuable than returning to the broadcast booth—a family. That's where Brockmire leaves us to play out the dog days of summer, with Jim surrounded by Jules (Amanda Peet), his daughter Beth (Reina Hardesty), his swinger ex-wife turned friend Lucy (Katie Finneran), and his now multi-millionaire best bud Charles (Tyrel Jackson Williams).
As Brockmire enters "The Long Offseason," as the finale is aptly titled, Azaria reflected on the long, winding road to completing a series that he called "the great joy of my life." You can watch our interview with Azaria on the latest episode of our baseball-themed interview series MLB The Show (The Show) below. If videos are not your thing, read on for the full interview transcript!
From the first viral video, this project has been supported by the sports world. A bunch of sportscasters even shot a remote video honoring Brockmire for the finale. What has it meant to you to see them embrace the show?
Right from the beginning, this show has been against the odds. It took us a very long time to make. It was a saga; a legal, creative, and monetary saga. And then, when we made it on a real shoestring budget, we shot eight episodes of a TV show in 22 days. I can't tell you how insane that is. I was so happy we made it, by the time we got in the editing room for season one, I wasn't even expecting it to be any good. I was just happy it was cut together at all.
We finished it and it came out what I considered funny and good. I emailed it personally to Bob Costas and everyone I knew in the baseball world, Dan Patrick, Dan Le Batard, Tony Kornheiser, and Michael Wilbon. Everyone I admired in the sports talk world and sportscasting world I sent it out to, and they all watched it and loved it and many of them asked to be on the show. I made a lot of friends. I love those guys and it really means the world to me. I think I might be a bigger fan of sports talk and broadcasting at this point than of the sport itself.
Season 4 features a big time jump and sees Brockmire's story through nearly to the end. Does it make it a little easier to leave this character behind knowing that you told a complete story?
That was what we set out to do. We wanted to do four seasons with eight episodes each. We finished the narrative. You don't always get a chance to do that, and we told the story we wanted to tell. And, actually, we exceeded our expectations, emotionally and psychologically, and even from a humor standpoint.
When I watched the screeners for season 4 in January, I figured Brockmire might be a good predictor of the dystopian world we're heading towards. Then the real world one-upped you guys right as this season was premiering. Commissioner Brockmire spends the season trying to save the game he loves by engaging fans in new ways. Should MLB be paying attention?
We base [the show] in reality, even though it's a broad character. It's a baseball announcer who goes through his life announcing his whole life pretty much, which is a broad concept, but we treat it very realistically and emotionally true. It's not surprising to me that our predictions about the future and about the future of baseball were not very far off.
I think one thing that seems to be happening, to whatever extent baseball comes back during this horrible pandemic, is whether we get a shortened season, which we will get if we get any season, seven inning doubleheaders, limited pitching changes, robot umps. I'm for all of these changes and experimenting with them. Body cams on athletes, which we play with in Brockmire. We heard Rizzo and a couple other guys during spring training be really funny and engaging being mic'd up during the game. I'm for all these things.
My hot take, if you will, is that the steroid era has, Bob Costas will kill me for this if he hears me say it, shot the baseball record books to crap anyway. Let's just start over, and let's go with shorter seasons and little radical ways to, not change the spirit of the game, but make it a little pithier, a little more exciting for our younger viewers. And it'd still be the same great game, and let's see these guys go at it in a more concise, more exciting way.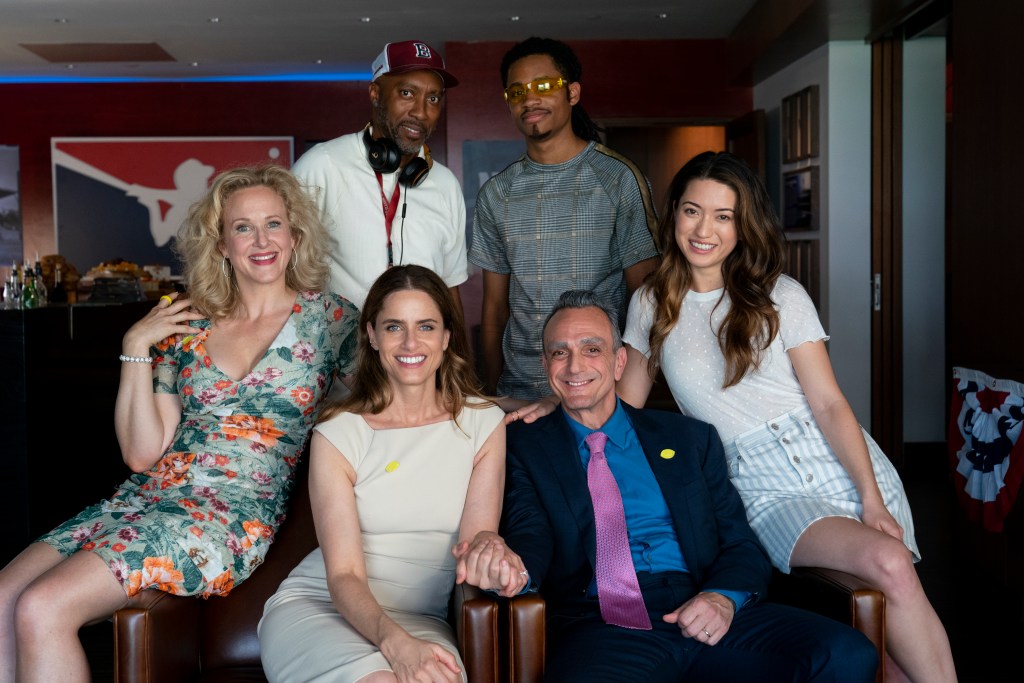 In this interim with no baseball, I've been interviewing actors from classic baseball films. From doing that project, I've strung together in my mind that baseball films and shows always seem to become more beloved as the years go on. I hope that happens with Brockmire.
I hope so. I hope maybe one of the small silver linings of this ridiculous time we're in is most folks are stuck inside. Please check out Brockmire. I know most of you haven't, shame on you. Check it out. And I'd love it if more people discovered the show as a result of this. And Brockmire was heavily influenced by a lot of the sports movies of the seventies, in particular Bad News Bears and Slapshot. And my favorite baseball movie of all time is easily The Natural, and I think my favorite sports movie of all time is Hoosiers. But, yeah, I love that '70s era, gritty, realistic sports movie that was really funny and really dirty and really emotional at the same time, so we tried to do that with Brockmire.
Can you walk me through what it was like filming that final scene and putting a bow on Brockmire?
That was not the scene we shot last, because we shoot out of order like they do in movies because we have to budgetarily because we have to go location by location, so we were at the stadium and we shot. Much like the emotion in all of Brockmire, on screen and off, it really sneaks up on you because the show is emotional without being sentimental in any way. And a scene like that, which doesn't have much dialogue, it's maybe a quarter of a page, you just look and you read "Brockmire gets news on a phone, listens to it, sits down, looks back at his family. They gather around him. They ask him a question, he answers, and we're out."
And so how to shoot that, first of all, Mo Marable, our great director, had an idea to do a real long push-in with the camera, which we don't usually do camera moves like that on Brockmire. We keep the camera objective and as unsentimentally realistic as the scripts are. We're not big on saying anything with the camera, but we actually had a professional… they call it a jib arm where the thing lowers and comes on in. And it was one of the few times ever in the series where Brockmire shuts his mouth, he's not saying anything, which was poetically how we wanted to end it all. The series began with him ranting in a blackout drunk on the mic and basically almost torching his career and almost torching his entire life, and then the man has learned to shut up and receive the love of the people around him and the game, he's finally learned to not have to describe the game in order to interact with it.
But he says earlier in the season, "Baseball is one of the only games that is almost better with your eyes closed, the smells and the sounds of the game," and he's a guy who's finally learned to shut up and appreciate what's around him, including baseball. And I found myself, a lot like with the show, I underestimate the emotion of it until I do it. I didn't really plan on tearing up myself, but I think the combination of ending it all and just the beauty of the moment overtook me and I got real choked up on a couple of takes and, luckily, one of those takes matched up with one of our fancy camera moves and there we were. I was really gratified to look up and see everybody on the crew wiping their eyes at the end of it too.
Was part of the gravity of that moment looking back on what the show started as and what it ended up becoming—one big, weird family show—at the end?
I've tried to develop for myself a lot in my career over the last 20 years. The things that have made it to the air have never gone particularly well. It was nice to have an idea that I really had since I was a teenager, the idea of a baseball announcer. Solving that creatively… we had lawsuits. It was supposed to be a movie and we lost our financing four days before shooting and then Funny Or Die stuck with the project and we re-pitched it as a TV show a year later. We had all kinds of problems, and not to mention a very small budget that meant we had to shoot the thing in a crazy short amount of time. And then to connect with Joel Church-Cooper, who's an amazing writer… I would have been happy with a very silly, funny, sophomoric show that was like the short and Joel saw in it so much more depth and humanity, and for it to turn into a really challenging acting role and not just a really funny sketch for me.
And then for people to love it so much. Then to find myself in the booth at the Mets game calling it like Jim Brockmire. As someone who's known mostly as a voice actor to have a character who's basically a voice actor and he's a voice performer or a sports broadcaster and get inside the soul of a guy like that. The whole thing has been the great joy of my life.
When Hollywood inevitably reboots Brockmire five years from now, who should replace you in the announcer's booth?
Somebody as handsome as I am. Probably either George Clooney or Brad Pitt [laughs].