Features
Batwoman Season 2: What to Expect
The cast and creators of Batwoman Season 2 talk about what to expect when Ryan Wilder comes to Gotham City.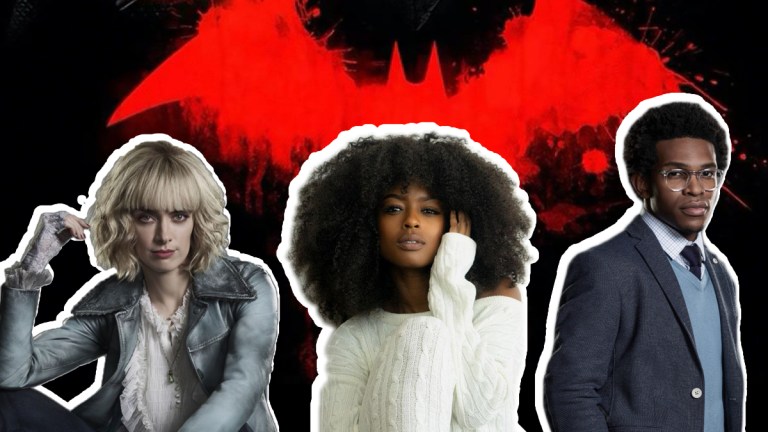 Batwoman ended season 1 with so many cliffhangers it's almost hard to keep track – Jake Kane was hot on the trail of his daughter, things between Sophie's ex Julia Pennyworth were heating up, Alice killed Mouse and face-swapped Hush to look like Bruce Wayne. And then the real world gave the fictional one a run for its money, with lead actor Ruby Rose leaving the show and showrunner Caroline Dries and the producers choosing to recast the role.
With Batwoman season 2 on the way in 2021 and Javicia Leslie has been cast as Ryan Wilder, the next hero to step up as Batwoman and defend Gotham City. At DC's Fandome event, Trish Bendix of The New York Times spoke with Dries, executive producer Beth Schwartz (former Arrow showrunner) and the crew, who teased what next season may bring.
Where's Kate Kane?
Dries frames the show in terms of two major stories in season 2: where's Kate, and a new hero rising into Gotham. It's not exactly a huge surprise that the first question would be the one on every character's lips.
Obviously Ruby Rose has left Batwoman, but Team Bat hasn't shared how they're going to handle her absence, exactly, other than hiring Javicia Leslie to play a new role rather than recasting Kate Kane. So what happened to Kate?
"Is she alive, is she dead, is she missing, is she on the run, is she held captive, is she lost?" Dries wondered allowed, not giving us an inch. "These are all huge mysteries that push us in deep into the season, and all of our characters are going to have different perspectives on that different conspiracy theories, different points of view and it will create a lot of drama, tension, history, intrigue, and it will be shocking and awesome and amazing."
It's interesting that Dries mentioned being on the run and held captive since those are all things Kate Kane experienced during various comic book incarnations, while Alice was held captive, missing, lost, and their mother, who was with Alice, was held captive and then killed.
Introducing Ryan Wilder
As for Javicia Leslie's Ryan Wilder, she's a brand new character in the world of DC, one whose upbringing was very different from heiress Kate Kane.
"She was a girl who was a statistic of injustice," Dries said. "The moment she was born, and the system was not built for this person, and she will constantly battle against the system. All throughout she's battled through it her whole life and she will continue to battle against it as Batwoman."
As someone who comes from struggle herself, Javicia will be looking out for her community, as well as the proverbial underdog in general. While Batwoman has never shied away from social issues, Ryan brings a different perspective and a different context, both in-world for Gothamites and for the audience consuming the show.
As Leslie put it, "Just to kind of have that crusader that's from that part of the community, I think that that's important and that's really what we're going to dive into this season."
The Kane Family
One obvious point of friction fans have wondering about is how removing Kate Kane as a central figure will impact the show, since Kane family dynamics are so central to the first season and much of what had been set up for Batwoman season 2.
While the Kane family has come a long way from where they were when we first met them in the pilot (and lost a few members), Leslie is not anticipating that they will have a warm welcome for Ryan.
While she says Jake Kane "is not about the whole vigilante street kid life," the family as a whole will likely be grieving Kate's disappearance in some way, regardless of why they believe she's gone and for how long. (I mean, none of the options are "on the Waverider with Sara Lance" or "on the run with Reagan the bartender," right?)
Luckily, Dries gave us some hope that while Ryan and Kate seem very different on the surface, due to their upbringing and background, Ryan may have a positive role with the Kanes in the longterm.
"I think Ryan will, ironically, ultimately unite the Kane family whether or not they realize it," she said. "There are all these strands of connection that she brings to them."
Mary Hamilton
Continuing on to the best dressed member of the Kane family, who has also (hot take) potentially saved the most lives, Mary had finally gotten to a good place with her sister last season when she joined Team Bat. What impact will losing her sister and meeting this new person have on her?
"She's been a person who I think is always looking for families, always looking for community, always looking for somebody to see her, which is, I think, a huge source of why the clinic exists for her," said Kang. "There are just much deeper personal reasons for that, and I think her and Ryan, Mary and Ryan sort of have that in common."
Both Kang and Leslie hinted at the idea that Mary and Ryan might find common ground in the way that they are so personally invested in their chosen way to help make the world better.
Leslie said, "It's funny because a lot of Mary's patients can be examples of that community, you know the community that gets overlooked by the hospital, by the Crows."
Given how open a person Mary is, the heart of the show and a real cheerleader for basically every non-evil character on the show, it makes sense that she might be an early person in Ryan's corner.
We know Mary already has one person in her corner: Luke. It took them most of a season's worth of delightful jabbing, but Luke opened up, a rarity for him, and Mary showed up for him in a big way during the appeal of his father's case.
While they didn't say whether we'd see any movement on this for season two, Camrus Johnson and Nicole Kang spent some time discussing the Luke and Mary ship, which they say took them by surprise. Johnson apparently came up with the HamilFox ship name himself (which he is very proud of), but he was surprised how quickly fans invested in the idea.
"It happened so early," Johnson said. "It was like episode three maybe and I think they just figured out like 'oh smart kid, smart kid, they should be together,' and on Episode Five whenever Luke and Mary met all the fans are like 'This is it! They have to date!'"
For the sake of the HamilFox shippers, here's hoping all this encouraging chatter means that our two favorite smart kids get together this season – or at least just keep up the banter.
Luke Fox
We have plenty of big ideas about Luke Fox's future, based on last season's interviews with Camrus Johnson and Caroline Dries, but Johnson shared more about where the very cerebral Luke's head is at heading into season two.
"Luke doesn't really trust a lot of people. And it took him so long to trust Batman's cousin," Johnson said.
If that sounds a bit harsh, think about how long it took Luke to open up to Kate, Mary, Sophie and Julia, or the fact that he's only told two of those people about his dad. It's not surprise, then, that Johnson thinks this next year, with a whole new person in the cowl on top of the fallout from last season, is going to be a lot for Luke.
"What he cares most about is keeping Gotham safe, but at the end of the day, Ryan to Luke is someone from the streets and it was already so hard to trust someone that had the army experience," Johnson said. "To suddenly give this precious Batsuit to this new person is going to be really hard for him."
Alice unleashed? And new villain Safiyah
While Ryan will (eventually) have some allies, it's safe to assume at least one person won't be.
And when it comes to Alice, "anything could happen" really does mean anything. Everyone's favorite murderer Alice ended last season killing her own adopted brother after teaming up with Hush to make him look like Bruce Wayne, since her (many) plans to take out Batwoman didn't work.
Skarsten said "She has this like beautiful intricate plan for the demise of her sister. And that will have been foiled."
Fan favorite Rachel Skarsten thinks she's going to be "peeved."
Alice could easily return to one of her favorite people to torment, Mary, considering their hate/hate relationship last season. As Nicole Kang pointed out, Kate will no longer be there to act as a buffer between them.
"There is/was this triangle between Alice, Kate Kane and Mary. And, you know, without Kate actively in that triangle," Kang said, "anything could happen."
Skarsten also teased the introduction of new character Safiyah, a fellow villain whom Alice discussed in fearful, hushed tones last season, saying Alice is going to have a lot to worry about and calling it a, "backstory of Alice that we haven't had the opportunity to see before."
Sophie Moore
Finally, we left Sophie in some hot water as her mentor, Jake Kane cut her out so he could pull off a double-whammy of a trap for Batwoman and some good old fashioned mercenary brutality (like police brutality, but for more money!)
As Meagan Tandy puts it, "She is going to have a lot on her plate, there's going to be a lot that's going to fall upon her."
She also mentioned that Sophie and Ryan "don't like each other at first," which should be an interesting dynamic to watch develop.
"She's going to really understand the importance of why Batwoman has to stay secretive," Tandy says, which could be hinting at the Crows' quest to take her down, and their hinted turn toward the ever-more-militant.
As for a new Batwoman coming to Gotham, Tandy says, "Sophie is going to have no clue." It will be interesting to see how the writers square that circle with a costume that makes it clear that Batwoman is a Black woman, since Sophie already knows Batwoman is white – or at least, that's the reason given for why Julia Pennyworth had to be cast white.
In season 1 we saw so much change in Sophie, and it sounds like we could be in for more in season 2, as she stops coloring inside the lines all the time.
"Ryan, and Batwoman, but mostly Ryan, sort of helps pull Sophie out of her shell. And maybe we edge you up a little bit this season," Dries said, referring to Tandy and her character.
There are still so many mysteries left untouched for the long hiatus as we (somewhat) patiently wait for the cast and crew of Batwoman to be able to safely create season 2.
Will Ryan and Team Bat be able to hold off the Crows' push toward authoritarianism? How long can Hush pull of his Bruce Wayne disguise? How many people left in Gotham would actually be able to see through it, other than Jake and Luke? Will whatever happened to Kate bring Julie and Sophie closer together, and send them farther apart? How will the rest of the Arrowverse (lezbihonest, Kara Danvers) respond to Kate Kane's disappearance?
We've got plenty of time, so share your theories in the comments below.